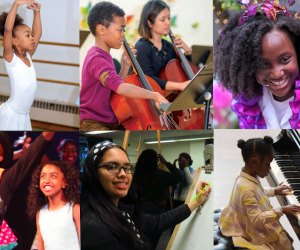 Harlem School of the Arts - Harlem Summer Arts Experience
Harlem School of the Arts, The Herb Alpert Center (HSA) is a cultural institution uniquely positioned at the intersection of arts, education, and social justice. Founded in 1964, HSA offers world class training in music, dance, theater, musical theater, and media & design to children ages 2-18, and encourages students to reach their full potential through interdisciplinary arts training that celebrates the rich complexity of the African American community.
HSA Programming:
Harlem Summer Arts Experience: Join this third annual summer camp! In three 2-week sessions, children ages 4-12 will have the opportunity to sing, dance, act, and design all while immersing themselves in the history of Harlem. This year's summer camp includes special guest artists, mentoring, outdoor fun and special trips, and opportunities for students to present their work after each session.
HSA Music, Dance, Theater, Musical Theater, and Media & Design Classes & Private Lessons: After-school classes run from September through June, offering students the freedom to find and develop the artist, student, and citizen within themselves in an environment that teaches discipline, stimulates creativity, builds self-confidence and adds a dimension of beauty to their lives, empowering them to become the creative thinkers and innovative leaders of tomorrow.
Community Performances & Events: HSA ensembles are in demand throughout the New York metropolitan area. Students have performed by invitation or through partnerships with Disney Theatrical, Lincoln Center, Radio City Music City Hall, The Apollo Theater, Mostly Mozart Festival, and more. HSA also hosts concerts, performances, exhibitions, and workshops showcasing teaching artists and students throughout the year.
HSA Prep Program: HSA Prep is a highly selective pre-professional merit-based program that offers students rigorous training, master classes, college and specialized high school application support, mentoring, and performance opportunities. Students admitted into the HSA Prep program receive full tuition.
---
Harlem School of the Arts
Reviews