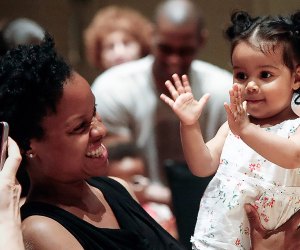 Baby and Me Music Classes Around NYC
Music classes are often the first "mommy and me" experience parents try, so it's no coincidence such classes are offered all over the city. When you're ready to get out and spend some time jamming with other adults and their wee ones, check out one of these music classes in Manhattan and beyond.
We also have roundups of parent and child classes in Queens and music classes in Brooklyn. As always, you can find even more NYC classes in our Classes Guide and Directory Listings.
14th Street Y Music Classes – East Village
Ages 18 months to 3 years
You and your child will be singing songs, dancing, and playing games in a variety of classes at this East Village standby. The Music with Mik class is particularly popular, as musical therapist Mik Manenti leads the group through song, dance, and playing live instruments with the help of a live accompanist. A Playday class incorporates music and movement in addition to preschool skills and open play. Take advantage of the Y's free trial offer if you're a first-timer.
Bronx House School for the Performing Arts – the Bronx
Ages 2½ to 4 years
Toddlers and parents engage in a Rhythm & Song class at this popular Bronx community institution. The class introduces the concept of rhythm and helps kids develop their listening skills while working percussion instruments in, as well.
OUR LATEST VIDEOS
Belle Arti Center for the Arts – Forest Hills, Queens
Ages 6 months to 3 years
In Early Bird Rock, a mixed-age group of babies and toddlers listen, dance, and sing as the instructor plays nursery rhymes on the guitar, piano, or a surprise instrument. Kids are encouraged to shake those shakers, bang the drums, ring bells, and even toss handkerchiefs around. It's a great introduction to music as the class explores a variety of genres from around the world, including classical. Numbers and letters are taught, and sometimes class ends with parachute fun. Kids ready for more structure can graduate to the hands-on Musical Aurora class, which wraps up each session with a recital. Check out our roundup on Queens baby classes for more options.
Jazz at Lincoln Center's WeBop – Upper West Side and Harlem
Ages 8 months to 5 years
Jazz aficionados appreciate this program, which invites parents and kids to swing to the beat each week. Each eight-week term includes two classes with a live band. Those who can't commit to a long stretch of classes can attend a WeBop Family Jazz Party Concert.
RELATED: Best Offbeat Baby Classes in Manhattan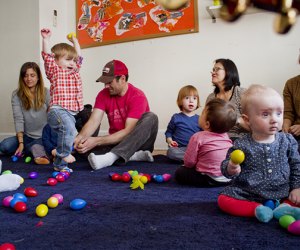 Pick a spot on the floor and pick an instrument at a Kids at Work jam session.
Kids At Work Jam Sessions – Lower Manhattan
Ages birth to 4 years
Kids at Work's flagship location is in Chelsea, but the operation also offers "Sun Sessions" music classes in various downtown parks. Its signature "Jam Sessions" brings a low-key, relaxed approach that encourages improvisation and playfulness. Activities center around musical fun and are designed to be good for your child's brain. Kids At Work offers a flexible drop-in policy, which is a perk for parents (and kids!) with busy schedules.
Lavender Blues – Brooklyn
Ages birth to 3 years
Lavender Blues bills itself as an "intimate music & movement session," where kids and adults bond over shared songs, instruments, movement, and dance. Some sessions are designated "babies only," creating a calm introduction to the program. Classes are held throughout Brooklyn and there's no need to commit: All sessions are drop-in. If you plan to be a regular, take advantage of the 10-class card; pay for nine sessions and the 10th is free.
Little Maestros – Manhattan (multiple locations)
Ages 3 months to 4 years
Classes at this institution, started by a former record exec turned Manhattan mom, include a segment dedicated to language development, a rocking storytime, and plenty of pretend play. A dance party rounds out the fun. Classes are held at the flagship Little Maestros location on the Upper East Side and at many community centers.
Music Together – Citywide
Ages birth to 4 years
Music Together started as educational project at the Center for Music and Young Children, which believed an early introduction was ideal for music and brain development. Expect to dance, sing, play instruments, and explore music in an engaging and fun atmosphere. Activities and materials for home use are provided. Many Music Together groups offer a free trial class.
Music for Aardvarks and Other Mammals – Citywde
Ages 6 months to 5 years
Music for Aardvarks is a longtime favorite of Mommy Poppins for its inventive, city-centric songs that guarantee you'll be on your feet bopping along with your toddler. Classes feature original compositions on the urban environment in which our kids are growing up, and the franchise has produced several catchy CDs since its founding.
RELATED: Parent and Child Swim Classes in NYC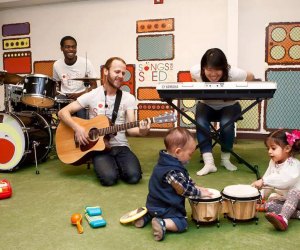 Classes at Songs for Seeds incorporate various instruments, nursery rhymes, and even magic tricks.
Songs for Seeds – Manhattan and Brooklyn
Ages birth to 6 years
Originally launched at the Chelsea play space Apple Seeds, the Songs for Seeds program is now also offered at a number of locations in the Manhattan and Brooklyn. Kids sing and play drums, guitars, and other instruments with the three-piece band. Classes also incorporate nursery rhymes, magic tricks, and animal sounds.
TLB Music – Upper East Side
Ages 4 months to 6 years
The idea behind TLB Music was to establish a studio where kids and parents could experience creative and imaginative play together. TLB offers music classes beginning at 4 months, breaks classes into one-year age increments, and introduces a different instrument or genre each week. Classes can be purchased in 8- or 16-week sessions, or attended on a drop-in basis. Feeling overscheduled? No problem, you're not locked into one specific class schedule here. You can attend any class for your child's age group.
This article first published in September 2011 but has since been updated.
All photos courtesy of the classes