Baby Swimming Lessons in NYC: Mommy-and-Me Swimming Classes for Babies and Toddlers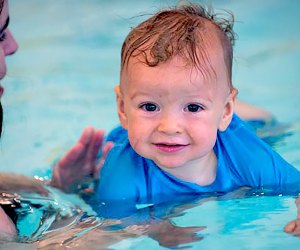 Baby swimming lessons allow little ones to bond with their grown-up while also helping them get comfortable in the water and learning important water safety skills. During the summer, these mommy-and-me swimming classes in NYC offer families the chance to cool off while babies become comfortable in the water, a skill they'll certainly use a lot in the coming years with all the great swimming pools and beaches in NYC. But, summer is not the only season to take mommy-and-me swimming lessons. These baby and toddler swimming lessons are also offered around the city throughout the fall, winter, and spring, both on weekends and after school.
You can find all our baby swimming lessons, plus swimming lessons for older kids—and even book a class online—in our directory of classes and listings. Check our New York City Classes for Kids Guide for more kids' activities and classes for kids of all ages and interests.