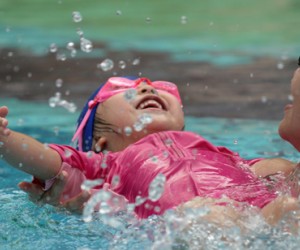 Mommy and Me Swim Classes in New York City for Babies and Toddlers
Whether you call them mommy and me, baby and me or me and my grown-up, parent-child swimming classes are a wonderful way to bond with your baby or toddler, while helping them get comfortable in the water and learning important infant and child water dafety skills.
During the summer, swim lessons offer families the chance to cool off while your babies become comfortable in the water, a skill they'll certainly use a lot in the coming years, what with all the great swimming pools and beaches in NYC. Parent-child swim classes are also offered around the city throughout the fall, winter, and spring, both on weekends and after school.
Most baby and toddler swimming classes take place in indoor pools. And, except for the free swim lessons offered via lottery by the New York City Parks Department, mommy and me classes invariably cost something. We've rounded up the top parent-child swim programs across the city (and for more options, see our roundups of swimming classes for all ages in Brooklyn and Queens) or our list of other types of mommy and me classes in NYC. Find more classes for kids in our NYC Classes and Activities Guide.

14th Street Y – East Village
344 East 14th Street between First and Second Avenues
Baby Belugas (ages 6 to 16 months) and Little Dippers (ages 17 to 24 months) can learn how to swim via the Y's Aquatics for Kids program. Classes are reasonably priced with a discount for members.
92nd Street Y – Upper East Side
1395 Lexington Avenue at 92nd Street
The popular Upper East Side spot provides swimming lessons for Polliwogs (6 to 18 months), Minnows (18 to 36 months), and Guppies (3 to 5 years). Classes are offered year-round at the Y's large indoor pool.
OUR LATEST VIDEOS
Aquabeba – Williamsburg, Brooklyn
230 Wythe Avenue, Brooklyn
Through fun and games, AquaBeba teaches children to relax in the water while imparting water safety skills.
Aquaskills – Financial District
Visit the website for class schedule and locations.
In addition to Mommy & Me classes, Aquaskills also has year-round class offerings that cover water safety, beginner strokes and breathing techniques, all taught in a private pool in the Financial District.
Asphalt Green – Upper East Side & Battery Park City
555 East 90th Street
212 North End Avenue
Although this popular UES sports complex is known for its Olympic-size pool, its Water Babies and Water Tots classes for children ages 4 months to 3 years are held in a small, separate, heated kiddie pool. Asphalt Green's 52,000-square-foot, state-of-the-art facility in Battery Park City offers the same programs, too.
British Swim School – Midtown West
Skyline Hotel, 725 Tenth Avenue
With a focus on water safety and survival, instructors at the British Swim School help your child get acclimated to the water, learn to roll over to float on their back, and ask for help. Parent-and-me classes start at 3 months old; children progress from Tadpoles to Swimboree not by age, but skill-level.
Imagine Swimming – Citywide
Visit the website for class schedule and locations.
With 13 locations in Manhattan and Brooklyn—including its Tribeca flagship at 40 Harrison Street—Imagine offers classes to kids ages 4 months up. Students are introduced to the water through playful sessions that emphasize music.
JCC in Manhattan – Upper West Side
334 Amsterdam Avenue at 76th Street
Instructors use games and songs to help acclimate little swimmers to the water in a heated, adjustable-depth pool. The program is separated into four age groups: Bubbling Babies (6 to 12 months), Starfish (12 to 18 months), Sea Horses (18 to 30 months), and Little Fish (30 to 36 months).
Physique Swimming – Citywide
Visit the website for class schedule and locations.
Parents and children younger than age 3 can participate in Me & My Shadow classes at 11 Manhattan locations. Kids hone their swimming skills and also engage in sing-alongs.
SwimJim – Citywide
Visit the website for class schedule and locations.
This company offers three mommy and me swimming programs at five Manhattan locations: Swim'n'Splash (8 weeks to 5 months), Swimfants (6 to 15 months), and Swimbabies (16 months to 3 years.)
Take Me to the Water – Citywide
Visit the website for class schedule and locations.
The Baby and Me program offers lessons for children ages 6 months to 2.5 years, and has locations all over the city as well as New Jersey and Westchester. Babies learn swimming skills through songs and games.
It's also worth contacting your local YMCA to see if it offers parent-child swim classes.
This article is updated annually. Jody Mercier and Katie Nave Freeman contributed additional reporting.