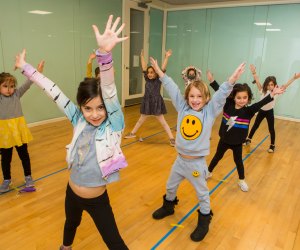 Marlene Meyerson JCC Manhattan
Providing room to move, close to home, the Marlene Meyerson JCC Manhattan is your one-stop shop for parents-to-be, infants, young children, after-school activities for school-age kids, and programs for tweens looking to give back to their community.
Registration for fall programming is currently open. There's no better time than now to secure the JCC's programs for kids age 0-13, whether it's swimming in one of two pools, learning the joys of cooking, blazing across the gym in multisport classes, or dancing in ballet or BOLD pop classes—all taught by skilled, caring instructors in the heart of the UWS.
Programs
Infant + Young Children (ages 0-3) program highlights include Turning 2s, Aquatics, Sports, Ballet, and Cooking.
School-age (ages 4-10) program highlights include BOLD Pop, Dynamo Girl, Multisports, Aquatics, and Culinary Arts.
Tween (ages 10-13) offerings include Mitzvah Mondays, Tweens After Dark, and Community Service programs.
JCC multisport classes ensure fundamentals, game comprehension, and skill-building in one all-encompassing class that includes tennis, basketball, soccer, baseball, flag football, and hockey, as well as specialty games that children adore, including capture the flag, team handball, and dodgeball. Best of all, the JCC's curriculum focuses on values parents cherish, such as social-emotional growth, teamwork, leadership, determination, and resilience.
In addition, for school-age children, the JCC features After School Pick-Up + Clubhouse, a great way to ensure your child gets safely from school to their after-school activities, and to guarantee their afternoons are filled with play, productivity, and a nurturing community. The program picks up your child from school and makes sure they're comfortably situated at the JCC—and that they have a great time in the process. The program is offered Mondays through Thursdays for children in grades K-4 enrolled in PS 87, PS 334, PS 199, Parkside, and Success Academy Upper West.
The Marlene Meyerson JCC Manhattan has been coaching, encouraging, and growing great kids since 2001. To learn more, visit mmjccm.org/children-families or call 646-505-5708.
---
Marlene Meyerson JCC Manhattan
Reviews