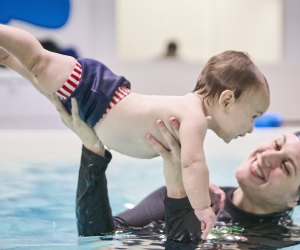 Imagine Swimming was founded in 2002 by Casey Barrett and Lars Merseburg, two former world-class swimmers. The school has grown to over 4,000 children each week in Manhattan and Brooklyn.
Imagine Swimming believes that the important thing is the singer, not the song—meaning that the presentation of the lesson is everything. Imagine Swimming features highly developed teaching methods and rigorous training, however, it is the teachers—in the moment—who pass it along. This process is collaborative, rooted in play, and requires individual expression with every student, derived from the teachings of Reggio Emilia.
At Imagine, you will not find rigid levels and checklist teaching, but rather lessons that are constantly adapted and structured around the fluid development of every young swimmer. The school strives for 40 active minutes, with a teacher-to-child ratio never more than 1:4.
Please visit the website for more information and a full list of locations.
---
Imagine Swimming - Tribeca Flagship
---
Imagine Swimming - UWS
---
Crown Heights Armory
Reviews