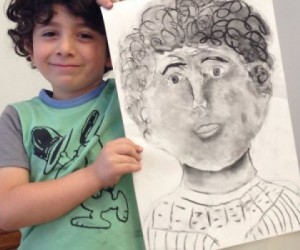 In-Studio Classes
In Kids at Art's children's art classes, students explore the basics of art in a warm, nurturing environment where everyone is an artist. Children will learn to use various mediums, including paint, pencil, cray pas, watercolor, and more. They'll also learn about collage, printmaking, sculpture, plaster, and papier mache. Kids will develop their drawing skills and learn to draw and paint from still life or a photograph. All instructors are vaccinated and all children and caregivers over the age of 12 are required to be vaccinated. All who enter are required to wear masks as well.
Online Classes
Kids at Art now offers live interactive online art classes for young artists. Your child's creative time doesn't have to end because of COVID-19. Kids at Art understands the challenge of the current situation and the difficulty in figuring out what to do with your kids at home each day. So let them unleash their artistic selves with the guidance of the studio's talented staff.
Virtual classes are structured as closely as can be to in-studio sessions, providing fun, focused projects for kids small and large. Adults may join as well. Kids will interact online through Kids at Art's Zoom Online Studio. At each session, kids will create new masterpieces—some based on famous artists and others that the class will make up together.
At Kids at Art, age-appropriate classes and projects for kids 2+ years of age focus on the basics of visual arts including painting, drawing, collage, sculpture, and more.
Parties
Kids at Art's Art and Karaoke parties will keep kids rocking for an hour and a half with professional DJ's and fabulously creative art projects. 
Art and Karaoke parties offer the perfect combination of activities to entertain guests in a fully equipped art studio. Kids at Art uses professional DJs exclusively from Expressway Music and coordinates fun art projects for children to work on during the singing, and it has a very friendly, talented, and helpful staff to serve and help your children. Very Arty parties are available too. Add-ons include face painting and glitter tattoos. Call or email for more details.
Click Here to Sign Up!
i