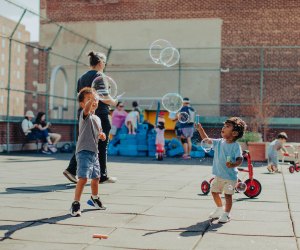 The 14th Street Y is an inclusive community center guided by Jewish values, located in the East Village. The 14Y offers a variety of programs, events, and membership to support every family.
Early Childhood Programs: Through Prelude to Preschool, a fun mix of drop-in and semester-long classes, babies and toddlers build relationships with peers and adults. The 14Y's caring Early Childhood staff encourage young children to grow, play, and learn skills that will carry them through life, while providing a space for parents and caregivers to connect and build community.
Youth Programs: The After School program provides children grades K-5 with fun, sports, and enrichment. Youth Classes give children the opportunity to hone their skills and express their creativity in a focused, supportive setting. Youth Programs are open to children of all needs and abilities. 
Summer Camps: New Town Day Camp offers children ages 2 – 5 a summer of fun and friends in the safety of the 14Y's facilities. New Country Day Camp, located on the beautiful 75-acre Henry Kaufmann Campgrounds, offers campers ages 5-13 a summer of enrichment and outdoor activities. New Country Pride Camp, a specialty program of New Country Day Camp, is a welcoming, open-tent community of LGBTQ+ young people and staff that celebrates and sustains joyful experiences where all can thrive.    
Aquatics: 14Y Aquatics offers swim instruction for children as young as six months up to age 12. Private and semi-private swimming lessons are also available. The pool schedule also includes dedicated time slots for recreational family swim. 
Family Fitness: Baby and Me Yoga, Baby and Me Fitness, and other family-friendly group fitness classes allow parents and caregivers to work out while babies and toddlers move, stretch, and socialize. 
Childcare: Parents of young children can work out worry-free with affordable, convenient childcare for children ages six months and up, staffed by caring professionals who are CPR certified. 
Theater: The 14Y Theater puts on engaging family-friendly shows as part of Theater for Young Audiences, including puppet shows and performances from 14Y theater partner Chickenshed NYC. 
Community Events: Find family-friendly Jewish holiday celebrations through Downtown Jewish Life, a network of Jewish organizations in downtown Manhattan. Come to the 14Y for an Open House to see what membership is all about!
Reviews