MoMA Reopens with Kid-Friendly Art Programs, Family Film, New Galleries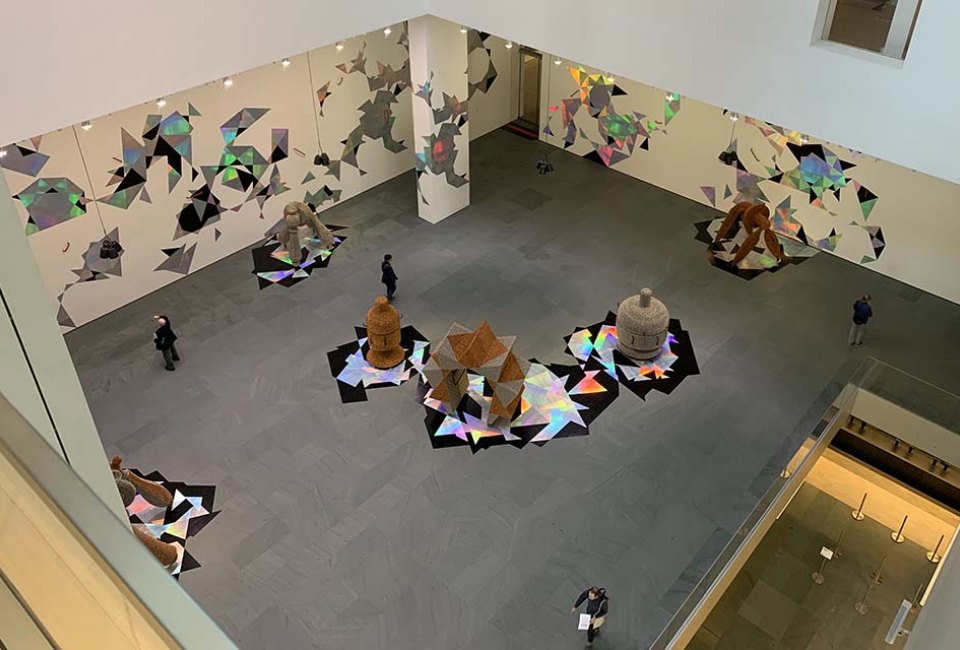 11/5/19
- By
Jody Mercier
The Museum of Modern Art, fresh off a years-long expansion and renovation, has officially re-opened, and even by NYC standards, it's a big deal. Really big: MoMA's new, flexible layout means a 30 percent increase in gallery space—that's about 165,000 square feet of art, sculpture, and exhibits. The 90 year-old New York institution has never felt more...well, modern.
While we're smitten with all the city's world-class cultural institutions, the MoMA has always been one of our favorite NYC museums to visit with kids. Read on for the scoop on what's changed, plus 10 reasons to love the new MoMA, then plan your next visit to this updated gem.
MoMA's renovation and expansion, which began in 2014 and forced the closure of the museum for the summer of 2019, has added more than 47,000 square feet of renovated and new galleries to the museum, mostly in the western part of the building. A sixth floor cafe with an outdoor terrace overlooking 53rd Street is ready to welcome visitors, and the ground floor lobby got a major facelift. One noticeable change that greets you right at the door: the MoMA Design Store has moved below street level, opening up the lobby and the first-floor galleries. In fact, visitors can access the entire street level and all its gallery spaces without paying an entrance fee.
The collection is vast, including more than 200,000 pieces ranging from paintings and sculptures to drawings, prints, photographs, and film—long story short, it's impossible to explore the entire museum in one day. So without further ado, here are our favorite family-friendly finds to guide your visit.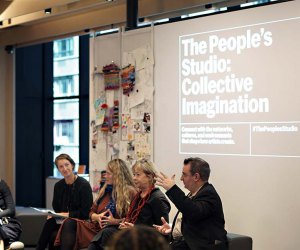 1. The Paula and James Crown Creativity Lab: This interactive gallery space on the second floor is arguably the best new family-friendly perk. We've long been fans of the Family Art Lab (more on that later), and this is an awesome complement to that space, aimed at older kids and adults. The Creativity Lab was established to encourage museum goers to engage with the art in hands-on ways. There will be drop-in art sessions, conversations facilitated by museum curators and artists, and loads of workshops. While the Creativity Lab is officially geared toward the 10-and-over set, curators did encourage me to stop by with my 6-year-old to explore the space, assuring me that with help from a parent, younger kids could navigate it. The Creativity Lab's opening exhibition is entitled The People's Studio: Collective Imagination, and runs through August 2020.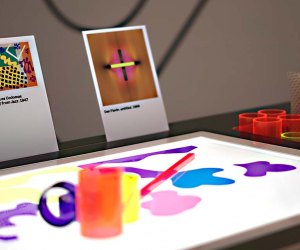 2. The Samuel and Ronnie Heyman Family Art Lab: This longstanding interactive space caught our attention years ago when it debuted in 2008. Located in the education wing of the museum, the Family Art Lab is easy to reach from the entrance at 4 West 54th Street, and makes a great jumping-off point for your museum day. Young kids and parents can get hands on and explore the process behind works of art in the Line, Shape, Color exhibit. There are prompts to get artists young and old thinking about their work and relating it to the works on display in the museum. Light tables let little hands explore various materials and see their pieces projected on the wall. You can create an emoji, settle into a quiet corner and read a book, or play with age-appropriate toys. When you've wrapped up your interactive play, make sure to grab a take-away card that gives you themes to explore as you wander the vast gallery spaces above.
RELATED: Why the Children's Museum of the Arts Is a Must-Visit for NYC Kids
3. The Collection: Whether you're determined to fight the crowds for a perfect view of van Gogh's The Starry Night, or you want to contemplate the serenity of Monet's Water Lilies, who get their own spectacular gallery, or you're in the mood for some of Frank Lloyd Wright's architectural genius or something you've never seen or heard before, there's something for every mood here. See the Warhols, ponder the Picassos, marvel at the scale of Pollock's pieces or the details of Frida Kahlo's self-portraits. There are myriad styles, genres, and mediums all waiting to be discovered or rediscovered and the redesign means a significantly larger portion of the collection is on view now than in the past.
4. The Sculpture Garden: When kids have had enough gallery peeping, pop outside to the ground-floor sculpture garden where large-scale pieces can be viewed up close. While the art here (and elsewhere in the museum) isn't meant to be touched, at least there's a little more room to get the wiggles out.
5. Kid-Friendly Programming: The education department serves more than 150,000 children aged 4-14 and their families annually with a variety of programs. We've already detailed the hands-on happenings in the Family Art Lab and new Creativity Lab, but there's now even more family-friendly programming, catering to varied groups in age-appropriate ways. While a Tours for Fours program might involve a lot of movement and dance, A Closer Look for Kids (geared toward ages 5-10) delves into a particular piece for a more in-depth discussion, and Tours for Tweens (ages 11-14) helps older kids experience the museum in a new way. Each of these programs is meant to be enjoyed as a family, and admission is FREE for up to three children and two adults; enter through the Cullman Education and Research Building (4 West 54th) to collect your tickets. Do plan to arrive early, as programs often fill up.
RELATED: What Ages Get into NYC Museums and Zoos for FREE
6. Kid-Friendly Gallery Activities: If you can't swing one of the tours above, there's still plenty of help to navigate the museum in a kid-friendly way. Before you visit, review the museum's tips for visiting with families. You can download a Family Activity Guide (or pick up one when you arrive!). Free audio guides are also a perk, and even better, MoMA offers one dedicated just to kids. Galleries on the second, fourth, and fifth floors also offer kid-friendly labels on some of the pieces as well as children's books that bring the works to life in a more tangible way. Another plus: Activity stations can be found in the galleries on weekends and school holidays.
7. Family Films: MoMA's film department houses nearly 30,000 titles, and screenings are part of the museum's fabric. Family-friendly screenings of shorts include both a screening and discussion, plus follow-up activities in the galleries. See upcoming programs on its website.
8. The Atrium: This large-scale space on the second floor gives soaring works a grand backdrop. For the re-opening, you'll see Haegue Yang's Handles, a collection of six geometric sculptures, seemingly bedazzled as a collection of bells covers their exterior. The sculptures are activated daily by performers, with the sound radiating throughout the space. From here, you can also peer over the railing to the lobby below, or peer at Arthur Young's Bell-47D1 Helicopter above.
9. MoMA Design Store: Design-savvy kids and adults will appreciate the wares at the on-site store, which has been lowered to the basement level in the redesign. Find a wide variety of art and design-inspired books, toys, and more here.
10. UNIQLO Free Friday Nights: While we're big fans of culture, all those admissions fees add up. Though children ages 16 and younger are always FREE at MoMA, everyone enters for FREE on Friday nights from 5:30-9pm. To avoid a line, plan to arrive after the first rush of people, around 6pm.
Know Before You Go
MoMA is open from 10am-5:30pm Saturday through Thursday; Friday hours are 10am-9pm.
Admission is $25 for adults, $18 for seniors, $14 for students and FREE for children ages 16 and under. Save time and book your tickets online in advance.
Children are encouraged to sketch in the galleries, but only pencils are allowed.
While strollers are allowed in the galleries, backpacks and large bags are not. So pack light, or plan to check your bag.
Changing tables are available in both the men's and women's restrooms near the escalators on every floor. Gender-neutral restrooms with changing tables can be found on Floors 1, 3W, 5, and T1.
If you're booking several top attractions in New York City and looking to save money, consider purchasing a Go City Explorer Pass, which includes discounted admission to One World Observatory, the 9/11 Memorial and Museum, the Statue of Liberty, the American Museum of Natural History, and more.
The Café 2, on the second floor, offers a kids menu as well as high chairs and booster seats. The Terrace Café is on the sixth floor and offers seasonal outdoor seating. While no snacks are allowed in the galleries, you can step out to the Sculpture Garden to enjoy a snack from home.
Photos by the author
Disclosure: We may earn a small commission if you click through our link and make a purchase. This revenue helps us maintain this site, so thank you for supporting us.
Places featured in this article:
Click Here to Sign Up!
i