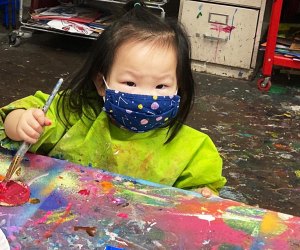 Arts and Crafts Studios and Shops Offering In-Person and Virtual Classes in NYC
Arts and crafts are a fun way to break up the monotony of the every day for kids (and adults!) of all ages. No matter where you are in NYC, you don't have to go far to find a creative outlet. We've rounded up 20 arts and crafts spots all across the five boroughs, where you can take classes in beading, painting, pottery, drawing, textiles, slime making, paper crafts, ceramic decorating, and more.
These studios offer a mixture of in-person classes and virtual options, and some even provide the supplies. If you're an intrepid DIYer, you'll find plenty of creative inspiration in our list of 100 crafts for kids.
Editor's note: While we are trying to promote safer activities that occur outdoors or with social distancing guidelines in place, please keep your family and others safe by always wearing a mask and maintaining an appropriate distance. If you arrive at a venue that appears too crowded, try using the "nearby" search feature on our Event Calendar to find something else to do. Keep in mind, many indoor attractions now require advance ticket purchases or timed-entry reservations, so plan accordingly.

ColorMeMine Tribeca offers in-studio painting time seven days a week, with social distancing and mask wearing required.
OUR LATEST VIDEOS
Arts & Crafts Studios in Manhattan
1. ColorMeMine – Tribeca & the Upper West Side
Tribeca, 123 Baxter Street
Upper West Side, 177 Amsterdam Avenue
Color Me Mine has a pair of Manhattan locations, and each is an independently owned small business. Book your studio time online, and you'll show up, pick out a piece of pottery, paint it, and leave it for glazing. It will be ready for pick up once it's been fired, about a week later. In-studio painting requires temperature checks, masks, and social distancing. You can shop for an at-home activity kit at the Upper West Side location or attend its in-studio events.
16 East 17th Street
Beads of Paradise is an exhaustive, very special, eye-popping bead shop with a wide assortment of baubles from around the world, including gems, stones, wood, precious metals, and more. It has the perfect inventory for at-home adventures in jewelry-making, mosaic-making, and for letting the imagination run wild. A beginners findings course is offered online for ages 13+.
RELATED: Creative Hub Playday Opens Cobble Hill Location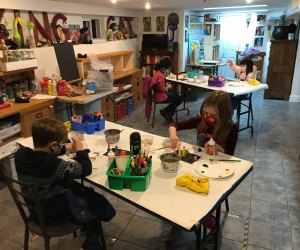 Get creative at the Barking Cat Studio, which offers classes in-person and online.
Arts & Crafts Studios in Brooklyn
219 Greenwood Avenue
Barking Cat Studio offers teacher-led, small-group art classes in-studio as well as virtually. Owner/instructor/artist Karen Merbaum develops the curriculum for the space. Capacity is currently reduced to four kids in-studio, who socially distance and are required to wear masks. A HEPA filtration system, plus open doors and windows, are used to curb COVID risk. All toddler classes are virtual only and include an art bag, which can be picked-up contact-free, or dropped off for a small fee. All classes allow drop-ins if space is available.
98 Water Street
Creatively Wild Art Studio is open for in-studio and virtual classes, though you'll need to provide your own materials for online classes. Online topics include cartooning, painting, comic book illustrations, and drawing. Creatively Wild also offers in-person after-school art classes plus weekend workshops, with COVID-safe policies in effect.
70 Eckford Street
The studio is open to in-person and virtual art classes for kids 5-11. It offers a pay-what-you-can community class virtually on Wednesdays to make art accessible to all. After-school classes include pickup at PS 34 and PS 110 with enrollment in its Art After-School program. You can break up the monotony of remote learning with an Art After-Lunch class, too.
6. Painted Pot – Cobble Hill and Park Slope
229 Smith Street
200 Seventh Avenue
Here, you can paint pottery and canvases, make mosaics, and more. Due to COVID, walk-ins are not currently accepted, so all painting sessions require a reservation. Paintable items start at $12 and require 1–2 hours to complete. The Painted Pot offers in-studio and virtual classes for kids of all ages, plus open creative sessions and art kits to-go.
237 5th Avenue between President and Carroll Streets
The studio is currently open for small-group classes and reservation-only drop-in events. Toddler art classes, a science and art class, and a comic book class are among the studio's current offerings.
RELATED: 30 Days of Indoor Activities for Kids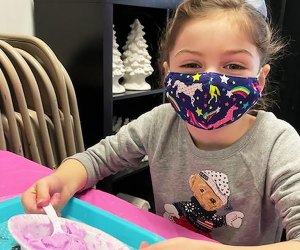 Let your kids indulge in a slime making class at A Sprinkle of Fun.
Arts & Crafts Studios in Queens
79-05 Myrtle Avenue
Canvas painting, sculpting, slime making, bingo, and more are happening live and in-person at this Glendale studio. Classes start at $20. This spot is well-known for its kids' parties and shuts down to walk-ins when it's hosting one, so call before you visit. At-home plaster paint kids are available to order.
212–91 26th Avenue
Paint pottery or canvas or make candles at this Queens creative spot. It hosts parties, storytimes, themed classes, and more events. Book studio time in a group of three or more and get one admission free. Reservations are recommended, and masks are required.
8000 Cooper Avenue
This studio recently merged with Plaster Party Place but is now owned and operated by Brenda Negron, a mother of five. Bee's offers canvas, plaster, and slime birthday parties as well as slime workshops, crafts, and painting classes. Kids classes are aimed at ages 4+, and parents will enjoy the BYOB paint-and-sip classes, too.
2291 Nostrand Avenue near Avenue I
Zelda's Art World is more than just an art supply and framing store. It's currently offering private 1-on-1, hour-long art classes or buddy classes. Group ceramics and painting classes are temporarily suspended.
12. Playday – Long Island City & Cobble Hill
Long Island City, 5-37 51st Avenue
Cobble Hill, 269 Baltic Street
This self-described creative micro-school has just opened a Cobble Hill, Brooklyn location giving creative kids two ultra-cool places to hone their skills. Artmaking can be enjoyed in hourly, drop-in sessions (booked online or in-person), in between remote classes during its all-day remote assist classes, or during after-school and weekend classes led by experienced instructors. In the summer and during school breaks, creative day camps are offered, too.
Arts & Crafts Studios in Staten Island & The Bronx
3100 Wilkinson Avenue
Art-themed parties, in-studio, and virtual classes are all happening at The Artful Attic. You can also book a mobile-art party at your own space. Materials for classes—whether in-person or virtual—are included with the registration fee. In-person classes are capped at a max of 15 students for now.
153 Main Street
The proprietor of Crafty Kids created a series of art classes after seeing a lack of offerings in her neighborhood. Dancing, special guests, and other activities accompany classes dedicated to painting and other traditional craft projects.
RELATED: Stay-at-Home Guide: 100s of Activities For Kids

Taro's Origami offers online, small-group classes and personalized instruction.
Arts & Crafts Centers Offering Online-Only Classes in NYC
95 Seventh Avenue between Union and President Streets
All origami classes are now being offered online only. A kid's online origami class runs 45 minutes long and costs $30. An hour-long, more individualized private session is also available for $40.
16. NYPL – Citywide
​New York Public Library is offering tons of FREE online programming, and its storytimes and classes have been among my son's and my favorite events. It's Snacks and Stories To Keep You Warm This Winter LIVE! offers a recipe, story, and craft you can do with library staff from the comfort of your own home. Pre-registration is required online. All classes are FREE, and times, dates, ages, and activities vary.
428 15th Street, between 8th Avenue and Prospect Park West
High-quality art classes for ages 15 months and up are available at this wildly creative Brooklyn space. Textiles, art play, mommy-and-me classes, costuming, and sensory classes are some of its Winter At-Home Art series offerings.
505 Carroll Street between Whitewell and Denton Place
Color theory, tapestry weaving, embroidering, and dyeing are among the virtual kids' classes currently being offered at Textile Arts Center's TAC At-Home program.
9-01 33rd Rd
This local museum is currently offering an online, 45-minute program for children ages 5-11 and their parents or caregivers, where household materials are used, and conversations about art encouraged. It's a virtual art play date. Rates are $5 per session, per family, or FREE with a Cool Culture card and held on Saturday mornings.
20. Oliloli – Forest Hills
103-23 Metropolitan Avenue at 71st Drive
This pottery painting shop is currently only offering pottery to-go kits with contact-free pickup or drop-off options. Shop on its website for your projects, which start at $16 and go up from there.
Photos courtesy of the studios