Best Playgrounds in Brooklyn's Prospect Park (Ranked!)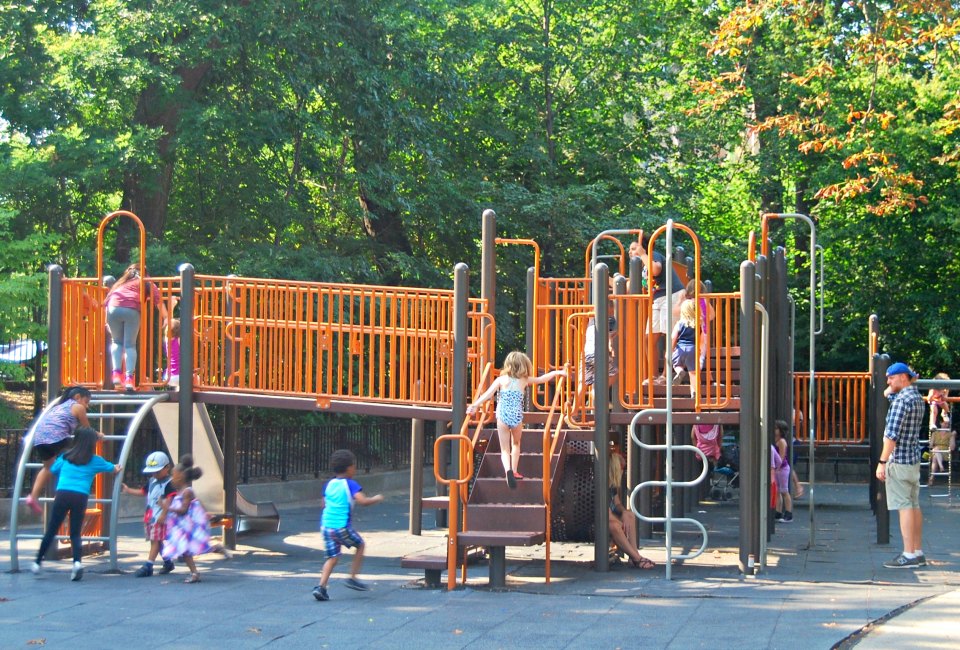 10/7/21
- By
Sara F
Prospect Park spans more than 500 acres, providing plenty of space for varied adventures within its woods, green lawns, winding paths, and brooks and ponds. But did you also know this green space is also home to seven playgrounds? From big-kid swings to water features and toddler-sized slides, there's something for every kid (and parent) in Prospect Park's playgrounds.
While you can—and should—head to all of these playgrounds at some point, if you're short on time, we've tested them out to present this parent-and-kid approved ranking of all seven playgrounds, from those that are destination-worthy to picks perfect for impromptu playtime. Find more picks for top play spots in our Guide to Parks and Playgrounds in NYC.
Sign up for our FREE newsletters to get posts like this delivered to your inbox.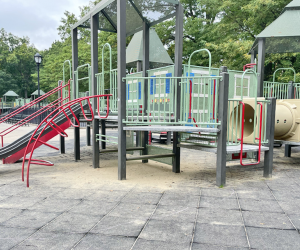 The musically themed Harmony Playground has it all: big-kid and toddler jungle gyms, swings, water, and sand. Photo by Diana Kim
1. Harmony Playground
11th Street and Prospect Park West
This music-themed playground is located behind the Prospect Park bandshell, and kids will happily spend hours here on the many things to do. This playground has a large sand area, a row of big-kid swings, a row of bucket swings, slides, ladders for toddlers to climb, and a huge jungle gym complex for bigger kids, with ladders, tunnels, slides, bridges, rings, and a hanging footbridge. In the summer, they'll also delight in the water features designed to look like musical instruments. Bathrooms are located inside the playground.
2. Vanderbilt Playground
Prospect Park Southwest and Vanderbilt Street
This playground, near Prospect Park Lake, has a separate gated area for toddlers, with a small slide and a climbing structure. In the middle of the playground, there's a row of bucket swings, as well as a water feature during warmer months. On the opposite end, there's a large climbing hexagon for bigger kids, along with a spinning structure and a jungle gym with tunnels, slides, ladders, and monkey bars, so it works for families with kids in multiple age groups. There are no bathrooms, which is a bit of a bummer, but the other features outweigh that disadvantage.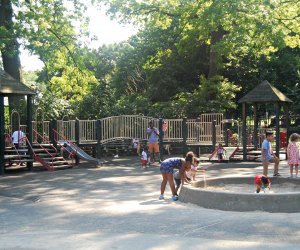 You'll find sand, water, jungle gyms, baby swings, and tire swings in the shady play area at Lincoln Road Playground.
3. Lincoln Road Playground
Lincoln Road and Ocean Avenue
This is one of the closest playgrounds to the park's splash pad, so you could plan to hit both areas for a fun-filled day during summer's heat. There's a sandpit, a water feature, a toddler jungle gym, and a huge jungle gym for older kids with multiple slides, monkey bars, bridges, rings, and other unique features. There's also a row of bucket swings and a popular tire swing. Bathrooms are located just outside the gate.
RELATED: Best Water Playgrounds in Brooklyn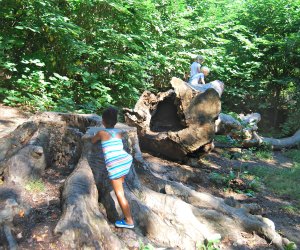 At the Zucker Natural Exploration Area, kids use their imaginations and climb atop tree stumps and other wood structures.
4. Donald and Barbara Zucker Natural Exploration Area
Just off Nellie's Lawn in the northeast part of the park
You won't find swings or traditional equipment at this nature playground, which was partially constructed from the hundreds of trees Superstorm Sandy knocked down throughout Prospect Park in October 2012. Kids can climb and jump on the logs and trunks, and there is even one with a "doorway" where my 5-year-old likes to pretend to be a fairy living in a tree or an animal hibernating in winter. A large swath of the playground is inside a forest of tall trees, which provides a nice, cool, shady place to run, explore, and play pretend. Some of the salvaged Sandy wood is carved and arranged like chairs, while other pieces form paths where kids can hop from stump to stump. One of the most popular features of this playground is a hand-operated pump that shoots water flowing down a large log and into a pool surrounded by rocks. Don't forget to bring sand toys for its large sand area. There are no bathrooms nearby.

The Third Street Playground is ideal for kids under age 5 with its two toddler-sized jungle gyms. Photo by Diana Kim
5. Third Street Playground
Fourth Street and Prospect Park West
This is an ideal playground for little kids. There are two toddler jungle gyms, a sandpit, bouncy animals to ride, and tiny tire swings that are perfect for the 5-and-under set. There is a jungle gym for bigger kids, but it's not the focus of this playground. You'll also find a row of bucket swings and a terrific water feature. There are often abandoned toys strewn about the playground for an added bonus, but there are no bathrooms so plan accordingly, especially when you're potty training.
RELATED: NYC's Best Playgrounds: 20 Parks Worthy of a Subway Schlep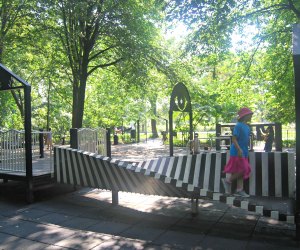 Imagination Playground is a shady haven, though it lacks swings and sprawling jungle gyms.
6. Imagination Playground
Ocean Avenue and East Lake Drive
This cute and creative playground (no relation to the Imagination Playground in Lower Manhattan) may be best for early walkers and climbers who need to practice their skills. There are no swings or slides here, just a black-and-white structure to climb. The littles love the animals with cut-out faces, and caregivers appreciate the copious shade. An elaborate bronze dragon becomes a fun water feature to play on when it's hot. (Bonus: This playground is almost entirely in the shade.) No bathrooms, but the Lincoln Road playground bathrooms are a short walk away.
7. Garfield Tot Lot
West Drive, opposite Garfield Place
This is a small toddler-exclusive play area, with a jungle gym and a slide that's just the right size for little legs. Pre-walkers and those who just learned have ample space to practice their new skills without getting trampled by the big-kid set. There are no bathrooms here.
Unless noted, photos by the author