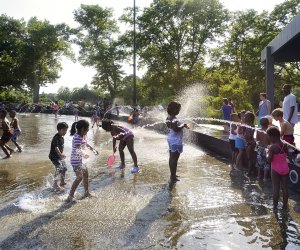 Best Brooklyn Splash Pads and Water Playgrounds for Summer Fun
When the sticky NYC summer heat sets in, kids need fun things to do to keep cool (bonus points if the kiddos also get a chance to burn off some energy). There's no better solution than water playgrounds—get cool in the water, dry off to hit the other playground equipment, rinse and repeat. All afternoon.
And best of all, hitting a water playground is a FREE summer activity you can do every day. We've rounded up the best water features and playgrounds around Brooklyn so that you and the little ones can try a new place to spray and play every day of the week.
It's a long summer! Find more ways to keep cool with our NYC Beaches, Pools, and Water Parks Guide, which includes splash pads in other boroughs too!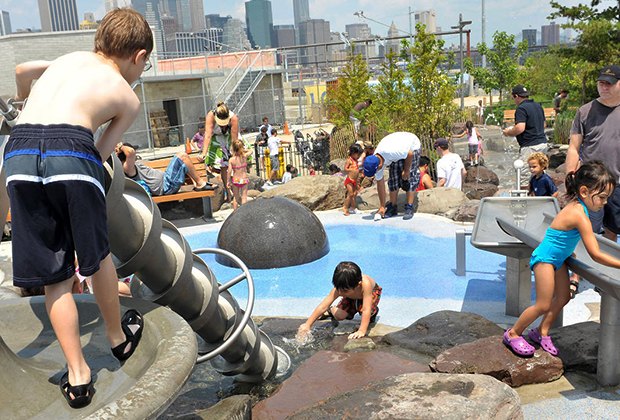 The two-level water playground at Pier 6 keeps kids happy and cool for hours. Photo by Julienne Schaer for BBP
Pier 6 Water Lab — Brooklyn Heights
Enter at Furman Street and Atlantic Avenue
Pier 6 is a true destination water playground. It's a two-level play area situated on a small hill, with a river of water winding down from the top level to the bottom. There are sprinklers, pumps, small pools to stand and stomp in, and a waterwheel that kids can turn themselves. You can spend hours here, and when you're done, hit the nearby Sandbox Village, Slide Mountain, or Swing Valley.

Check out the sprinklers at Domino Park. Photo by Rosalind Muggeridge
Domino Park — Williamsburg
This recently-opened six-acre park on the Williamsburg waterfront has so many cool features, your kids will never want to leave. Water features here include sprays and mist to cool off the little ones, and nearby seating for caregivers. Done with water play? Head over to the slides and climbing equipment, inspired by the old Domino sugar refinery, for even more fun.
RELATED: Best FREE Pools for NYC Kids and Toddlers

The splash pad at LeFrak Center at Lakeside is huge, nonstop water fun. Photo courtesy of LeFrak Center
Splash Pad at the LeFrak Center at Lakeside — Prospect Park
Enter at Lincoln Road and Ocean Avenue
Only come here if you want to hear squeals of delight the entire time. During the summer, Lefrak Center's outdoor skating rink is filled with a few inches of ice cold water, while more than 20 jets shoot water around the border. It's like a giant puddle to splash in for endless fun (tip: BYO squirt guns!).
RELATED: Brooklyn Bridge Park: 35 Things to Do with Kids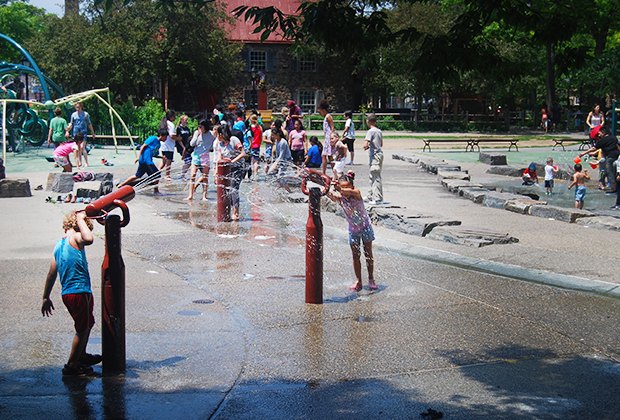 The popular J.J. Byrne Playground has it all: water cannons, a stream, and sprinklers. Photo by the author
J.J. Byrne Playground — Park Slope
Fifth Avenue between Third and Fourth streets
This playground has it all: a mill stream, sprinklers, spray cannons...plus swings and climbing structures for kids of every age group. Caregivers will enjoy the ample shady benches, and the numerous ice cream, gelato, and frozen yogurt options nearby.
South Oxford Park – Fort Greene
South Oxford Street and Atlantic Commons
A cluster of 30-foot-tall sprinklers that look like cattails by a river's edge will keep the kids cool and busy as they run through, over and over, in this Fort Greene gem of a park.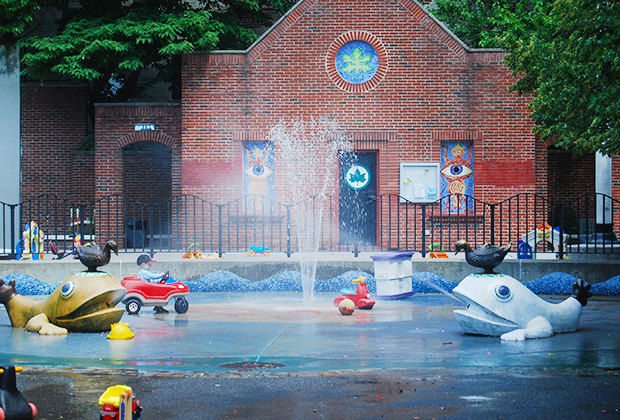 At Underhill Playground, kids can roll tricycles, cars, and other riding toys through the spray. Photo by the author
Underhill Playground — Prospect Heights
Underhill Avenue between Park Place and Prospect Place
Kids can run through the mist between two water-spraying fish, or get soaked in the 6-foot-tall fountain gurgling up in the middle of the playground's water feature. They'll also love riding through the spray on the tricycles, cars, and other toys strewn throughout this playground.
Mount Prospect Playground — Prospect Heights
Eastern Parkway between Brooklyn Central Library and Brooklyn Botanic Garden
This well-shaded park on a hill is the second-highest point in Brooklyn and used to be a water reservoir decades ago. In the playground you'll find a stone seal that sprays a generous mist, with several other sprinklers surrounding it.
RELATED: 30 Top Things to Do in Brooklyn with Preschool Age Kids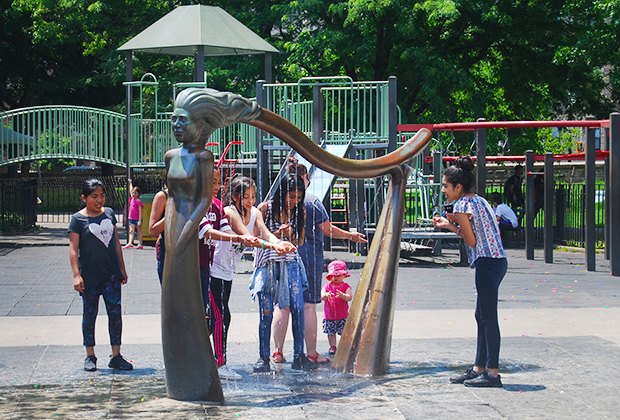 The water features at Harmony Playground in Prospect Park are music-themed, with horns spraying water and a harp with strings of water. Photo by the author
Harmony Playground — Prospect Park
Enter at Prospect Park West at Ninth Street
This music-themed playground behind the park's bandshell features a harp with "strings" of water, and horns that spray a delightful blast to cool the kiddos. Fair warning: Thanks to the huge play structures, shady trees, and central location in Prospect Park, this playground gets busy.
Imagination Playground — Prospect Park
Enter at Lincoln Road and Ocean Avenue, turn left
Get the kids all warmed up on the black-and-white play structure, then cool them off at the bronze dragon fountain that they can actually climb.
McCarren Park — Williamsburg
Just north of the pool; enter on Manhattan Avenue and Leonard Street
Avoid the crowds at the nearby public pool and opt for the sprinklers here instead. There's a giant turtle to scramble on, along with other creatures spraying water. What more could you want?
Lincoln Road Playground — Prospect Park
Enter at Lincoln Road and Ocean Avenue, turn right
Kids will love the bronze frogs that spray water, while caregivers will enjoy the cool shade in this playground. When the little ones are done with water play, they can take advantage of the elaborate jungle gym, slides, and the rare triple tire swing.
A version of this story was originally published in 2017; it has since been updated.