35 Things to Do with Kids in Fort Greene and Clinton Hill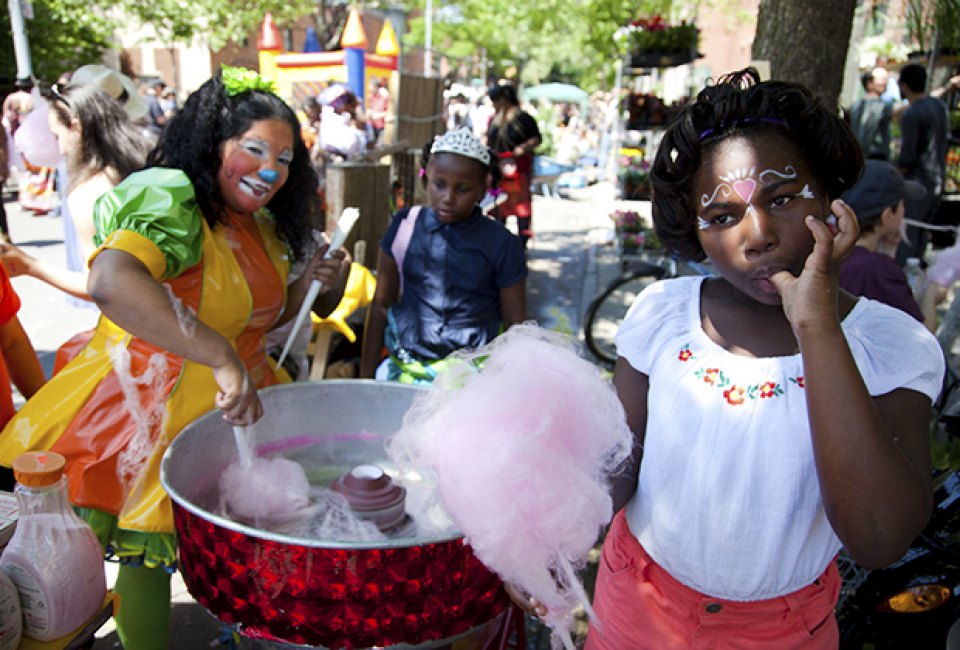 8/15/17
- By
Sarah G
Known for picturesque tree-lined streets and historic architecture, adjacent Brooklyn neighborhoods Fort Greene and Clinton Hill have an abundance of attractions for families. There's the amazing Fort Greene Park, a 30-acre oasis with two playgrounds, tennis and basketball courts, a nature center, a running track, soccer fields, and great hills for sledding. The park's active conservancy organizes popular annual events for families, like the beloved Halloween Festival and the Music in the Grove kids' concert series during the summer.

The area is also home to some outstanding cultural institutions, notably the Brooklyn Academy of Music, with its BAMkids series and annual BAMkids Film Festival, the Mark Morris Dance Center, and the state-of-the-art Barclays Center, which hosts live Disney extravaganzas, the Ringling Bros. and Barnum & Bailey Circus, and Brooklyn Nets home games. On top of that, Fort Greene and Clinton Hill have great kid-friendly restaurants and easy access to almost every subway line in the borough!
We've rounded up our favorite spots to play, eat, and learn in Fort Greene and Clinton Hill. For the purposes of this post, our geographical boundaries are Flushing Avenue to the north and Atlantic Avenue to the south, between Flatbush Avenue and Bedford Avenue.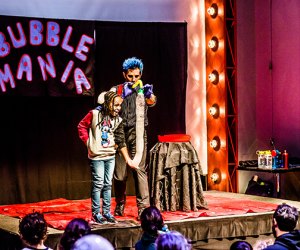 Bubble Mania visited for the BAMkids Film Festival. Photo by Greg Kessler/courtesy of BAM
1. Find out what's playing at BAMkids, and don't miss the annual BAMkids Film Festival.
2. Check out Hank Prussing's awesome murals at the historic Lafayette Avenue Presbyterian Church.
3. Romp in Fort Greene Park's two playgrounds: the northern one is larger and has sprinklers in summer.
4. Enjoy kid-lit events at Greenlight Bookstore, including weekend story times and a kids' book club.
5. Enjoy a picnic on the well-tended lawns of the Pratt Sculpture Park.
RELATED: 30 Top Things to Do in Brooklyn with Preschool Age Kids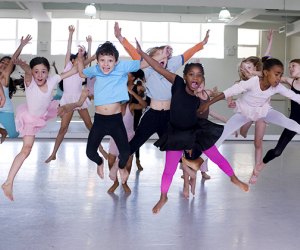 Learn some more news at the popular Mark Morris Dance Center. Photo by Rosalie O'Connor/courtesy of the center
6. Learn some new moves at the Mark Morris Dance Center, which offers classes for children and teens aged 4 to 18, as well as a parent-and-toddler class. There's even a family-fun program, where the whole family can learn to dance together!
7. Sign the kids up for afterschool programs or summer camp at Construction Kids at BLDG 92, where they'll learn engineering, woodworking, and more.
8. Hit the Atlantic Center Mall to shop at the big chains and play at Chuck E. Cheese's.
9. Stock up on farm-fresh goodies at the weekly Fort Greene Park Greenmarket.
10. Grab a bite at the super-kid-friendly burger-and-fries joint 67 Burger.
11. Although it's mainly thought of as a college, the Pratt Institute offers excellent art and design classes for kids at its Saturday Art School.
12. Be entertained on a grand scale at the Barclays Center, where you can see the circus, live Disney shows, and more.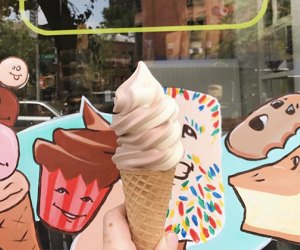 Scoops & Sweets. Photo courtesy of the shop

13. Then pop next door to Scoops & Sweets for ice cream.
14. Scoop up DIY creations and vintage finds at Brooklyn Flea, which we hope returns for another winter at the nabe's spectacular Williamsburgh Savings Bank.
15. Peruse modern African art at the Museum of Contemporary African Diasporan Arts, which also organizes the outdoor KIDFlix Film Festival every August.
16. Enjoy summer camp at Camp Fort Greene and Tech Fort Greene to learn about engineering, activism, robots, and more.
17. Go on an art-making adventure at BRIC, which offers arts and cultural programming for toddlers through teens, including popular House Parties.
18. Sign up for family swim at LIU Brooklyn's state-of-the-art 25-yard pool, or check out the school's other family programs.
RELATED: 22 Brooklyn Drop-In Play Spaces and Kiddie Gyms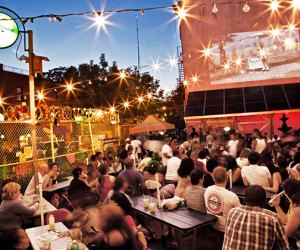 Enjoy great eats and even outdoor movies at Habana Outpost. Photo courtesy of the restaurant
19. In spring, summer, and fall, hit eco-eatery Habana Outpost for Hispanic dishes and cool kids' events like free festivals, crafts, and weekly outdoor movie screenings in the backyard.
20. Sign your kid up for one of the many music and dance programs available at the Brooklyn Music School.
21. Enjoy coffee and a decadent sweet treat at Beny's Delice.
22. Try to identify the currency at Mike's Coffee Shop, an old-school diner with bills from around the world pasted on the wall behind the register.
23. See what's playing at 651 Arts, an African Diaspora performing arts and culture center.
24. Chow down on Brooklyn-style thin crust pizza at the spacious Graziella's.
25. Stock up on party favors, helium balloons, and 15-for-a-dollar candy at Party City, a one-stop shop for all things birthday party!

26. Let the kids get their ya-yas out at all the local playgrounds, including Oxport (swings, play structures, small sprinkler), Commodore Barry Park (pool next door, sprinklers, and lots of play structures) and Albert J. Parham (three-foot-deep pool, grassy lawn, play structures, and sprinklers).
27. Develop your tot's sense of rhythm and pitch by joining a Music Together class.
28. Or get your little ones moving with special themed programs at City Kids Dance.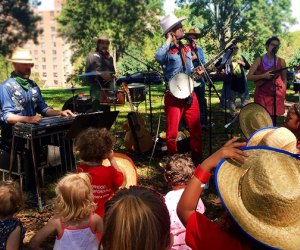 Free music concerts for kids play in Fort Greene Park. Photo courtesy of the park

29. Shake and shimmy at Fort Greene Park's summer Music in the Grove: Kids concert series; the space also hosts a popular annual Halloween Festival (sadly, the Summer Literary Festival took a hiatus in 2017).
30. See what's happening at the Fort Greene Park Nature Center, where Urban Park Rangers host free programs for families, including birding and wildlife scavenger hunts.
31. Do your best downward dog in Family Yoga at Jill Lindsey, or drop in for the ever-popular Singalong with Brian.
32. Shop for eco-friendly toys, diapers, and more at Green in Bklyn.
33. Head to the Walt Whitman Library, named for the famed poet who lived in the area, for storytime. The library also hosts storytime in Fort Greene Park during the summer.
34. Pack a picnic to enjoy Fort Greene Park in the spring and summer, or come wearing boots and mittens for sledding down the hill in the winter.
35. Drop in for open play at Clinton Hill's Busy Bodies, a play space and classes spot for tots, babies, and preschoolers.
Find more things to do with kids in our Fort Greene Clinton Hill Neighborhood Guide.
This article was first published in 2013 but has since been updated.
Top photo: Family Festival at Havana Outpost. Photo courtesy of the restaurant
Enter to Win!