Brooklyn Preschoolers: 40 Awesome Things To Do in the Borough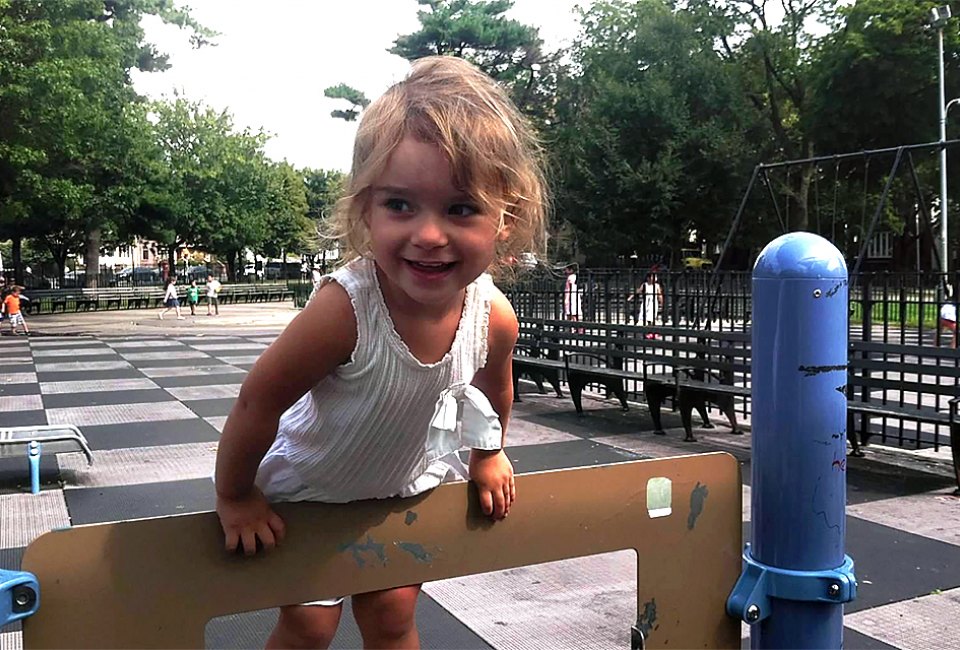 2/24/20
- By
Sara F
Brooklyn is full of fun experiences for little kids, whether you live here or are just looking for new adventures. From pedal boating in Prospect Park to sharing Key lime pie along the water in Red Hook, we guarantee you'll want to take your Brooklyn preschoolers and toddlers out exploring with these 40 must-do activities.
One of the great things about these early years is your kid may not be in school every day, so you often can avoid the weekends and enjoy some of these Brooklyn gems without the crowds.

The Prospect Park carousel is the perfect stop after the zoo or a walk through the green space. Photo by Matt Nighswander
Fun Outdoor Places to Play With Brooklyn Preschoolers
1. Ride the lion, giraffe, or dragon-pulled chariot on the Prospect Park Carousel.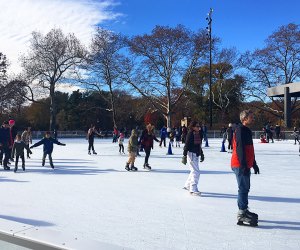 Take a spin on the ice at the LeFrak Center at Lakeside. Photo by Sara M.
2. Run through the splash pad fountains or learn to skate at the LeFrak Center at Lakeside in Prospect Park.
3. When summer rolls around, flip-flop your way to a local (and FREE) outdoor pool. Brooklyn plays host to some of our favorites, including McCarren and the Douglas & DeGraw pool.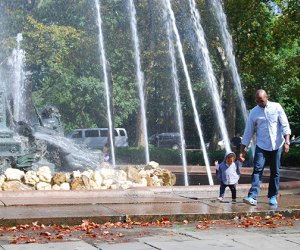 Wander through Grand Army Plaza to check out the Bailey Fountain. Photo by the author
4. Feel the spray from the giant Bailey Fountain at Grand Army Plaza, and if it's Saturday, meander through the Greenmarket and see a street musician or puppeteer.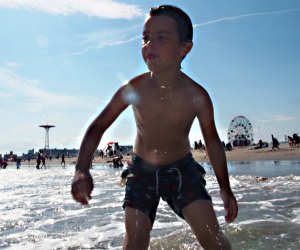 Cool off in the surf after a day on the rides at Coney. Photo by Matt Nighswander
5. Play in the sand, splash in the surf and go for a spin on the kiddie rides at Coney Island.
6. Take a ferry ride to the Rockaways, or check out the water taxi from IKEA for some toddler-friendly seafaring.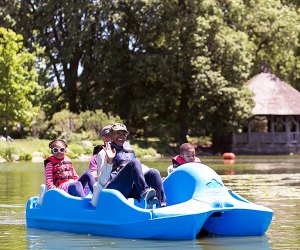 Pedal a boat or kayak around Prospect Park Lake. Photo courtesy of the Prospect Park Alliance
7. Rent a pedal boat as a family to cruise around Prospect Park Lake in the warmer months.
8. Take a ride on the trolley at Greenwood Cemetery.
RELATED: 50 Things To Do in Park Slope with Kids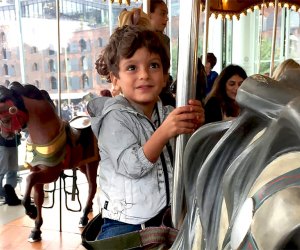 Wander along the piers at BBP then make your way to the beautiful Jane's Carousel. Photo by Matt Nighswander
9. Go for a spin on the glass-enclosed Jane's Carousel at the foot of the Manhattan Bridge in Dumbo.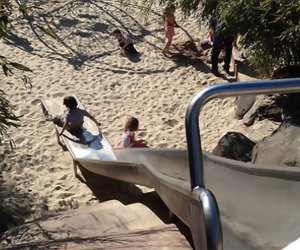 The slides are steep and fast at Brooklyn Bridge Park's Pier 6. Photo by Matt Nighswander
Fun Playgrounds for Brooklyn Preschoolers
10. Swing like Tarzan and swoosh down the two-story slides at the Pier 6 playground.
11. Play with a water pump and hop from stump to stump at the nature playground in Prospect Park.
12. Splash around, grab a snack, and enjoy the views at the beautifully renovated Domino Park in Williamsburg.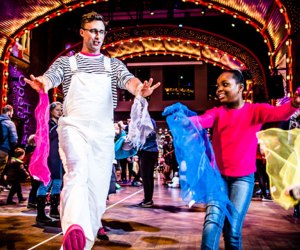 The BAM Kids fest is always a blast. Photo courtesy of BAM
Indoor Places to Play With Brooklyn Preschoolers
13. Take them to their first film fest with the annual BAMkids fest in Fort Greene.
14. Explore the lush conservatories at the Brooklyn Botanic Garden.
15. Get crafty at one of the many art studios geared toward kids all across this artistic borough.
16. Take the plunge and swim at an indoor Brooklyn pool, or register for FREE programs hosted by the NYC Department of Parks & Recreation.
17. Or enjoy live theater at some of Brooklyn's best spots for preschoolers, including Spellbound Theatre, BAM, Park Slope's Puppetworks, Jalopy in Carroll Gardens. You'll also find children's shows at On Stage at Kingsborough, The Brooklyn Center for Performing Arts, and the Kings Theatre.
18. Teach your pre-K kid the game of golf at the indoor Shipwrecked in Red Hook.
RELATED: 25 Things To Do With Your NYC Preschooler Before Kindergarten

Check out the radio other and other cool interactive areas at CAMP's newest location at City Point. Photo by Ros Muggeridge
19. Head to interactive toy store CAMP's location at City Point to play, shop, or craft a keepsake to take home.
20. Catch a free show by a kids' band at the Brooklyn Public Library's Dweck Center.
21. Spend some time at Industry City in Sunset Park. Check the schedule for year-round activities for the whole family (Rock N' Roll Playhouse is a great one for toddlers!).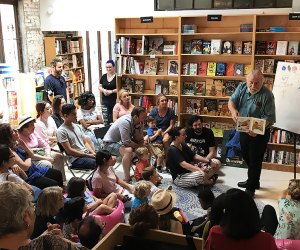 Swing by Books Are Magic in Cobble Hill for storytimes and author events. Photo courtesy of Books are Magic
22. Drop-in for storytime at bookstores like Greenlight, Books Are Magic, and the top public libraries.
23. Visit Little Things in Park Slope or Two Kids and a Dog in Dumbo for some train table time.
Cultural Institutions to Explore With Brooklyn Preschoolers
24. Drive a bus and play on real subway trains at the New York Transit Museum.
25. Burn off energy at the nearly two dozen indoor play spaces and kiddie gyms scattered around the borough.
26. Float boats and splash on the water table at the Brooklyn Children's Museum's Totally Tots exhibit.
27. Visit a Brooklyn maker space for a class, camp, or a special birthday party, including the Brooklyn Robot Foundry in South Slope and Geek Forest in Williamsburg.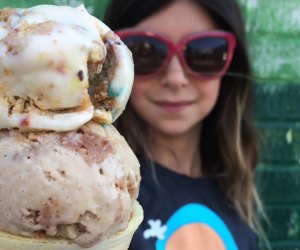 Head up to the roof deck of Ample Hills in Gowanus to enjoy your ice cream. Photo courtesy of Ample Hills
Preschool-Friendly Eats in Brooklyn
28. Eat ice cream on the rooftop deck at Ample Hills Ice Cream Paradise in Gowanus.
29. Share a chocolate-dipped Key lime pie on a stick at Steve's Authentic Key Lime Pies in Red Hook while overlooking the harbor and Statue of Liberty.
30. Indulge in a donut at one of these fantastic locales—some of the best can be found in Brooklyn!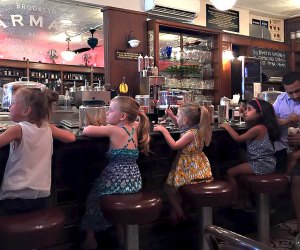 Line up for treats at the counter at Brooklyn Farmacy. Photo by Melissa Spar Pipitone
31. Introduce your toddler to a classic egg cream at the Brooklyn Farmacy, and stick around to play a board game.
32. Sip coffee and nibble a croissant or slurp soup while the kids play at these Brooklyn cafes with children's toys and activities.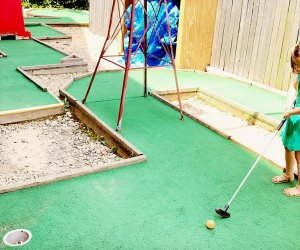 If you're in Red Hook, don't miss the chance to eat and play at Brooklyn Crab. Photo by Janet Bloom
33. Head to Brooklyn Crab for a snack and some time in its kid-friendly outdoor courtyard.
34. A beer garden might not instinctively feel like a great place to bring a toddler, but allow Brooklyn to prove you wrong! Spend an afternoon playing and relaxing with a cold one at one of these family-friendly spots.
Awesome Animal Encounters for Brooklyn Preschoolers
35. Catch the sea lion show or the awesome shark exhibit at the New York Aquarium.
RELATED: 50 Things To Do in Williamsburg With NYC Kids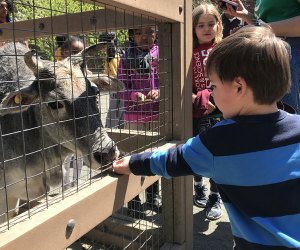 Get up close to the animals at the petting zoo area in the Prospect Park Zoo. Photo by Louise Trapasso
36. Feed the animals at the Prospect Park Zoo.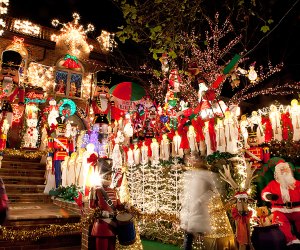 It's not Christmas in Brooklyn until you've been to the Dyker Heights Lights. Photo by Marley White for NYCGo
Cool Holiday Celebrations for Brooklyn Preschoolers
37. Blow bedtime this holiday season to walk or drive through the over-the-top Christmas light displays in Dyker Heights.
38. See the world's largest Hanukkah menorah at Grand Army Plaza.
39. Trick-or-treat through Park Slope for and march in the renowned annual children's Halloween parade.
40. Celebrate Caribbean culture with beautiful costumes and music at the children's West Indian American Day Junior Carnival parade.
This post, originally published in October 2016, has since been updated.
Click Here to Sign Up!
i