CAMP Store and Play Space Opens in Downtown Brooklyn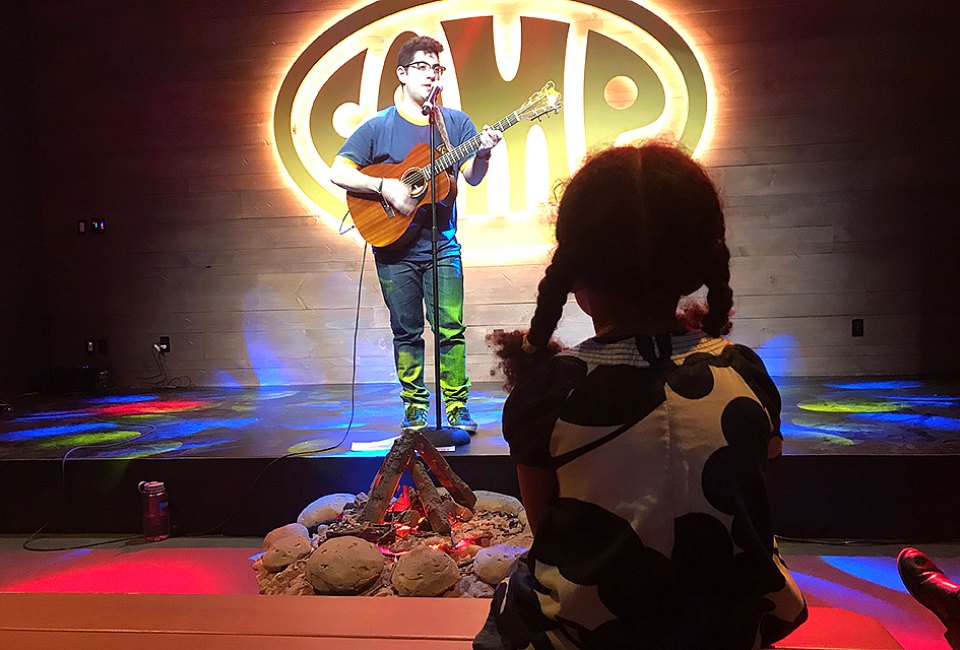 12/5/19
- By
Rosalind Muggeridge
Brooklyn parents just got a cool new indoor play space, right in time for the long winter months ahead. CAMP, one of our favorite toy stores in NYC (and one of our favorite places where kids can play for free), opened its newest outpost at City Point in Downtown Brooklyn this week.
Take a few steps inside, and you'll quickly realize you're not in an average toy store. A seemingly ordinary wall displaying jars of candy swings opens to reveal a world of interactive fun that is sure to be a hit with children all ages. I stopped by with my kids the other day to check out the new space: Read on for a peek inside.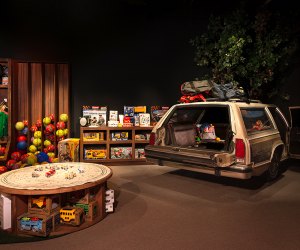 The new CAMP location at City Point in Brooklyn feels like an old fashioned summer camp.
Occupying two floors, CAMP's 11,000 square destination toy store and indoor play space at City Point will feature fun, playful themes that change regularly. The location opens with the brand's signature BaseCAMP motif, which fans of the Flatiron store may recognize from its debut, designed to evoke a New England summer camp including nature, arts and crafts, sports, and theater.

Counselors are on hand to guide kids through the experience.

The upper level houses a series of interactive areas including the Bunk and Disco Cabins, the Radiolab, the Lake, and the Sports Field. In the Bunk Cabin, my daughter's ten-year old friend jumped onto a bed exclaiming, "It's just like sleepaway camp, only better!" Around every corner a super-friendly "CAMP counselor" is on hand to interact with kids or to answer any questions.

The giant sequined flip wall is a popular spot!

A wooden bunk with a secret slide leads to the Glitter Room, complete with a sequined flip wall and cool lighting effects.
RELATED: Stores Where NYC Kids Can Play for FREE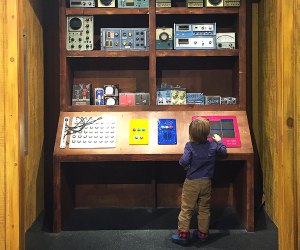 Learn about Morse Code and radio tuning at Radio Lab.

At the Radio Lab cabin, kids can tune the radio and practice Morse code. And a vintage station wagon has an interactive windsheld and a "way back" that kids can climb into.
RELATED: NYC's Best Toy Stores

Check out the vintage station wagon—visitors are even allowed to hop in the back!
While exploring, kids and adults can peruse a well-curated selection of toys and games arranged throughout the space. Though it's tough to leave without buying something, the store features quality products at various price points, offering those with kids in tow some reasonable options. I also really appreciated the space's intentionally soft lighting as opposed to the usual bright glare found at most stores.
Before heading out, we stopped by the "CAMPitheatre" which hosts regular art workshops, live performances, and other programming for kids of all ages and their families. Check out the upcoming schedule here. CAMP's Creative Manager Nathalie Sann and some other friendly staff members helped crafters create a sweet train car complete with a working headlight and rotating wheels. Though there were kids ranging in age from 3-12 in attendance, everyone seemed engaged and all were able to complete the task.

It's hard to leave CAMP empty-handed.
To make the experience even more rewarding, CAMP now offers a FREE membership program where visitors can earn points for store purchases of merchandise or tickets to various activities. Points are then redeemable for lots of treats including in-store experiences, gift cards, or a scoop of Ample Hills ice cream's signature CAMP flavor at the Canteen (café). I especially love that the free membership comes with complimentary gift wrapping.
There's lots of other CAMP news to be excited about: check out our review of the new Toy Lab theme at the flagship location in the Flatiron District and stay tuned for info on the opening of the Hudson Yards location in the new year.
Round out your visit to City Point by taking a spin at Lola Starr's latest pop-up roller rink or grabbing a delicious snack at the Dekalb Market food hall on the lower level.
Good to know before you go:
CAMP is a cash-less retailer and is open every day from 10am to 9pm.
There are bathrooms, a place to hang coats, and plenty of stroller parking on site.
It's free to play in the interactive spaces but tickets are required for scheduled activties, performances, and workshops.
Unless noted, photos by the author
Places featured in this article: