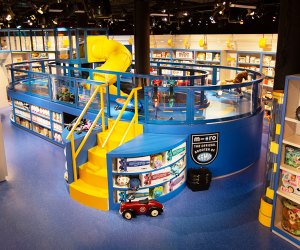 CAMP Store and Play Space in Flatiron Launches New Toy Lab Theme for Holidays
CAMP, one of our favorite NYC stores where kids can play for FREE (and one of our favorite new additions to NYC last year, period) isn't your average toy store with a play space. The entire space reinvents itself every season, making it an imaginative wonderland designed for repeat exploration.
Situated on the corner of 16th Street and Fifth Avenue, CAMP looks like a retail shop from the street—albeit one with an on-site cafe and a funky collection of merchandise, from toys and games to books and clothing. But look closer and you'll see that there's something spectacular hiding behind a secret door. Find the entrance (with the help of a super-friendly CAMP counselor) and you're in for hours of fun, and a cool indoor place to play.
CAMP has reinvented itself again, with a toy-focused theme just in time for the holiday shopping season—read on for a peek inside.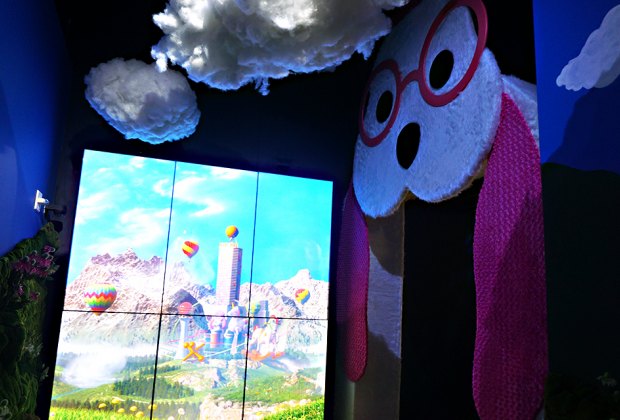 Walk through the secret door to experience CAMP.
CAMP's secret door takes you into a misty, mysterious passageway to a 10,000-square-foot play space and store, which at its heart is meant to be an experiential retail space. Its theme rotates every couple of months, along with the funky finds, making CAMP a great place to play and to find a super cool gift for your child—or for the endless birthday parties that fill your weekends.

Choose your favorite job in the Toy Lab.
The flagship store just unveiled its fourth theme, Toy Lab, in time for the holiday season. Upon entering the Toy Lab, kids can choose a job title, like "Funfluencer," "Awesomeness Agent," or "Play Pioneer"—but their mission is the same: Play with as many toys as possible from the 20 demo stations situated throughout the store, with demo toys that are rotated multiple times daily.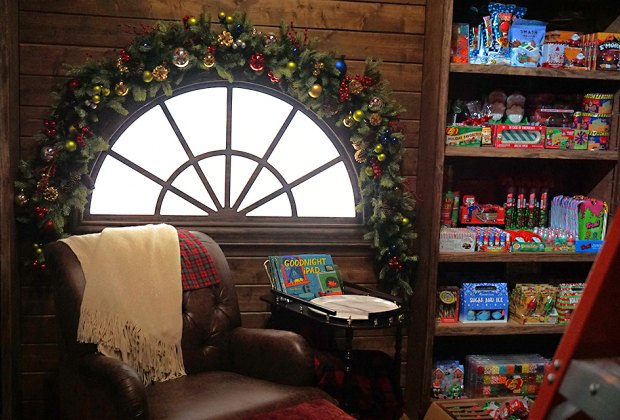 Look for the hidden room that holds holiday treats.
The Toy Lab's pretend-factory aesthetic has some super fun touches, like giant red buttons in each room that tease you not to touch them—only to unleash fun surprises when curious little hands can't resist, like a disco ball complete with dance music. There's a surprise room with all those fun (and infuriating) unboxable toys, a game room featuring an old-school Space Invaders arcade console, and a Micro-sponsored scooter track stocked with wheeled toys to try out. A clear, ceiling-high tube leads to a bigger-than-ever twisty slide that deposits you into a pit of foam. A hidden room holds holiday treats for those who find it, and Jolly Old St. Nick just might visit over the course of the theme's run, currently planned to last through January. For the first time, the theme has an online interactive element to it, too.
RELATED: NYC's Most Amazing Destination Toy Stores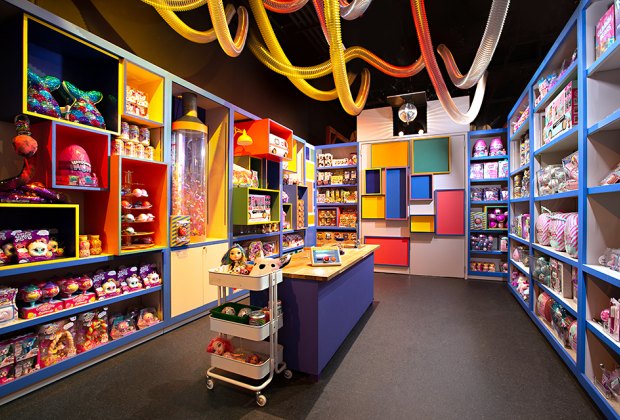 Find a little treat or toy to take home.
Each interactive section is stocked with a curated selection of goodies. And while my kids saw plenty of things they wanted to have, they also spent nearly two hours exploring the space, focused on having fun and interacting with the energetic, kid-friendly counselors. It's hard to leave totally empty-handed, but each of our multiple visits has produced a unique, high-quality, reasonably priced purchase or two.
The Campitheater, an enclosed space at the back, serves as a classroom and party space for the store, hosting frequent events and workshops tied to the current theme. CAMP recently revamped its membership program. Membership is now FREE and guests can earn points for in-store purchases or activities their campers participate in; points are then redeemable for cool in-store experiences or even gift cards. With the holidays upon is, it's also worth noting that with the free membership comes free gift wrapping services, too!
Touching and playing with toys is encouraged. While the space itself is tons of fun, and interactive in so many ways, the staff also makes the experience memorable. I was really struck by the customer service the counselors provided, as well as all the elements they brought to make the experience so special for my kids. I was told that the co-owners, Nikki and Ben Kaufman, looked for counselors who were not only great with kids, but had talents that could be showcased in programming for the space.

CAMP will reinvent itself every 8-12 weeks-the last theme was round-the-world -adventure.
Lest you think CAMP is some one-trick pony, here's the other remarkable thing: Each theme is temporary. Every 8-12 weeks, CAMP will pack up its installation and start from scratch with a new batch of surprises to play with and to purchase. Previous themes at CAMP have included Basecamp, every kid's fantasy summer camp, and Cooking Camp, a exploration of food, and Travel Camp, which took visitors on a round-the-world adventure. On my multiple visits, with kids ranging in age from 5 to 10, they've all had a blast and found different draws; that said, kids as young as 3 would definitely find something fun to do here.
While New York has had its share of Instagram-worthy, interactive popups lately, from Candytopia to Mickey: The True Original Exhibition, CAMP is here to stay; save a few days of downtime each time it reimagines its space. Even better news: CAMP is expanding, bringing brand-new locations to City Point in Brooklyn and a permenent Basecamp-themed location to Hudson Yards. Both are expected to open before the calendar turns to 2020.
Buyers take note, CAMP is a cash-less retailer.
Photos by the author
This post is updated regularly.