Candytopia Arrives in NYC for Hungry Fans: Is It Worth a Visit?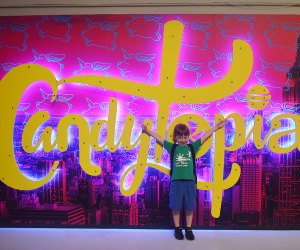 There's always something exciting and exclusive going on in NYC – something a little more special than another trip to the playground. Whether it be an outdoor concert, a Broadway show, or a special pop-up museum event, there's an endless supply of something "new."
Candytopia, made famous during its run in Los Angeles, has made its way to New York City. Tucked inside Penn Plaza, over a dozen rooms are lined up for your candy-filled enjoyment. The tasty extravaganza opened on August 15 and runs through January 6, 2019. Read on for details of my family's Candytopia NYC visit.

Flying pigs and unicorns made of candy! Wow!
My 6-year-old son and I did not know what to expect when we were invited for a sneak peek of Candytopia. Was it just a giant candy store? Not at all.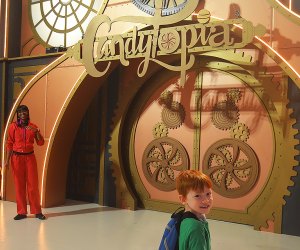 Gateway upon gateway you'll feel like you're walking into a wonderland.
We arrived at a Harry Potter-esque main entrance, straight out of Diagon Alley. There we were led into a Clock Room, with a Wonka-like tour guide. He explained some rules (for example, you can't work your way backwards through the exhibit) and instructed us to have some fun—and EAT SOME CANDY. He offered us samples from a gigantic tray of Lindt chocolates. It was then we realized that we were in for a treat, in more ways than one.

Get a blast of confetti and be a star in the confetti room.
After the Clock Room, we were led into yet another waiting chamber that reminded me of the gates to the Goblin Kingdom in the classic 80s movie Labyrinth. And that gate opened into a candy wonderland.

Everything from the sharks to the seahorses to underwater excavations is made of candy.

You can see the pattern. We were led through room after room—Wonderland, Art Gallery, Under the Sea—and in each room, almost everything is made of...you guessed it: Candy! From flying pigs to unicorns to dragons, it's all candy! You can't eat the candy sculptures or art, but each room contains a treasure trove of candy samples for the taking (and tasting).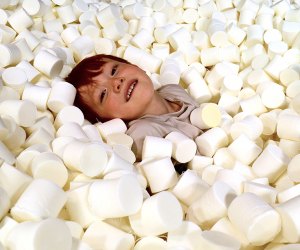 Ending the day in a giant marshmallow pit isn't half bad.

The biggest treat of all was ending the path in the enormous marshmallow pit. (They're not real marshmallows but convincing foam balls, so no stickiness.) My son had a thrilling time digging to the bottom and popping back up.
When I first heard of Candytopia, I had my reservations. It was certainly an Instagram-friendly affair and all about the pretty pictures you can capture, but would it actually be fun? According to my son, the answer was a sure-fire YES!

This colorful optical illusion was a hit with my son.
In my opinion, preteens aged 8 to 12 are the sweet spot for Candytopia (or adults out for a good time): old enough to take their time in each room, yet young enough to find joy in its whimsical moments.
My little family surely enjoyed themselves and we have the pictures to prove it.
Candytopia NYC — What to Know Before You Go:
Candytopia is a limited engagement, ending on January 6, 2019. Tickets are booked ahead so check for available dates and times
Tickets are $34 for adults, $26 for children. Kids under 4 are FREE.
There is stroller parking, but no coat or bag check and, boy, does it get warm. Dress lightly and leave the shopping bags at home.
The Marshmallow Pit requires you to take your shoes off. Just be aware.
There are confetti cannons, loud music, and some bright lights. Very young children may not be comfortable.
The retail shop at the end has a few lovely candies for sale and accepts credit cards only, no cash.
Charge your phone! This place is all about the pics.
Photos by the author