NYC's First Interactive Museum of Tea Celebrates Tea Culture...and Bubble Tea!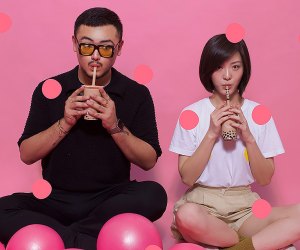 We've already filled you in on the Color Factory, Flow Separation, and Candytopia, and now the summer of the Instagram-ready, immersive art pop-up continues, with the first tea-themed interactive art space in NYC. Room For Tea is brewing, and is set to open in Tribeca on August 28. Read on for an advance look at photos of the imaginative space celebrating the diversity of tea cultures around the world (and especially bubble tea), plus everything you need to know to plan your visit.
If your city kids are obsessed with sweet, milky, irresistible bubble tea, they're definitely not alone. Bubble tea shops have popped up in almost every NYC neighborhood. Room for Tea, the first tea-themed immersive art space in NYC, features five sensory experiences designed to celebrate bubble tea, or boba tea, through the eyes of different traditions. Boba tea is a Taiwanese tea-based drink invented in 1980s. Recipes usually contain tea of some kind, flavors or milk, and a sweetener. Toppings such as chewy tapioca balls (also known as pearls, or boba) are then added. (Fun fact: the tapioca pearls at the bottom of the drink are often mistakenly referred to as the "bubbles," however the drink gets its name from the froth formed when the milk tea mixture is shaken.)
RELATED: Take a Kid-Friendly Global Food Tour in Astoria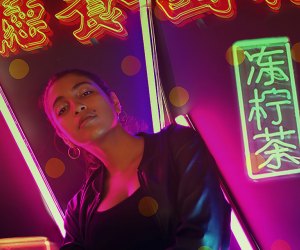 Room for Tea's five "experiences" include a "Labyrinth of Tea Origin" where visitors make their way through a layered maze of curtains in a quest to find the world's oldest tea, "Milk Tea Metropolis," where you can walk down a virtual street in Hong Kong to explore another chapter of tea history, "Matcha Under Cherry Blossom," where you can learn more about traditional tea ceremonies in a modern teahouse, and "Summer BOBA Court," a fun interactive space filled with giant pink bobas and milk bottles.
RELATED: Kids Love Tea and Treats at Rose House in Flushing, Queens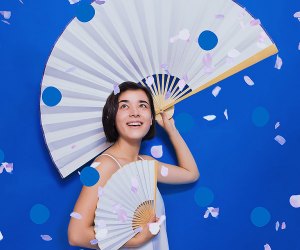 When you're ready for your tea tasting, head to the Bubble Station, where each week some of NYC's top teashops will be serving up complimentary cups of their signature boba teas (one FREE tea per visitor). Each week the tea selection changes depending on which teashop is at the Bubble Station: You can view the rotating schedule on Room for Tea's website. There's also the option to add a traditional 40-minute tea ceremony experience to your ticket for an additional cost.
Room for Tea will be on view at 371 Broadway in Tribeca from August 28 through September 22. General admission tickets are $23 each and include museum admission, one complimentary bubble tea, and a plantable "seed card:" every ticket sold helps the organization Trees for the Future plant one tree. Tickets including the additional 40-minute tea ceremony experience are $33. Admission is FREE for kids younger than 4, but all children under 14 must be accompanied by an adult. Tickets are now available here.
All photos courtesy of Room For Tea