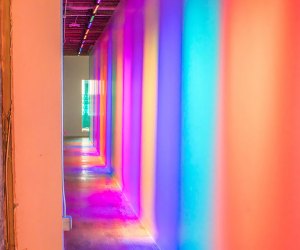 Color Factory, a Colorful New Pop-Up Museum, Is Coming to NYC
The year of the interactive, Instagram-worthy art pop-up continues (we've already seen and loved the Dream Machine, The Egg House, Narcissus Garden, and the Hot Dog Bus) when The Color Factory lands in Soho on August 20 for a limited time. The Color Factory promises to be one of the coolest kid-friendly art events this summer, and tickets go on sale today.
Featuring 16 unique installations designed to encourage the exploration of color and light, this vivid exhibit—described by organizers as a "playhouse pop-up"—will convert a commercial space in Soho into 20,000 square feet filled with immersive artwork. Be ready for playful color palettes, jaw-dropping effects, and of course, lots of ways for kids and their grown-ups to interact with the art. For an advance look at photos of the gorgeous space, plus information about how to visit, read on.

The ball pit in the Color Factory with approximately 207,000 balls will kids and adults!
The Color Factory opens in New York City on August 20, on Spring Street near the Avenue of the Americas. Tickets go on sale July 17 at 9am EST and can be purchased here for $38 per person, with children under two admitted FREE.
Highlights of the exhibition include discovering your "secret color" in a room by New York Times contributor Molly Young, an ombre floating balloon room, colorful treats including a custom ice cream created for Color Factory, a guided activity on color and connection by Queens artist Christine Wong Yap, a luminous dance floor, an interactive installation by artist Lakwena Maciver, known globally for her technicolor street art, and Color Factory's signature ball room.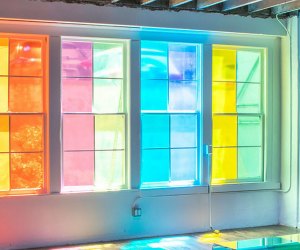 The light-filled multicolored room by Leah Rosenberg will inspire wonder.
Though the Color Factory pop-up debuted in San Francisco, the upcoming exhibit will be unique to NYC, with a new collection of artists and collaborators creating in color, including Lakwena Maciver, Alex Kalman, Molly Young, Kendra Dandy, Christine Wong Yap, Randi Brookman Harris, Leah Rosenberg, and Erin Jang, plus other artists to be announced soon.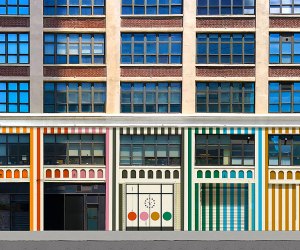 Here's a sneak peek rendering of the Soho Color Factory.
To experience some "local color" after touring the exhibit, guests can grab a neighborhood map (exclusive to the exhibit) featuring over 20 unique experiences hidden throughout downtown Manhattan to discover and enjoy.

These rainbow stairs are a fantasy come true for kids!
With the amount of hype the show has been getting, we're guessing you should snag your tickets right away.
The photos above are from the San Francisco exhibit but offer an idea of what's to come in NYC. All photos courtesy of The Color Factory