Inside the New Bronx Children's Museum Now Open in the South Bronx
12/13/22
- By
Jody Mercier
It's a big day for the itty-bitty residents of the Boogie Down borough: The long-awaited Bronx Children's Museum has finally opened its brick-and-mortar location after more than a decade of offering programming to area residents as a museum without walls. The opening of the Bronx Children's Museum gives the borough its first museum dedicated to young New Yorkers.
We visited the sparkling new space on opening day and had enough fun exploring the 13,000-plus-square-foot educational play space that my daughter joyfully proclaimed it her new favorite museum when we exited and gushed that she was excited it was so close to home. I'm sure she's not the only one feeling this way after exploring its eye-popping murals, sprawling water table, and Bronx-inspired exhibits
Read on for the details on this new kiddie haven located in the South Bronx, including how to nab your FREE-for-now tickets. One visit was enough to convince us it belongs on our list of the city's best children's museums to visit with kids. Find all our top picks for kid culture in our Guide to Museums, Galleries, and Exhibits in NYC for Kids.
Subscribe to our newsletters to get stories like this delivered directly to your inbox.
Bronx Children's Museum History
Founded in 2005, the Bronx Children's Museum aims to cater to the diversity of the borough it calls home, serving children from birth through fourth grade with a rich array of programming. Since 2010, its outreach programs have reached more than 125,000 children and families at 611 different community events and educational institutions.
While the building's opening gives the museum a new avenue to interact with Bronx residents, the Bronx Children's Museum plans to continue operating both within the building's walls and beyond. Its 2023 goals include reaching 35,000 children; the bulk will come through the museum doors, but about 12,000 will encounter its "Museum On the Go!" bus, which brings educational programming directly to underserved communities.
RELATED: Free Times To Visit NYC Museums, Gardens, and Zoos

The Bronx Children's Museum is laid out in an open, airy, loft-like space that instantly welcomes families.
Bronx Children's Museum's New Home
Located at the northern end of Mill Pond Park in the South Bronx, the Bronx Children's Museum is on the top level of an old, city-owned power plant. The generic brick exterior provides excellent cover for the airy, loft-like space that awaits exploration inside! Its proximity to the Harlem River and the park itself are seemingly an extension of the museum. Indeed the feeling of bringing the Bronx into the space is evident nearly everywhere you look inside the building, from the Bronx-native patrons who helped bring the project to life (Sonia Manzano, Sonia Sotomayor) to the Bronx-connected artists whose murals adorn the walls, bringing the community's vibrancy into the space. Its location is not far from The Bronx Museum or the forthcoming permanent home of the Universal Hip Hop Museum making this South Bronx neighborhood a cultural destination.
RELATED: What Ages Get in Free to NYC Museums, Zoos, Amusement Parks

Tons of movable pieces let kids redirect water at the 35-foot-long water table at the Bronx Children's Museum.
Fun Exhibits at the Bronx Children's Museum
1. The Waterways
If your children are water lovers, take note: It'll be hard to pull them away from this sprawling water table that flows for 35 feet, mimicking the waterways of the Bronx before it spills into a replica of Orchard Beach. There are levers to push and pull, boats to load up with cargo, bridges to build, beaver dams to assemble, and tons of wet-and-wild fun. Bronx Children's Museum educators keep a close eye over it all, offering smocks and helping hands, while patiently squeegeeing up the inevitable mess, and also engaging with kids as they build and create, discussing the cause and effect of their construction on the flow of the stream. While we visited every exhibit at the museum, The Waterways had my 9-year-old coming back time and again.
2. The Woods
Meet live animal friends and interact with animal educators in The Woods. During our visit, we touched turtle and horseshoe crab shells, searched for the resident tortoise, the aptly named Pelham, and admired the fish tank residents before crawling into a beaver den, and inspecting slides with everything from insects to hermit crabs under a microscope. During our session, Pelham even came out for a visit, and kids were allowed to stroke his shell and watch him slowly plod along the floor.
RELATED: Visiting the Sloomoo Institute: Soho's Museum of Slime

When it's time for special programming—like story time with Sonia Manzano in The Enchanted Garden—a PA system announces the fun and all are invited!
3. The Enchanted Garden
This lovely corner includes fun props for dress up, and comfy toadstools and stumps for kids and adults to sit down and relax or read one of the story books resting on the windowsills and shelves. It's also hub of activity during story time. On our visit, Manzano read her children's book to the kids gathered around, and the parents who were slightly more familiar with her work on Sesame Street.
RELATED: Liberty Science Center: Best Things To Do With Kids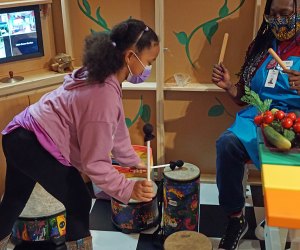 Find the colorful, action-packed casita on The Block at the Bronx Children's Museum.
4. The Block
Beyond The Waterways, The Block had to check in as our second favorite play zone at the Bronx Children's Museum. Explore the casita, with its brightly colored interior and fun musical instruments that inspired many an impromptu concert. There's also a communal table here, where kids eagerly served anyone who sat down, either food they faux grilled just outside the window or the produce they dug up from the garden nearby. The tiered garden was a flurry of activity and I loved how it offered kids of different sizes a just-right spot to dig and play.
5. The Nest
Little ones and caregivers from birth to age 3 are welcome in this sprawling, padded haven, which has plenty of places to cruise, crawl, and explore. A mini-ball pit, plenty of gears and levers to play with, tubes to crawl through and Montessori-inspired climbers mean little ones aren't left out while big siblings explore nearby. A half-wall and latched doors keep babies safe but give parents a good view of multiple exhibits if they're trying to supervise big and little kids.
Bonus: The Cloud
This yet-to-open exhibit is seemingly suspended above the rest of the museum and promises to be a performance space designed by local fashion designer Jerome LaMaar. The touch-free digital walls project animal avatars guests can groove with to a soundtrack of multi-cultural beats from hip hop to salsa and beyond. It's slated to open sometime in 2023.
RELATED: See Bronx Zoo Like a Local: Top Tips for a Great Visit with Kids

Accessibility is a big part of the Bronx Children's Museum's mission to reach traditionally underserved communities and its colorful signage is presented in both English and Spanish.
Know Before You Go to the Bronx Children's Museum
Beginning in January, the Bronx Children's Museum is open three days a week—Tuesdays, Thursdays, and Saturdays. Tickets must be reserved online in advance for timed-entry sessions.
Currently, entry to the museum is FREE; eventually, tickets will cost $8 per person for everyone over the age of 1.
There's a self-check room for both coats and strollers.
Bathrooms are equipped with kid-sized sinks and diaper-changing stations.
Sonia's Corner offers a lovely place to escape the main museum and relax if you need a break from the action or a quiet place to feed a baby.
If you have trouble convincing your kids to leave a fun day out, take note: Our Bronx Children's Museum session ended with a parade, complete with a drummer, stopping at every exhibit and rounding children up and leading them to the exit. A perfect, fun ending to an awesome outing!
Unless noted, all photos by author.
Places featured in this article:
Click Here to Sign Up!
i