Eat Around the World in Astoria at Kid-Friendly Restaurants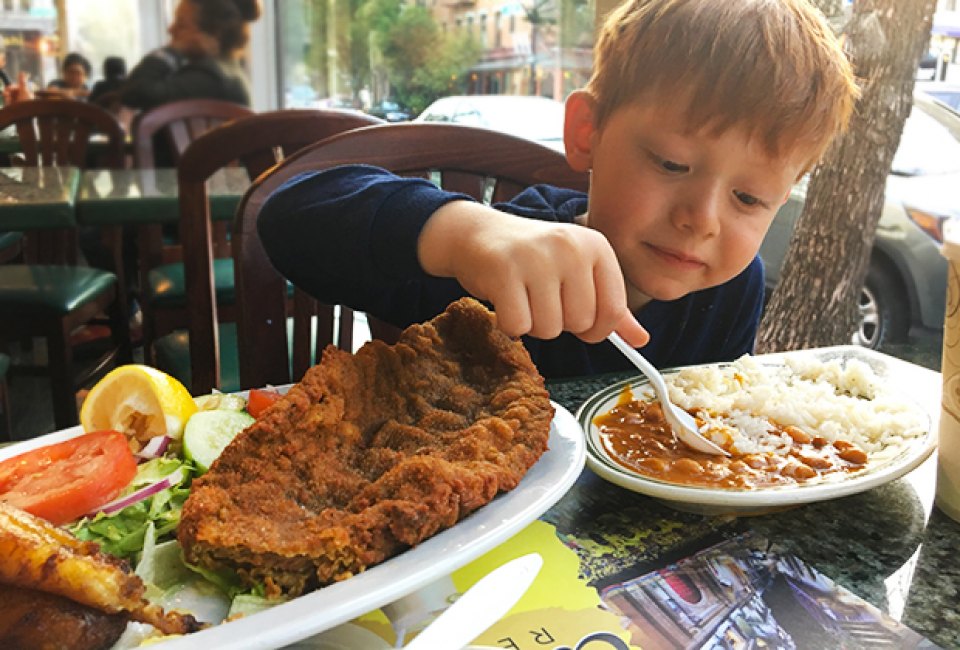 10/13/17
- By
Sydney Ng
New York City has always been called a melting pot, drawing immigrants from diverse backgrounds. But beyond the name, few people are aware that the most diverse part of the world lives in one particular borough: Queens! More languages are spoken in Queens than ANYWHERE else. People from around the world are attracted to Queens and have been growing their families here for generations. And everyone knows—with culture and language, comes food.
I asked my fellow Astoria moms to name their favorite eats and I received over 50 responses! With their help, I compiled this list of tried-and-true establishments that have friendly service, approachable menus for picky eaters and kid-friendly atmospheres.
Welcome to "Eat Around the World in Astoria," one of Queens' most unique hodgepodge neighborhoods, with an extraordinary range of restaurants to please everyone.
Although Astoria offers everything your heart could desire, from tapas bars to oyster bars, we only included eateries that were good for families. If you're visiting Astoria, check out our guide to this family-friendly neighborhood to make your day a full adventure.
European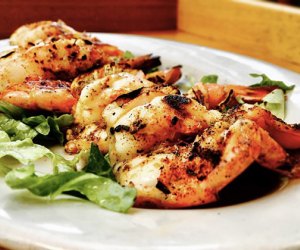 The seafood at Taverna Kyclades is always fresh and delicious. Photo by costapetroves/courtesy of the restaurant
What is Astoria without Greek food? The Greek population in Astoria is one of the neighborhood's strongest communities, with dozens upon dozens of delicious choices. Taverna Kyclades is famous for its seafood dishes, with just enough hustle and bustle to dilute the cries of a cranky baby. But I've always been a fan of Zenon Taverna, which participates in Up-Stand's initiative in welcoming breastfeeding moms. It's a family-owned restaurant with a friendly staff. Zorba's has a nice front patio, great for people-watching when the weather is good. At Loukoumi Taverna you'll have the opportunity to teach kids that octopus is delicious.
German food is growing in popularity over the past few years. Max Bratwurst und Bier has more than, you guessed it, brats and beer. They also offer spä​tzle (think mac and cheese), schnitzel, and apfelstrudel. My grandmother would be proud. If you have little ones that need to shake out the sillies, then the Bohemian Hall and Beer Garden is your go-to, with a dance floor, yummy pierogi, live music, kid activities, and more.
RELATED: The Best Playgrounds in Queens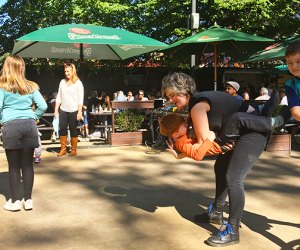 Eat, dance, and be merry at the Bohemian Beer Hall. Photo by the author
Although pizza may be more New York than Italian, we had to give a shout-out to local favorite Milkflower, for its rustic and laid-back atmosphere and delicious wood-fired pizzas. The same goes for Tufino Pizzeria Napoletana on Ditmars. If your image of Italy includes savory smoked meats, crusty bread, and pungent cheese, try Il Bambino, champions of panini and all things cheesy and meaty. It also has a backyard patio. Or perhaps you're looking for something for a special occasion but still need a high chair? Definitely visit Portalia, which doesn't blink an eye when you enter with your toddler even though the atmosphere can also be romantic and grown-up.
Latin American
You'll need to share your plates at Tierras Colombianas, serving traditional Colombian foods like maduros (sweet plantains) and a rotating menu of soups which includes my favorite, ox-tail stew. Most dishes are large enough to be shared. The large, casual interior is a plus for big parties both with kids and without.
For low-key Mexican, definitely try Homemade Taqueria—the al pastor is mouth-watering and it's among the very few Mexican places offering tortas on the menu. For something a little fancier and big on the brunch scene, try Mojave, which has an outdoor garden in the back. De Mole will satisfy your hunger with its giant burritos and pastel de tres leches for dessert.
Brazilian BBQ (a meat-lover's oasis) is taking Astoria by storm and you can't walk two blocks without running into a buffet. Kilo Astoria is a neighborhood favorite, with its full bar and extensive bottled-beer menu. But I'm a fan of Villa Brazil Café Grill, a no-frills meat-by-the-pound sort of place.
If you haven't tasted arroz chaufa, then please take a seat and get ready. Chinese-Peruvian fried rice has been around for a while, but I continue to run into people who have never tried it. Caravan Chicken, although more like a take-out restaurant than sit-down, is Chinese-Peruvian heaven. Mezquite, a bit more upscale, is Mexican-Peruvian fusion, which basically means there's something for everyone from burritos and tacos to arroz chaufa and rotisserie chicken.
Asian, Polynesian, and Oceanian
My 5-year-old son is in love with naan and when we get that craving for curry, we head to Seva. Locals may argue that the restaurant is a bit tight, but there are high chairs and the food is good. That's all I need to know. For a little more elbow room and still some amazing eats, head to Yaar. Its bright and colorful décor will please, along with some tasty samosas. And Kurry Qulture is rumored to sometimes host mommy happy hours. Tired of the same Indian menus? Then go to Maya for a delicious Nepalese Indo-Chinese and Indian combo.
RELATED: The Best Indoor Play Spaces for Queens Kids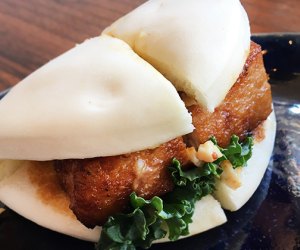 Shuya Cafe de Ramen's pork buns Photo by the author
Hot soup and children doesn't seem like a good combo, but trust us when we say ramen is a hit with the kiddos. HinoMaru offers a kids' menu and high chairs. Tamashii Ramen is cool if you order your kaedama (extra bowl of noodles meant for your leftover broth) for your kid, which makes sharing easy. Not to mention its chasyu pork buns are to die for. If you're with an older kid, stop for lunch at Shuya Café de Ramen, which is right next door to The Geekery HQ, Astoria's board-game haven.
And don't be afraid to visit sushi restaurants, either. Kids can still chomp down on sweet potato rolls, rice, and gyoza at Watawa, with its open-air front patio or at Pink Nori (sushi pizza!). I have always been a fan of baby lunches at Junko Sushi, where the atmosphere is low-key and straight to the delicious point.
If your child can take a little heat, or is a fan of wings, then stop in at Korean Mokja, where the Bibimbap burger needs to be eaten with two hands. The kimchi fries at newcomer Kini are crunchy and spicy while the wings at Bonchon Chicken are addictive.
Thai restaurant Pye Boat Noodle has a great outdoor seating area, perfect for a curious tot. It's easy competition for another great Thai location, Leng Thai, which also has an outdoor terrace.
Vietnamese is a bit new to Astoria, but District Saigon has already gathered a strong following. But if you ask me, if I crave a classic Bánh mì, with pickled carrots and radish, ground pork, and what I can only describe as spam, I just order from the counter at Lotus 1.
The Poke trend has hit Astoria with PokeWave. Bowls of rice topped with raw or cooked fish are accompanied by a selection of sides like seaweed salad and avocado. Don't be discouraged by Poke. This Japanese-influenced dish has been a Hawaiian staple since before Captain James Cook, and has been on every family potluck table since "potluck" was a thing. If the children of Hawaii have been enjoying it for that long, then your kid probably can, too.
I had a hard time placing The Thirsty Koala as it's Astoria's only Australian-inspired restaurant. But it could not go without mention, as it's a local favorite. Although everything on the menu is delicious, folks love that there is an extensive gluten-free and vegan offering. The staff is incredibly friendly and it's known to welcome children of all ages.
African and the Middle Eastern
Nicknamed Little Egypt, the entire street of Steinway, from 28th Avenue to Astoria Blvd, houses some amazing eateries and tasty bakeries filled to the brim with nutty pastries. Although a large portion of its establishments are hookah lounges, you can still find some family-friendly stops.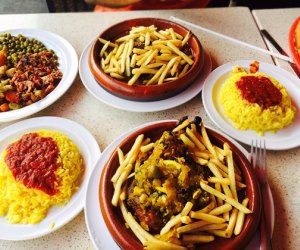 Tajines at Little Morocco offers something for everyone. Photo by Claretta Romano
When I'm craving falafel I head over to Little Morocco. The interior is tight, but the outside seating makes up for it on a sunny day.
Mombar has served Astorians and celebrities alike with its praised Egyptian fare.
The shawarma at Duzan Mediterranean Grill is killer, but I have to admit I'm a bigger fan of their hummus. It has a fast-food feel, but there's plenty of seating, and the kids love the pita and dips.
If you leave Steinway, you can get the famous falafel at King of Falafel & Shawarma Restaurant. True Astoria residents, though, may be more obliged to stand in line at the original King's truck on Ditmars and 31st Street.
With its rave reviews, you might think that S & J's was a high-end, fancy restaurant, but it's as humble as can be. Fresh roti and a sweet staff, this Moroccan-Middle Eastern cafe is hard to beat.
Sweets, Treats and other Goodness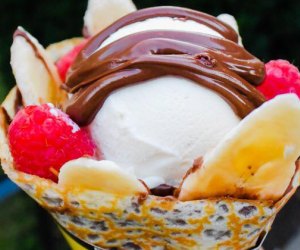 T-Swirl Crepe whips up sweet and savory crepe options. Photo courtesy of the shop

T-Swirl is a Japanese-inspired creperie that wraps your crepe into sweet or savory cone concoctions. It's just as much Instagram art as it is delicious. (I highly recommend anything on their menu with Nutella.)
When I'm craving onigiri (seaweed-wrapped rice balls stuffed with yummy goodness) or my son wants to check out the latest flavors of Pocky Sticks, we head to the small Japanese Family Market.
Vivi Bubble Tea is a solid choice if you're after just that, but if you ask me, I prefer the more unique options at Tea and Milk.
The Pan de Bono from Columbian bakery La Sabrosura makes my family swoon, and the café con leche will instantly give you a lift. It's a hole-in-a-wall, so don't miss it!
And, of course, ending where we started, hands-down the best Greek bakery in Astoria has to be Artopolis. I have never seen so many flavors of baklava and other filo desserts in my life.
I'm sure, with hundreds of restaurants left off this list, I've missed some spots that are near and dear to someone's heart. That's how Queens is. There's a favorite place for everyone. I invite you to add to this list (chime in on Facebook) and discover Astoria and other Queens' neighborhoods. It may not just be the world's most diverse place, it may also be its most delicious.