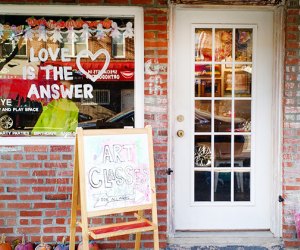 Best of Astoria with Kids: Play Spaces and Indoor Attractions
Families flock to Astoria, Queens, for its parks, pool, and great restaurants, but also the trove of family-friendly indoor entertainment, from top museums like the Museum of the Moving Image to creative kids' classes and fun play spaces.
We can't possibly list all of the wonderful programs on tap, but we're highlighting locations that offer drop-in sessions, as well as a few perennial family favorites that require longer commitments. Many of these spots attract residents from all over Queens, including my kids and I, who come from Sunnyside to hit The Yoga Room and the inexpensive but fun play space, Kids Playhouse Astoria.
Here are 11 places where kids can swim, dance, bowl or just get their sillies out in Astoria, Queens.
Astoria Bowl
19-45 49th Street, between 19th and 20th Avenues
Formerly known as Maric Lanes, this traditional bowling alley lies in the shadow of LaGuardia Airport, far from mass transit. Thankfully, there is a parking lot. You'll find an enclosed bar, snack shop and league bowling, even for kids. Check its website for specials.
Astoria Dance Centre
42-16 28th Avenue, at 43rd Street

Though this performing arts hub offers piano and acting lessons, dance is its primary focus. Its slate of recreational and pre-professional classes start at age 2 and continue through adulthood. Choose from ballet, tap, hip-hop, modern, jazz and Broadway plus a boys' program.
Broadway Dance Studio of Astoria
31-08 Broadway, between 31st and 32nd Streets, second floor
Broadway Dance offers classical training in jazz, tap, and ballet for students as young as 3. It also hosts classes in modern and hip-hop. See the class schedule for options from Monday through Saturday.
The Complex NYC
34-38 38th Street, between 34th and 35th Avenues
Also referred to as Astoria Sports Complex, this indoor athletic facility offers soccer classes and swimming lessons for kids. The AstroTurf soccer field is one of the only FIFA-certified indoor soccer surfaces in NYC. Don't want to commit to classes? Kids can enjoy the newly renovated swimming pool, which has daily drop-in hours for nonmembers. Party packages are available.
RELATED: Favorite Baby and Me Classes Around Queens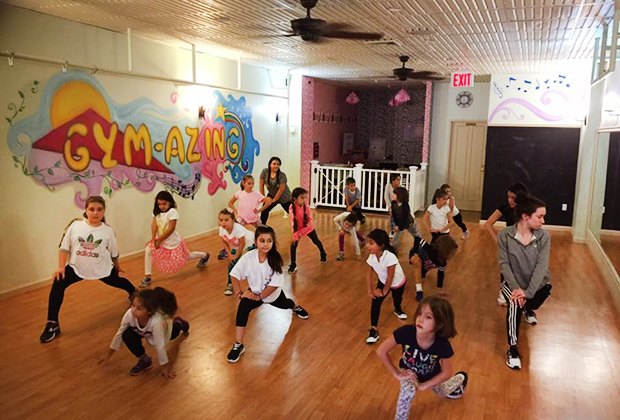 Take a hip hop class at Gym-Azing, or one of its many other dance sessions.
Gym-Azing
27-14 23rd Avenue, between 27th and 28th Streets
You'll find an eclectic selection of kids' classes at this gym, including hip-hop, ballet, Flamenco and Brazilian martial art/dance hybrid Capoeira. There's also the ubiquitous Music Together and Messy Art sessions.
Let's Play Playhouse
34-17 Steinway Street, between 34th and 35th Avenues
The only drop-in indoor play space in the nabe reopened with a new name, owners, and features in fall 2016. The location features a multistory maze, separate padded space for toddlers, and lots of educational and sensory toys. Drop-ins are welcome on weekdays after classes, but weekends are usually reserved for parties. Call ahead or check the Facebook page for updated schedules.

Museum of the Moving Image
36-01 35th Avenue, between 36th and 37th Streets
In addition to presenting excellent exhibits about cinema history, MoMI offers daily free-with-admission screenings, many of which are family friendly, and hosts frequent film-related workshops for kids. On Saturday afternoons, children ages 7 and older can hit the drop-in studio to work on simple animations, such as flip books, as well as more high-tech stop-motion and computer animations. Its permanent exhibit Behind the Screen features more than 1,000 film artifacts, including a Yoda puppet, plus an array of interactive stations where kids enjoy hands-on movie-making experiences. Expected in 2017 is a permanent gallery devoted to Jim Henson and his Muppet pals.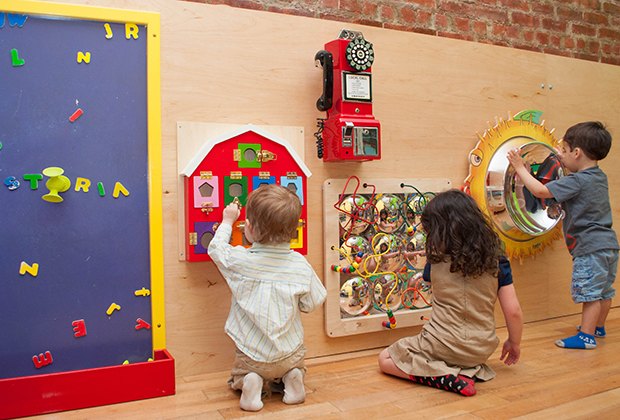 Early-education center Raising Astoria has a variety of activities to keep kids amused.

Raising Astoria
26-11 23rd Avenue, between 26th and 27th Streets
Formerly a shop, Raising Astoria reinvented itself as an early-education destination with a variety of kids' classes and parenting workshops. Drop-in open play is available for just $5/family, including a babies-only session. Check the website for the complete schedule.
Rising City Arts
21-42 28th Street, between Ditmars Boulevard and 21st Avenue, office
31-08 Broadway, between 31st and 32nd Streets, studio
You'll find acting classes for preschoolers to school-age kids, tweens and teens, and adults, too. All sessions are held at the Broadway Dance Studio of Astoria. While it's mostly about fun for younger students, here teens who are serious about performing can opt for more advanced classes.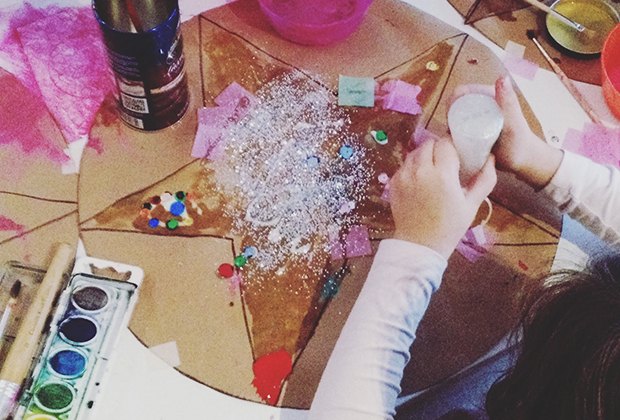 Shastye offers painting instruction and much more.
​
Shastye Art Gallery and Play Space
26-16 23rd Ave,. between 26th and 27th Streets
This recently opened art space is quickly turning into a community gathering point. Shastye is Slavic for "Happiness" and that's what this little hub aims to provide children. It offers classes in art, language, cooking and even a course in Lego robotics. You can even multitask with full-immersion Spanish-language cooking classes.

The Yoga Room
38-01 35th Avenue, between 38th and Steinway Streets
My daughters and I have been going to yoga classes here since 2010. Drop-in prenatal and mommy classes are offered. Mommy and baby classes start at 8 weeks of age and continue until the child is walking, at which point he or she transitions to a mommy and toddler class. The Astoria Yoga Room is located upstairs with stroller parking downstairs, and family classes are held in a huge room with windows that let in tons of light. There is another location in nearby Long Island City, offering similar classes.
If you're desperate for a place to get out of the rain, snow, or sun, Astoria has three Queens Library branches, all with children's sections and programming for kids, including storytimes.
The Broadway branch at 40-20 Broadway, between Steinway and 41st Streets
The Astoria branch at 14-01 Astoria Boulevard, near 14th Street
The Steinway branch at 21-45 31st Street, between 31st and 32nd Streets.
Top photo: Neighborhood favorite Shastye Art Gallery and Play Space. Photos courtesy of the venues.
This article first published in 2014, but was updated in 2017.