Astoria Park & Other Places to Play in Astoria Queens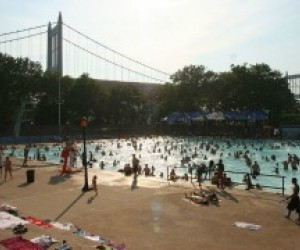 We continue our month-long focus on Astoria, Queens with an in-depth look at its parks and playgrounds. Its namesake green space—the beautiful, 60-acre, waterfront Astoria Park—is unquestionably the neighborhood's crown jewel boasting NYC's largest outdoor public pool, a popular playground and great photo ops with the Hell Gate and RFK Bridges.

But there are other smaller Astoria parks and playgrounds worth checking out, too. Some even offer FREE summer programming and beloved annual family festivals. Here are 9 parks and playgrounds to explore in Astoria, Queens.
Astoria Park
19th Street to the East River between Astoria Park South and Ditmars Boulevard
The grandest park in Astoria offers 60 acres of recreation. Its outdoor pool is one of our favorite places to swim in the summer and with good reason. It's the city's largest outdoor public swimming pool and offers amazing views of the nearby RFK Bridge and Randall's Island beyond. The pool also has distinct roped off sections, including a wading area for little kids. Astoria Park also has the Charybdis Playground, tennis courts where kids can take FREE lessons in summer, a skatepark, tree-lined paths for strolling, grassy lawns for lounging and dramatic views of the Hell Gate and RFK Bridges and the East River. Astoria Park also plays host to popular family events like its FREE movie series in summer and the Astoria Park Carnival, which usually takes place the last weekend in June in the park's parking lot.

Athens Square Park
30th Avenue between 29th and 30th Streets
Although this tiny playground is currently closed due to renovations, it's worth putting on your radar. As the name implies, the park pays tribute to the neighborhood's large Greek population with Grecian touches in its architecture and landscaping. In summer, the park traditionally hosts a series of FREE kids' concerts. Construction is supposed to be completed by June but check the website for the official reopening date.

Ditmars Park
Steinway Street between 23rd Avenue and Ditmars Boulevard
This modest, one-acre green space has an admittedly well-worn playground, bocce and handball courts, and a bathroom that's open year-round.

Ralph Demarco Park
Shore Boulevard between Ditmars Boulevard and 20th Avenue
A narrow waterfront green space that borders Astoria Park's northern edge, Ralph Demarco Park doesn't have any playgrounds or ball courts, just six acres of real estate along the East River with paths, benches and lush trees. A great place to relax.

Secret Playground
29th Street between 23rd Road and 24th Avenue
When the students at PS 85 elementary school got a new playground in 2007, it became a boon for the whole neighborhood. Unofficially known as Astoria's Secret Playground, this romping spot is open to the public whenever the students aren't using it. Just be prepared to vacate if school staff tell you it's recess time.

Van Alst Playground
21st Street between 29th and 30th Avenues
Another school playground that's open to the public during designated hours, PS 171's Van Alst Playground has lots of shade thanks to all the trees.

Sean's Place
38th Street between 31st Avenue and Broadway
An active group of Astoria parents work hard to keep this playground clean and safe. It's a good place for the preschool set.

Astoria Heights Playground
30 Road between 45th and 46th Streets
Although locals have long complained that this spot is in desperate need of an upgrade, you'll still find families here, especially in summer due to its outdoor mini-pool. The playground also hosts a popular annual Halloween fest for kids.

Woodtree Playground
20th Avenue between 37th and 38th Streets
Known for its plethora of willow oak trees, the green space also has a modest playground and handball courts.
Read all of our posts about exploring Astoria, Queens with kids.