26 Things To Do with Preschoolers in NYC Before They Turn 5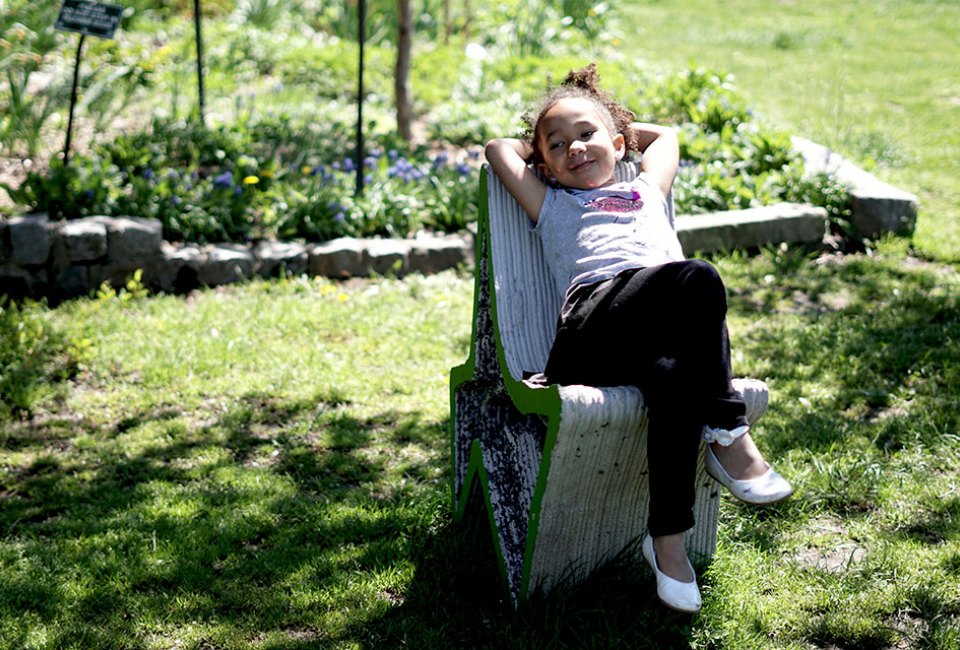 6/18/23
- By
Kelly O
If you've got a little one at home, we've found the best things to do with preschoolers in NYC. Read on for our top picks for little-kid fun.
New York City doesn't lack awesome family events and institutions, but as a mom of two children under the age of 5, I'm always on the hunt for new ideas. These early years are fleeting, and I want to create lasting memories—within budgetary reason—manageable enough for little kids who sometimes still need a nap and a sippy cup.
So, inspired by our roundup of 100 things to do with kids in NYC before they grow up, we came up with this list of 26 things to do with preschoolers in NYC before they turn 5 and head to kindergarten. A few of our selections are well-known favorites with specific under-the-radar attractions perfect for preschoolers, while others are more off the beaten path, but all are things we've enjoyed doing with our own preschoolers or aspire to try soon! Find more ideas in our Guide to NYC for Preschoolers.
Sign up for our FREE newsletters to get posts like this delivered to your inbox.
Things To Do with NYC Preschoolers at Museums and Play Spaces
1. Children's Museum of Manhattan
Little imaginations love exploring all four floors of the Children's Museum of Manhattan. Don't miss the backyard with its Dynamic H20 exhibit, which features a 22-foot-long, interactive water table and lots of hands-on water fun. Timed-entry tickets must be booked online in advance.
2. Visit a Play Space
When the weather is too unpredictable for a playground, one of our favorite things to do with preschoolers in NYC is hit these indoor romping spots in Brooklyn, Queens, Manhattan, and citywide
3. Brooklyn Children's Museum
Explore all kinds of creative stations at the Brooklyn Children's Museum with its Totally Tots play zone, geared to those under age 5.
4. New-York Historical Society
Sneak in a history lesson and have fun at the same time at the DiMenna Children's History Museum at the New-York Historical Society.
RELATED: 25 STEM Activities Easy Enough for Preschoolers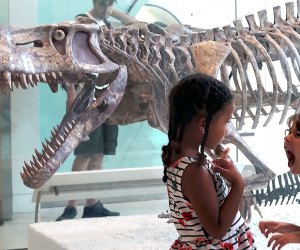 Roar with the dinosaurs at the American Museum of Natural History. Photo by Jody Mercier
5. American Museum of Natural History
See the full-scale dinosaurs at the American Museum of Natural History or visit the brand-new Richard Gilder Center for Science, Education, and Innovation. Little ones will go crazy over the beautiful butterfly vivarium.
6. Sugar Hill Children's Museum of Art & Storytelling
The hands-on Sugar Hill Children's Museum of Art & Storytelling was practically made for preschoolers and invites families to hear stories and create art, meet working artists, explore art-making studios, and view permanent and rotating art exhibits. Even better? Those under age 9 enter for FREE.
7. Visit the Train Show
A visit to the NYBG Holiday Train Show is a rite of passage for preschoolers in NYC and will not disappoint. Buildings are added annually, so there's always something new to explore.
8. Bronx Children's Museum
This long-awaited kiddie culture spot opened late last year and was definitely worth the wait. Little ones can explore the Bronx-inspired play spaces, tune into a story time, splash at the water table, and more.
9. Genius Gems
If your kid is into building, this STEM-inspired play space packs a collection of 100,000 magnetic tiles they can stack to their heart's content.
10. CAMP
This hybrid toy store and play space with a magic door. There's always something fun happening from an Encanto experience to crafting sessions, special story times, and more.
RELATED: 15 Popular Preschool Summer Camps in NYC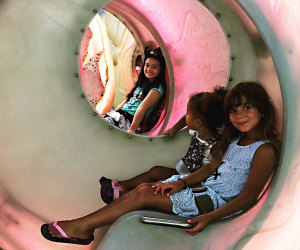 The SeaGlass Carousel makes a stunning destination in any season. Nighttime visits are magnificent, too. Photo by Jody Mercier
Top Parks and Playgrounds in NYC for Preschoolers
11. Ride a Carousel
It's easy to find a preschooler-friendly place to take a spin on one of these local carousels. Choices abound: Ride the fast-paced Central Park or Prospect Park carousels or try out the more mellow merry-go-round like Chelsea's Pier 62 Carousel, Brooklyn Bridge Park's Jane's Carousel, or the mesmerizing SeaGlass Carousel. All three boast fantastic waterfront views.
12. Governors Island
Romp on the playgrounds at Governors Island, swish down the epic slides on The Hills, or swing in a hammock. Bonus: The ferry ride is a preschooler-approved adventure in itself!
RELATED: 21 Signs You Have an NYC Toddler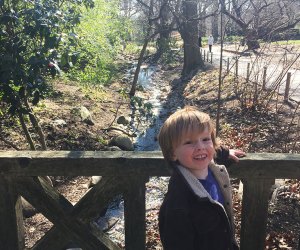 It's easy to spot fun things to do with preschoolers in NYC at the Brooklyn Botanic Garden. Photo by the author
13. Explore a Botanical Garden
Sniff the cherry blossoms, daffodils, and all the flowers at the Brooklyn Botanic Garden, the Queens Botanical Garden, the New York Botanical Garden, or Wave Hill in the Bronx.
14. Fantasy Forest
All aboard the rides at Fantasy Forest in Queens for an amusement park experience that's perfect for preschoolers in NYC.
RELATED: Five City Destinations for Mini Day Trips with Preschoolers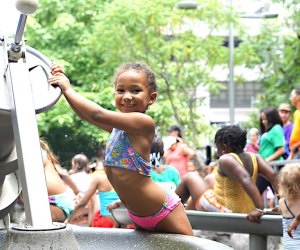 The Pier 6 Water Lab is worth repeat visits long beyond preschool graduation. Photo by Jody Mercier
15. Hit the Splash Pad
A visit to a sprinkler park is a rite of passage and one of our top things to do with preschoolers in NYC. Here's our list of the city's top splash pads guaranteed to induce giggles for years to come. The water is usually turned on around Memorial Day.
16. Go For a Spin
Rent bikes (with a bike seat) to pedal through Central Park or along the Brooklyn Bridge Park waterfront. Be sure to stop for ice cream.
17. Little Island
We just love Little Island, where preschoolers can explore the floating park and attend one of its many (mostly FREE!) events.
RELATED: 30 Top Things To Do in Queens with Preschoolers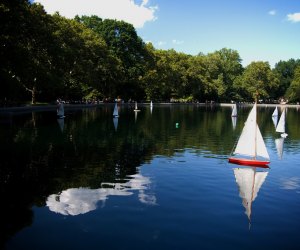 Float a toy sailboat across the Conservatory Water in Central Park. Photo by Mark Peters via Flickr
18. Sail in Central Park
Little ones too young to row their own boats? Sail a toy one across the Conservatory Water in Central Park.
19. Socrates Sculpture Park
The FREE Socrates Sculpture Park is open year-round and affords visitors amazing waterfront views, public art, and super cool events making it a must-visit with preschoolers.
RELATED: Our Favorite Toddler Playgrounds in Brooklyn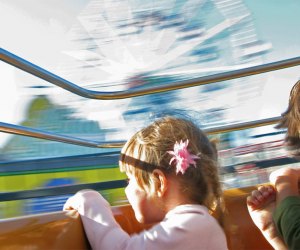 Hit the rides in Coney Island, which has plenty of mild thrills for little ones. Photo by Matt Nighswander
20. Coney Island
Bring the little ones to Deno's Wonder Wheel amusement park in Coney Island, which has 16 kiddie rides to choose from, including ride-on fire engines, water boats, and a sweet carousel.
21. The High Line
Chelsea's High Line offers tons of things to do with preschoolers in NYC, including fun railway trails, beams to climb on, a sundeck, a water feature, and lots of kid-friendly programming.
RELATED: NYC Preschool Directory and Listings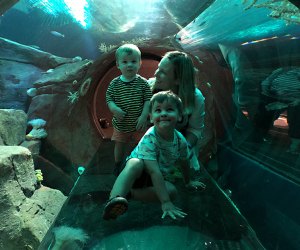 Visit the sharks at the New York Aquarium, which is the perfect, compact size for preschoolers to conquer, no stroller required. Photo by Louise Trapasso
Zoos and Aquariums in NYC for Preschoolers
22. New York Aquarium
Take the train out to the New York Aquarium to gawk at the amazing Ocean Wonders: Sharks! exhibit, and all manner of marine life. Save time for the PlayQuarium—the on-site romping spot geared toward little ones.
23. Central Park Zoo
Visit the toddler-sized Central Park Zoo to take in a sea lion feeding and get up close with the playful penguins. Stop for a cute photo-op in the Tisch Children's Zoo.
24. The Art Farm
Visit the city's only indoor petting zoo, The Art Farm in the City, or one of these other local petting zoos near NYC.
RELATED: Best Amusement Parks for Preschoolers in and near NYC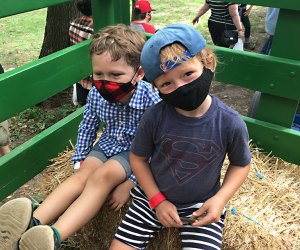 There's plenty of farm fun to be had within city limits at the Queens County Farm Museum. Photo by Ros Muggeridge
25. Queens County Farm Museum
Feed the goats, chickens, and other critters during a festival at NYC's only historic working farm, the Queens County Farm Museum.
26. Bronx Zoo Butterfly Garden
Wear something colorful to the enchanting Butterfly Garden at the Bronx Zoo in hopes a butterfly mistakes you for a flower and lands on you. Open April through October.
This article was first published in May 2014, but it is regularly updated.
Click Here to Sign Up!
i