Brooklyn Botanic Garden: 8 Things To Do With Kids
4/8/21
- By
Rosalind Muggeridge
Since its founding in 1910, the Brooklyn Botanic Garden has provided a welcome respite to concrete-weary city dwellers. It was a dismal day when the garden closed its doors for a few months in 2020, but like many local institutions, it's happily reopened and is gearing up for its most vibrant season of the year.
Though Prospect Park is affectionately known as "Brooklyn's backyard," my family and I have also spent many hours—in all seasons—at the BBG, exploring the winding paths, whiling away an afternoon underneath the dreamy cherry trees, and watching the turtles sunning themselves in the Japanese Pond.
Read on to learn about our favorite things to do in this beautiful urban garden, which is truly one of our favorite places in NYC.
Editor's note: While we are trying to promote safer activities that occur outdoors or with social distancing guidelines in place, please keep your family and others safe by always wearing a mask and practicing social distancing.
2021 update: Although the annual Sakura Matsuri Blossom Festival has been canceled, the Brooklyn Botanic Garden is offering extended hours and outdoor programming during the cherry blossom season.
One of our favorite spots in the garden, the Cherry Esplanade, is made up of a large green field lined with rows of flowering cherry and red oak trees. It's arguably the most photographed spot in the garden, especially in early spring when the blossoms spring to life. The Sakura Matsuri Blossom Festival is a perennial favorite. While you're on the Esplanade, look for the rows of Liberty Oaks along the eastern and western edges, planted in remembrance of the events of September 11, 2001. Keep in mind that although you're welcome to sit and hang out, spreading out blankets on the lawn is not permitted. Starting in late March, check the garden's Cherry Watch page to get regular updates on the spectacular "Kanzan" cherry tree blooms and plan your outing accordingly.
2021 update: Currently, The Conservatories are closed to the public due to the pandemic.
The Brooklyn Botanic Garden's Conservatory boasts six distinct indoor areas, each reflecting a different climate. In the steamy Aquatic House, you'll find waterfalls and green foliage cascading from ceiling to pond. Delicate and colorful orchids are safely ensconced behind glass. The Desert Pavilion is filled with spiky cacti and hearty wildflowers, largely from South America and the African continent. The Tropical Pavilion features lush plants and trees and has a 65-foot ceiling to accommodate the tallest arbors. The Warm Temperate Pavilion is the place to visit in February and March, as many of the vibrant African plants are in bloom. The winding path leads to a restful viewing point, making this pavilion a personal favorite. The Bonsai Museum is home to 350 miniature trees, one of the largest collections outside of Japan. Children will be fascinated by these tiny, woody plants, which look as if they sprung magically out of a storybook.

Let the kids get up close to nature at the hands-on Discovery Garden.
2021 update: Interactive exhibits are currently closed, and guided programming has been suspended, but plans are underway to reopen the area soon.
In this corner of the garden, kids wander through interactive exhibits set in various habitats, including a meadow, marsh, and woodland. Opened in 2015, the Discovery Garden replaced the original Children's Garden (located nearby), which is now being used for hands-on planting classes. The 1-acre Discovery Garden highlights an immersive landscape and encourages children to explore nature through hands-on experiences as they investigate plants and animals in different habitats. A raised boardwalk allows kids an up-close view to examine different plant species, and a pathway constructed of logs and boulders guides them through an authentic marsh habitat.
RELATED: 10 Things to Love About the New York Botanical Garden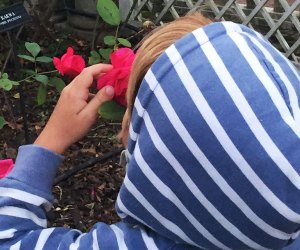 Rose season follows cherry blossom season, and there are plenty of beautiful blooms to take in at the Cranford Rose Garden.
One of the largest rose collections in North America, the stunning Cranford Rose Garden, first opened in 1928. Since then, visitors have flocked to this special place to view the buds, especially at their peak in June when thousands of blossoms fill the garden. Varieties include many wild species, hybrid teas, old garden roses, floribundas, grandifloras, polyanthas, hybrid perpetuals, climbers, ramblers, and miniatures. Many of the blooms last through the fall, so don't worry if you miss the peak, there is still plenty of beauty on view later in the season.
RELATED: Wave Hill With Kids: Nature-Inspired Family Fun in Riverdale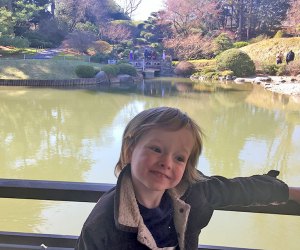 The Japanese Hill-and-Pond Garden is a serene escape in the heart of the Brooklyn Botanic Garden.
Probably the most popular attraction in the garden, the Japanese Hill-and-Pond Garden is one of the oldest surviving Japanese-inspired gardens in the United States. Opened in 1915, the area is known for its dramatic bright red wooden torii, a traditional gate signaling a Shinto shrine lies nearby. A viewing pavilion offers stunning views of the meticulous landscaping across the pond as well as the numerous trout looking for a snack. A five-tiered waterfall, an arched bridge leading to a small grassy island, and a small, rustic, Shinto shrine perched on a steep hill add to the peaceful ambiance in this part of the Garden.
RELATED: Prospect Park in Brooklyn: 25 Best Things To Do With Kids

With 52 acres of curated green space, there's always something new to explore and plenty of room to roam.
One of the greatest joys of experiencing the BBG is simply wandering through the many gardens and hidden paths throughout the grounds. The Rock Garden is full of tulips, succulents, heaths, and other plants that prefer rocky soils. The Herb Garden boasts various food and medicinal plants, including pole beans that grow up corn stalks, fruit trees that line the garden's border, and colorful cabbages that grow as big as beach balls. The Water Garden is a small, wetland environment with a winding path that goes past a babbling brook and a tranquil pond surrounded by plants. Lastly, the recently opened Woodland Garden is an open-air "walled garden" with an accessible path that leads through a landscape to connect the Lilac Collection, the Osborne Garden, and the Native Flora Garden.
Get your hands dirty with an array of family-friendly programs. Participate in parent-and-me gardening programs, or register the kids for drop-off programs during school breaks. With the on-premises programming limited by the pandemic, fun virtual offerings are streaming, too.
8. Take Advantage of the Generous Admission Policies
We've long been fans of the Brooklyn Botanic Garden's liberal winter weekday policy, where all guests can pay what they wish on winter weekdays from December through February. The rest of the year, children ages 11 and under enter for FREE at all times, and a portion of each day's tickets are set aside to offer free admission to those who need them.
Know Before You Go to the Brooklyn Botanic Garden
Hours change with the seasons; spring hours are Tuesday-Sunday from 10am-6pm; during cherry season, the garden is open Tuesdays-Fridays from 10am-sunset and Saturdays and Sundays from 8am-sunset. See the website for hours in other seasons.
Tickets are $18 for adults; $12 for children over the age of 12 and currently must be purchased in advance.
You could easily spend an entire day exploring the gardens, but due to COVID, the Brooklyn Botanic Garden asks that guests limit their visit to just three hours.
Many indoor exhibits and common areas are closed. High-touch surfaces are sanitized frequently. Face coverings are required for all guests ages 2+, and you can see full safety precautions here.
Restrooms are currently only available at the Flatbush Avenue entrance and the Visitor Center. Water fountains have been covered, so pack your own water bottle.
Photos by the author