The Adventures of Tortoise & Hare The Next Generation
The Sheen Center

The Very Hungry Caterpillar Show
DR2 Theatre

NYC Easter Brunch Cruise 2023
Event Cruises NYC
Sign up for our free newsletters.
Brooklyn Discovery Garden Offers Hands-On Nature Activities for Kids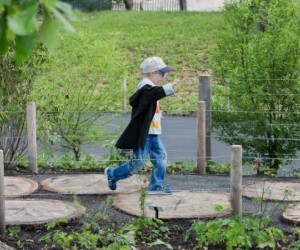 8/23/15
- By
Stephanie Ogozalek
The Brooklyn Botanic Garden has been offering city kids a chance to get their hands dirty in educational programs for more than a century. And now there's a fresh family attraction to explore at this urban oasis: its just introduced Discovery Garden. Part of the BBG's massive South Garden revitalization project, the one-acre space invites children to learn about plants and ecosystems through hands-on activities. With special sessions just for toddlers, discovery stations for older kids and frequent Family Discovery Weekends, the Discovery Garden promises an immersive nature experience for all ages.
Designed by lauded landscape architectural firm Michael Van Valkenburgh Associates, the Brooklyn Botanic Garden's Discovery Garden is a vibrant and fragrant year-round destination. You can find it not far from the garden's Flatbush Avenue entrance. Upon entering, colorful plants and flowers (known as the four-seasons garden) and a small fruit and vegetable garden surround you. But walk down its winding path and you'll come to its centerpiece: a trio of model habitats found in the greater New York area, meadow, marsh and woodland.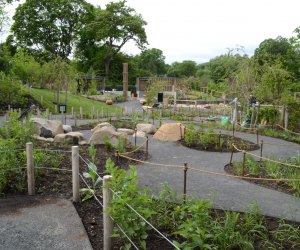 Meandering paths beckon visitors to explore the Discovery Garden. Photo by Lee Patrick
Each section features trees, plants and flowers indigenous to that habitat, with interactive kiosks and hands-on science stations where kids can examine nature up close using tweezers, magnifying glasses and other tools. In addition to all the flora, my son and I spotted birds, bugs and butterflies during our trip. Be sure to pick up portable field guides for each habitat at their respective entrances as they really enhance a visit.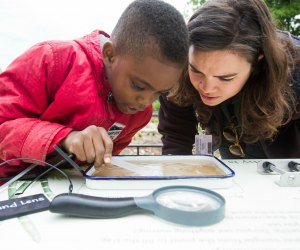 Examining the water in the marsh habitat. Photo by Liz Ligon

The Discovery Garden is also home to an open-air learning pavilion where educators regularly lead a variety of activities, including Family Discovery Weekends, First Discoveries for Toddlers and other educational programs throughout the year. Bonus: These sessions are all free with BBG admission.
RELATED: Best Things to Do in Prospect Park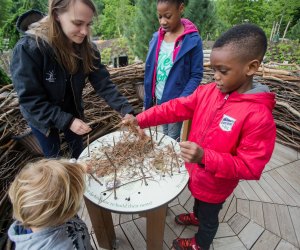 Children building their own bird nests in the Discovery Garden. Photo by Liz Ligon
Although the Discovery Garden is meant to engage children up to age 12 and is beautiful to walk through, even for grown-ups, I'd say the sweet spot is ages 3 to 6. While my nature-loving 10-year-old enjoyed our visit and even learned a thing or two, he did complain that most of the stations were for little kids. Luckily, the 39-acre Brooklyn Botanic Garden is a worthy destination for all. So the next time you're there for one of its famous seasonal celebrations (like the Sakura Matsuri Cherry Blossom Festival in spring or the Chile Pepper Festival in fall), or strolling through its iconic Japanese Hill-and-Pond Garden, it's definitely worth setting aside time to check out the Discovery Garden. And if you visit anytime on a Tuesday; 10am to noon on Saturday; or any winter weekday from December to February, admission to the entire BBG is 100% FREE. Of course, kids under the age of 12 are always FREE at Brooklyn Botanic, including the Discovery Garden.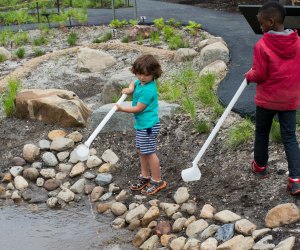 Exploring the marsh habitat. Photo by Liz Ligon
The Discovery Garden is closest to the Brooklyn Botanic Garden's Flatbush entrance at 455 Flatbush Avenue (at Empire Boulevard). Admission is free with admission price to the whole garden: $12 for adults; $6 for students; and free for children under age 12.
Looking to grab a bite after your BBG visit? Our roundup of nearby family-friendly restaurants includes old New York favorite Tom's.
All photos courtesy of the Brooklyn Botanic Garden