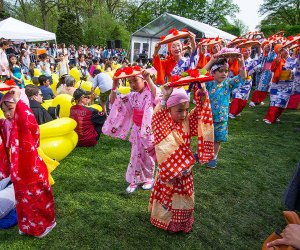 The Best Annual Family Festivals for NYC Kids (Mostly Free)
With so much going on in NYC, it can be overwhelming to sift through all the events to land on something that's truly special. The many annual festivals that the city hosts are a great place to start. Some New York City celebrations are so great they're worth going every year, like the interactive, art-filled Figment on Roosevelt Island, the incredible (and educational) World Maker Faire New York, and Street Games, the Parks Department's tribute to old-school pastimes.
I know I'm not the only mom out there who likes to plan ahead, and since the festival season kicks into high gear this month, we figured it was a great time to round up our top annual festivals for families. Every single pick on our list is really worth your time and money—and in many cases they don't cost a penny.