Starter Sleepaway Camps: Short Summer Sessions for Younger Kids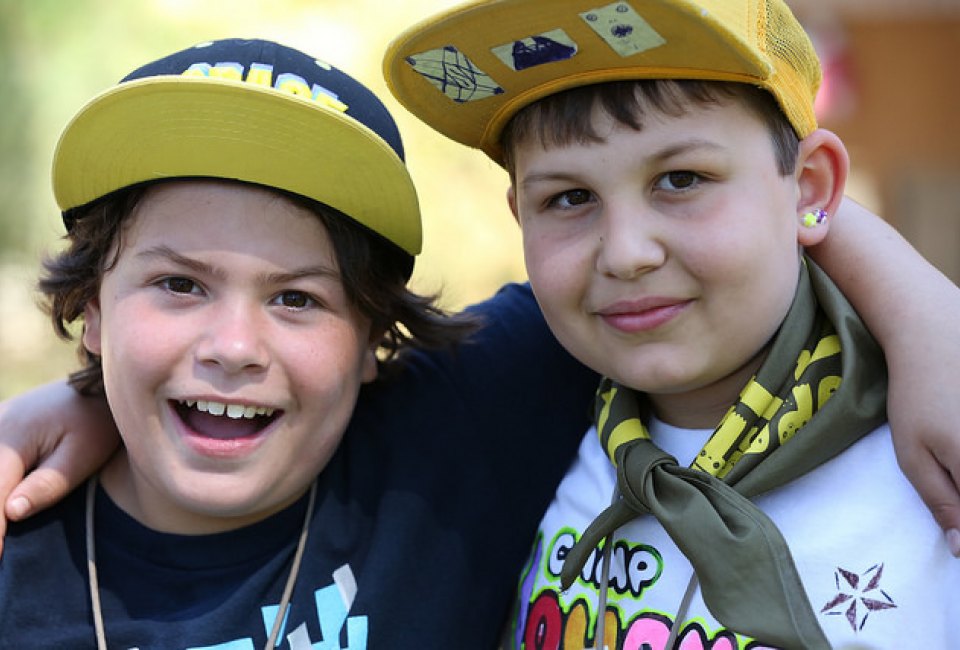 1/10/17
- By
Allison Tibaldi
Going to sleepaway camp is a rite of passage for many New York City kids. Young city slickers pack their trunks and spend four- to eight-weeks in the great outdoors, communing with nature, and experiencing life without mom and dad.
If you've got an elementary schooler who's interested in trying sleepaway camp but is anxious about going away for a month (or more likely you're the one freaking out), you don't have to make such a big time commitment. These days, many sleepaway camps in the Northeast offer starter camps, one or two-week sessions specifically designed for first-timers. These mini-camps are a great way for families to test the waters to make sure you and your kid are ready to spend the summer apart. We've found a dozen diverse camps that offer these kinds of junior sleepaway programs.
Note that summer camp information for the 2020 season is changing daily. Please click the links to the individual camps below to see which ones are offering programs this year.
Camp Becket for Boys and Chimney Corners for Girls – Becket, Massachusetts
These brother-sister programs are located in the Berkshire Mountains. The camps are on completely separate sites next door to each other, so your child will enjoy a single-gender experience. Becket and Chimney's lakeside location means a full range of water sports is available. Both camps run a popular starter program that lasts for two weeks for students who've completed second or third grade.
Camp Kinderland – Tolland, Massachusetts
This coed, progressive, secular Jewish camp was established by union workers in 1923, who wanted to offer a refuge for urban, working-class kids. The Berkshire Mountain setting is picturesque, as is the nearby lake. The camp takes social justice seriously, and incorporates tolerance and liberal politics into its program, along with summer sports, and visual, and performing arts. First-timers turning 9 or 10 this calendar year can attend a two-week starter session in July.
Shire Village – Cummington, Massachusetts
Also located in the Berkshires, this coed camp has a solid four-to-one camper-to-staff ratio. The program has a child-centered philosophy that seeks to empower campers in a noncompetitive environment. In addition to the usual summer sports and arts activities, there are farm animals like sheep and goats that the kids care for daily. New campers ages 7 to 11 can attend a two-week introductory session in July or August.
Camp Chinqueka for Girls and Camp Awosting for Boys – Bantam, Connecticut
The same family has been running these two separate sleepaway camps for decades: Chinqueka since 1955 and Awosting since 1900! Kids participate in traditional activities, including swimming, canoeing and sailing, plus sports, and performing and visual arts. Great for first-time campers, Camp Awosting and Camp Chinqueka both offer mini sessions for two weeks. If your child feels ready for more, the session can be extended (depending on availability) even at the last minute when your child is already on campus.
Camp Mason – Hardwick, New Jersey
This coed YMCA camp is adjacent to the Delaware Water Gap National Recreation Area. It offers one-week starter sessions for kids in first through fifth grades. The dates are June 26-July 2 or August 7-13 and the cost is $950 per week.
Camp Lohikan – Lake Como, Pennsylvania
Located in the Pocono Mountains, this coed camp has been owned and operated by the same family since 1957. Children ages 6 to 15 are treated to an array of activities, including a skate park, jet skiing, and horseback riding. Lohikan runs a week-long mini-camp for first-timers, with a staff-to-kid ratio of three-to-one, so personal attention is assured. While most campers are 8 and up, kids as young as 6 are accepted.
Camp Walt Whitman – Piermont, New Hampshire
New Hampshire's gorgeous White Mountains are the setting for this camp, which is perched on a lovely lake. It's a traditional, coed program that offers a week-long Pioneer Camp for kids who've completed first or second grade.
Camp Regis – Paul Smith's, New York
Located in the Adirondacks, this coed camp accepts children ages 6 to 12. (Teens attend the adjacent Camp Applejack.) Regis offers one- and two-week options for first-time campers. Contact the camp for more information.
Buck's Rock – New Milford, Connecticut
This well-known performing and visual arts camp accepts creative kids ages 9 to 16. Campers can participate in programs that explore traditional arts (theater, music, dance, drawing, painting) and more offbeat disciplines (circus arts, paper-making, culinary arts, and sound design.) Buck's Rock offers a two-week Junior Camper session for 9- and 10-year-olds.
Pine Forest Camp – Greeley, Pennsylvania
This traditional coed camp has been run by the same family since 1931. It offers a well-balanced program with a good mix of sports and arts. For first to fourth graders not yet ready to make a session-long commitment, there's the two-day, one-night Explorers Program, which allows them to participate in various activities and hang around the campfire.
For info on other excellent day and sleepaway camps, check out our Camp Guide.
Creative Commons image credit: State Farm
This post, originally published in February 2012, has since been updated.