10 Things to Love About the New York Botanical Garden
4/1/19
- By
Jody Mercier
Founded in 1891, the New York Botanical Garden is a 250-acre oasis in the middle of Bronx Park, housing 50 specialty gardens, and more than one million plants. The largest botanic garden in the United States, it's also a National Historic Landmark and well worth a visit in any season.
When I was growing up, my family ran a generations-old business selling plants and designing fabulous landscapes for the well-to-do in my native Colorado. My first job was weeding the plants in the garden center, and for a time, I thought I'd go to school to become a landscape architect and follow in my father's footsteps. Plants are practically in my blood, and to this day, I still crave a connection with nature and want my born-and-bred New Yorkers to feel blades of grass between their toes and get their hands dirty.
While we've always found our nature fix in Central Park and some of the wonderful gardens, flower shows, and greenspaces the city has to offer, no park in the city has captivated me as much as the Bronx's New York Botanical Garden. Read on for 10 things to love about this green treasure, as the cultural gem embarks on its yearlong celebration of #plantlove.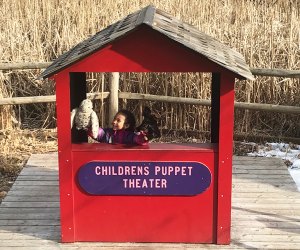 You know you're in for a treat at NYBG with a 12-acre garden dedicated to children.
1. The Everett Children's Adventure Garden
This 12-acre garden dedicated to growing New Yorkers is always our first stop on a visit to the NYBG. When you pass the colorful rainbow streamers at the entrance, you know you're in for a treat. Kids can run free here, clambering over the Boulder Maze, or finding their way through Beth's Maze (much easier when the hedge loses its leaves come fall!).
There are natural instruments to play and a puppet theater that's always stocked with stuffed friends ready to star in your show. The on-site Discovery Center always has something going on. Staffed by high school aged "Explainers," (i.e. interns who are interested in plants, environmentalism, and conservation), there are plant-based arts and crafts projects, plus a cozy corner book nook for story time, a microscope to look at plant parts, a small greenhouse space, and more. We've mounted plant specimens, pressed flowers, made bud necklaces, created field journals to record our observations, crafted sachet packets, and even made pizza dough on our many visits. Drop-in programs are held on weekday afternoons and all day on weekends.
RELATED: 7 Best Spots to See Spring Blooms in NYC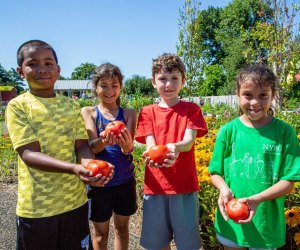 Kids can grow their own fruit, vegetables, and herbs at the Edible Academy. Photo courtesy of NYBG
2. The Edible Academy
The Garden opened this state-of-the-art educational facility in 2017, with a 5,300-square-foot LEED Gold-certified building to house hands-on educational programming. It offers both drop-in workshops and semester-long classes that require registration. The Ruth Rea Howell Vegetable Garden takes up a huge footprint, where visitors can work on cultivating vegetables, fruits, and herbs, which can then be utilized at the on-site kitchen. Visit in the spring to help wake up the garden, in the early fall to harvest, or later in the season to help collect seeds for the next season. Summertime is filled with a variety of camps, too.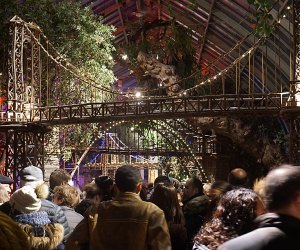 At the Holiday Train Show enchanting model trains zip through a lush display under the twinkling glow of the Enid A. Haupt Conservatory.
3. Holiday Train Show
This beloved annual tradition is a can't-miss NYC bucket-list item for city kids. To see miniature replicas of city landmarks hand crafted from an impressive array of botanical matter is truly magical. Kids can get face to face with a pint-sized old Yankee Stadium, walk under a soaring Brooklyn Bridge, and try to spot Thomas and Friends whizzing down the tracks with a clickety-clack. The annual All Aboard With Thomas and Friends stage show is an awesome add-on for the preschool set. When your kids are older, blow bedtime for an evening visit, when the twinkling lights really create an awesome scene.
RELATED: When Kids Can Get in Free to NYC Parks, Gardens, Zoos, and Museums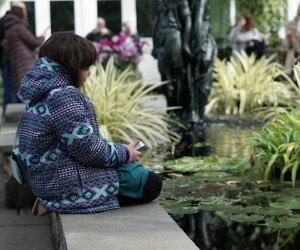 In the landmark Enid A. Haupt Conservatory, thousands of colorful orchids in every shape and size surround you—reaching up towering structures and clinging to overhead arches—creating a horticultural spectacle not to be missed.
4. The Orchid Show and More Annual Events
Beyond the Holiday Train Show, there are a few other annual happenings worth a stop at the NYBG. Spring comes early inside the Enid A. Haupt Conservatory, a beautiful building that houses a vast array of the Garden's collections in themed galleries ranging from the Palm Dome, to dry, arid deserts, and lush tropical rain forests. Each February, its walkways come alive with vibrant, tropical displays as part of the annual Orchid Show, providing a respite from winter just when you think you can't take it anymore. Spring brings annual celebrations of Earth Day and Mother's Day, while pumpkins take center stage in Fall.
5. Special Exhibitions
The diversity of plant life makes a remarkable backdrop for a variety of art exhibitions, and in the past several years alone, the New York Botanical Garden has hosted artwork from Georgia O'Keeffe, Chihuly, Frida Kahlo, and more. In 2019, the #plantlove theme will be on full display, as famed landscape architect and artist Roberto Burle Marx gets a living tribute in the form of a large-scale garden installation from protégé Raymond Jungles, installed on the lawn outside the Conservatory. More of Marx's work, from paintings to prints and textiles, will be on display throughout the garden this summer.

The Thain Family Forest is the largest uncut expanse of New York's original wooded landscape. Photo courtesy of NYBG
6. Thain Family Forest
For a truly out-of-NYC nature immersion, visit this 50-acre old-growth forest, threaded through by the Bronx River and a beautiful waterfall. You'll truly think you've been transported far beyond the five boroughs. This forest was one of the leading factors that led to the institution selecting this parcel of land upon its founding. An homage to the city's past, this bit of woodland remains a reminder of the species that preceded the concrete jungle. It's actively managed by garden staff to prevent invasive species and is used for important research.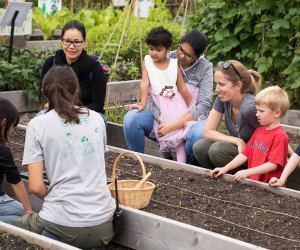 Children are invited to roll up their sleeves and help tend the gardens. Photo courtesy of NYBG
7. Educational Programs
Beyond playing a key role in the conservation of plant species, both native to our area and not, the New York Botanical Garden has a strong history as a research and educational institution. The Mertz Library is the largest botanical and horticultural library in the Western Hemisphere. Research scientists from the NYBG are at work studying diverse plant life in 49 countries, and returning home to offer findings to the general public. Adults have plenty of options for continuing education from lectures and symposiums to receiving professional-level training from its School of Professional Horticulture. A slew of adult education classes covers everything from floral design to photography and means you never have to stop learning.
8. Camp Options Galore
Whether you're searching for a school-break camp or need coverage all summer long, the New York Botanical Garden has a robust array of offerings, ranging from classes focused on environmentalism and sustainability, to culinary education and even a new eco adventure camp. No matter the topic chosen, your kid will have a 50-acre outdoor greenspace to explore.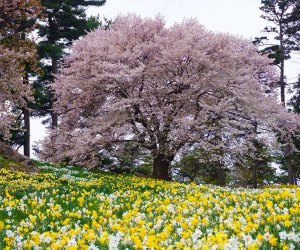 Stop and treasure the gorgeous Daffodil Hill.
9. Breathtaking Seasonal Blooms
One of the most beautiful sights I've ever seen is Daffodil Hill in full bloom, a sea of yellow hues bursting forth with springtime energy. While spring and summer are obvious times to visit, I've never been disappointed in the fall or winter. There's always something to see and do. The conservatory is forever balmy. A visit to the Everett Children's Adventure Garden, and a ride on the tram, followed by a cozy hot chocolate at one of the two on-site restaurants makes a wonderful winter outing. So, don't let the season or the weather fool you; it's worth a visit. Visit the website to see what's beautiful and blooming before you head out.

Free Grounds Admission for NYC Residents is a big plus when you have a gaggle of kids in tow!
10. Free Grounds Admission
While this perk won't get you into the Conservatory and special exhibitions, it will get you into the Everett Children's Adventure Garden, a major perk! We're always looking for ways to enjoy the city without breaking the bank (difficult with kids in tow!) so the fact you can enter for FREE all day on Wednesdays and from 9am-10am on Saturdays is a major plus.
Know Before You Go
Wear comfortable shoes: There's plenty of walking involved, so slip on some comfy shoes and enjoy the sights as you stroll along.
There are a pair of restaurants on site: The Pine Tree Cafe offers simple fare, from kid-pleasing brick oven pizza to salads, and sandwiches, plus an espresso counter. The Hudson Garden Grill is a more formal sit-down restaurant serving a seasonal farm-to-table menu.
Hours: Hours change seasonally. The Garden is closed most Mondays, with the exception of certain holidays and during the run of the Holiday Train Show.
Location: The NYBG is located in Bronx Park. It is reachable by the B, D, 4, and 2 trains, though the Metro North Railroad stops much closer. There is on-site paid parking. Visit the website for full directions.
Admission: Weekend admission is $28 for adults, $12 for children ages 2-12, children under 2 are admitted free. Weekday prices are $20 and $10. These prices cover admission to all gardens and special exhibitions, plus tram rides. Prices subject to change depending on season and programming; visit the website for current pricing.
A previous version of this post was published in 2012. Sonia Gonzalez contributed to our reporting.
Unless noted, photos by the author
Places featured in this article:
---
New York Botanical Gardens
Click Here to Sign Up!
i