Chihuly Glass Sculptures Dazzle at NY Botanical Garden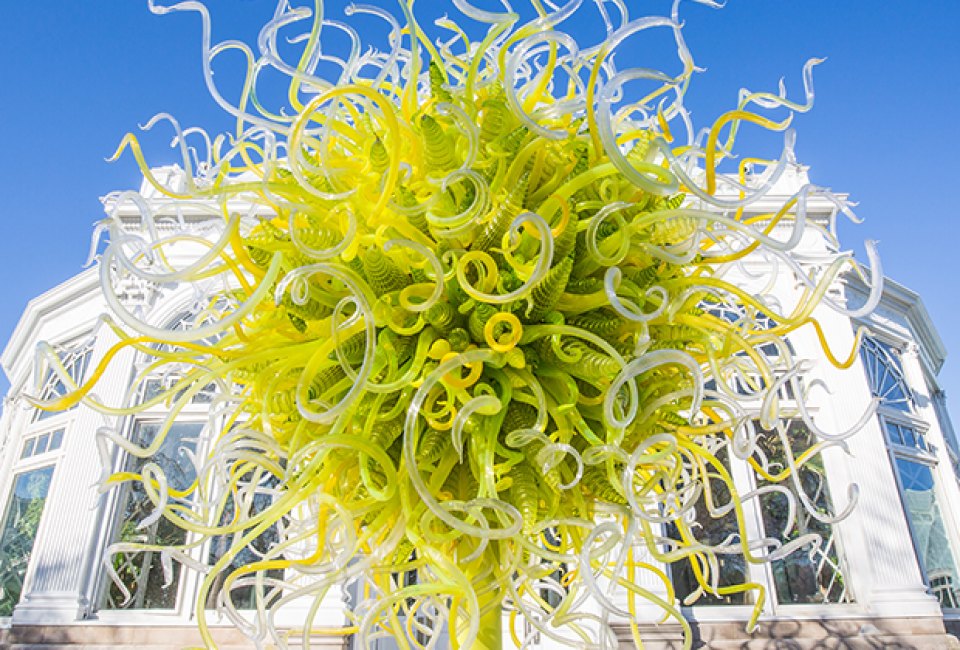 4/25/17
- By
Jody Mercier
Step aside spring blooms. There's a new diva hijacking your spotlight this season at the New York Botanical Garden in the Bronx. It's sparkly, magical, and comes in almost as many eye-popping shades as your petals.
The just-opened CHIHULY outdoor art installation features more than 20 glimmering pieces by renowned glass artist Dale Chihuly. It spans more than 40 years of his career. Special tours, events and programming are planned around the exhibit, which opened Friday, April 22.
Read on for our review of the latest exhibit at the beloved NYC garden, including whether or not you can bring your kid, or even a toddler, without fear of them crashing and smashing their way through the show.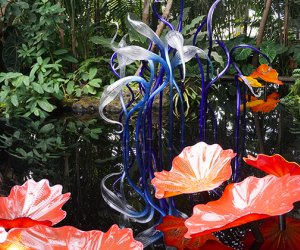 The dazzling Blue Herons decorate the conservatory's reflecting pool. Photo by the author.
The exhibit is the first major garden display in New York state in more than a decade; Chihuly, in fact, last exhibited at NYBG in 2006. Visitors to that show might recognize some familiar pieces, such as the Blue Herons, which take center stage in the Enid A. Haupt Conservatory's reflecting pool.
The current exhibit took more than two years of planning and collaboration between the team at the NYBG and Chihuly Studio, located in Tacoma, Washington. Indeed, all the pieces were shipped from Chihuly's Puget Sound workshop to the garden, along with a team of 12, who spent 2½ weeks reassembling the magnificent pieces, readying them for the exhibit.
RELATED: Governors Island: What to See and Expect for Families in 2017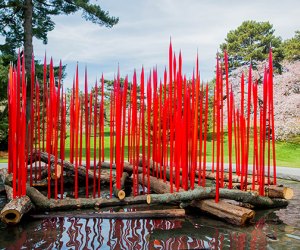 Red Reeds on Logs sprout up in colorful display.
Works are sprinkled throughout the garden and designed to play off the vibrant vistas the natural setting offers in all seasons.
Upon arrival, visitors are greeted with a trio of Chihuly's famous Chandelier series pieces, dangling delicately above the entrance at the Leon Levy Visitors Center. Amazing sculptures sprout up in various locations throughout the garden.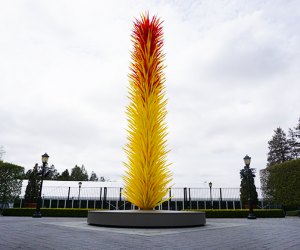 The Scarlet and Yellow Icicle Tower rises more than 30 feet in the courtyard. Photo by the author.
Some are grandiose, imposing, and towering figures that dominate the landscape, such as the Scarlet and Yellow Icicle Tower, which rises more than 30 feet into the air in the conservatory's courtyard. Others are small, glittering pieces ensconced behind glass museum cases in the LuEsther T. Mertz Library. There, visitors find examples of Chihuly's Seaform series. The library's sixth-floor rotunda houses the magnificent Fire Orange Baskets, and the adjoining gallery is filled with more small works and original drawings that give a glimpse into the process employed by the artist.
While the artwork is reason enough to visit, NYBG stays true to its mission as an educational institution by combining these striking works with educational and cultural programming suited to guests of all ages.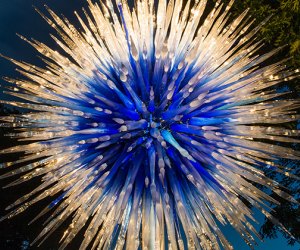 Sapphire Star captivates the mind and inspires imagination.
Visitors to the Everett Children's Adventure Garden can use Chihuly's art as inspiration to explore the shapes and colors of the garden and build a habitat for a plant of their own. Family yoga sessions in the shadows of the works and special glass-blowing demonstrations are scheduled.
Tech-savvy visitors will appreciate experiencing the exhibit with the help of a smartphone armed with the CHIHULY Interactive Guide, which leads guests on a personalized tour of the installations and includes background on the artist and individual pieces, and a behind-the-scenes look at its creation.
Multimedia film screenings drive home the creative labor behind each piece. Short films on Chihuly's creative process play on weekends in Ross Hall. There are also weekly poetry walks scheduled, including some presented by young poets sure to inspire the next generation of writers.
RELATED: Bronx Park: The Zoo, Botanical Garden, and More Fun Spots for Kids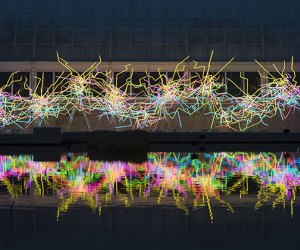 Neon 206 alights at night.
Although perhaps more suitable for a date night than a family outing, the special CHIHULY Nights (with signature cocktails) promise a spectacular view of the artwork. Some pieces, such as Neon 206 are particularly suited to a nighttime view. A trio of summer evenings are devoted to jazz concerts on the conservatory lawn, too.
So, should you bring your kids? There's no doubt they'll be captivated by the sculptures just as adults are, but kids and glass don't always mix. Much of the art is out of reach of curious hands—either ensconced behind glass, surrounded by water and plants, or soaring out of reach. Two of the largest statues are on pedestals in the open where a curious, fast-moving toddler might get too close for comfort, (see the Scarlet and Yellow Icicle Tower above). The section that would make me most nervous, however, is in the Enid A. Haupt Conservatory where a few pieces seemingly blend into the plantings along a narrow path. Though I'd be comfortable taking my older kids (ages 7 and 11) through this area, I might be wary of bringing my 3-year-old as it's all within arms reach and just a little too tempting. Be forewarned, too, if you haven't visited before that this building never allows strollers. Still, we'll be back with the aforementioned 3-year-old (possibly held securely in my arms!) whom I sure will be drawn to the impressive White Tower with Fiori sculpture indoors, which is done in her favorite shade: pink.

Video by Alice Grindling for Mommy Poppins.
Access to CHIHULY is included in the all-garden pass. Admission prices vary by by date; visit the website for details. CHIHULY Nights require special tickets. If you visit on a Wednesday or Saturday morning between 9 and 10am, when grounds admission is FREE, you'll still be able to see many of the works sprinkled across the grounds. The installation will be on display through October 29.
By the way, you'll be able to one of Chihuly's glass sculptures for FREE in Union Square this fall.
Top photo: We could stare at Sol de Citron all day. All photos courtesy of NYBG except where noted.
Places featured in this article:
---
New York Botanical Garden
Click Here to Sign Up!
i