Snug Harbor Cultural Center and Botanical Garden Is Worth The Trip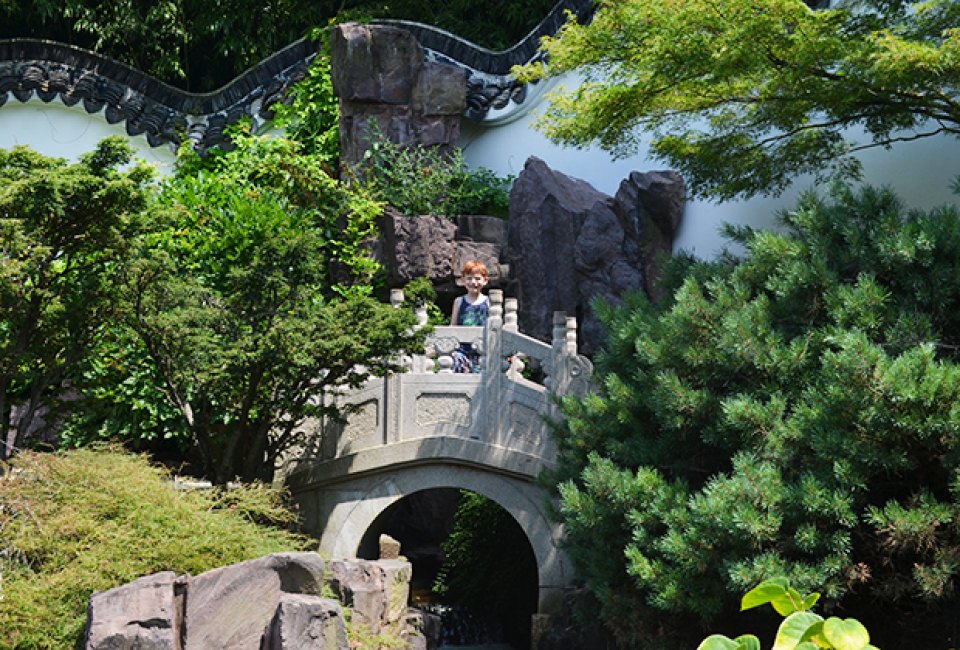 8/6/17
- By
Sydney Ng
Have you ever wondered what would happen if you actually got off the Staten Island Ferry when you arrived? I know, it seems like a radical idea, but Staten Island actually has plenty for kids to do, making it well worth your while to exit on the other side. Recently, my family and I took a day trip to Snug Harbor Cultural Center and Botanical Garden. We were all pleasantly surprised that this little nook in Staten Island holds so many treasures in one location.
The grounds of Snug Harbor and all that are encompassed within can take days to explore. Here, we've listed some kid-friendly highlights in and around the local area.
The Grounds at Snug Harbor Cultural Center & Botanical Garden
FREE
Open 7 days a week, Dawn till Dusk
The main campus at Snug Harbor is FREE to enjoy and explore. From the Rose Garden and Allee to the Carl Grillo Glass House and the Healing Garden, there is plenty see. Or plenty of space to enjoy a picnic, if you're looking for something more relaxing and low-key. Don't forget to check in for seasonal events.
The Connie Gretz Secret Garden
FREE
Open 7 days a week, Dawn till Dusk
Amongst the FREE areas in Snug Harbor sits a little hedge maze straight out of Frances Hodgson Burnett's classic. My children had a blast roaming from one end to the other, as the hedges went above their heads. Adults get to cheat and keep track of their little ones, as the greenery doesn't top 4 feet.
RELATED: 30 Day Trips to Take with NYC Kids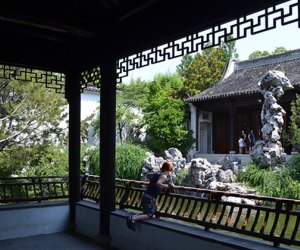 It's hard to believe this place is in New York City.
The New York Chinese Scholar's Garden
$5 for adults/$4 seniors & students/children under 12 are FREE
Open select seasonal dates and hours
Built in 1999, this little oasis is an authentic compilation of Ming Dynasty gardens. Your children can point out golden, shimmering Koi in the pond, take refuge in the shady pavilions, or simply enjoy the sound of the waterfalls.
Heritage Farm Stand
Saturdays, July–November
If you happen to stop in on a Saturday from 11am–3pm, your little chefs might enjoy perusing and purchasing some freshly grown, seasonal produce.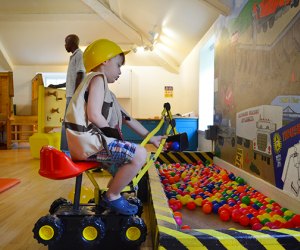 At the Staten Island Children's Museum, kiddos of all ages can learn while having fun with exhibits such as their "House About It" area.
Staten Island Children's Museum
$8 for adults/children under 1 for FREE/5pm–8pm every Wednesday FREE
Check for seasonal hours
This was the highlight for my 5-year-old son, who loves interacting with everything he sees. The museum is chock-full of hands-on exhibits such as the "House About It" area where you learn about how to build a house. Or in the summer, prepared to get wet in the "Sea of Boats" area outside. It also has its own café with light fare.
Staten Island Museum
$8 recommended admission/$5 seniors & students/$2 children 2-12
Wednesday–Friday 11am–5pm, Saturday–Sunday 10am–5pm
Though a little more grown-up, the Staten Island Museum still houses a number of exhibits that might impress the kiddos, such as a giant Mastodon and ancient art objects collected from across five continents.
The Staten Island Ferry
FREE
If you're going to Staten Island, get the full experience of island travel. While you could drive there, why not enjoy a relaxing and FREE 25-minute ride with picturesque views of the New York Harbor including the Statue of Liberty? Boarding and deboarding couldn't be easier at either end, and you don't have to worry about parking.
RELATED: Staten Island with Kids: Top 50 Things to Do for Families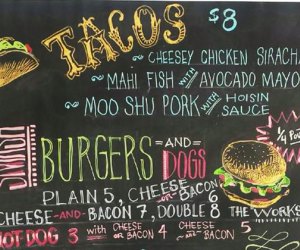 Harbor Eats has an eclectic menu.
Where to Eat
Harbor Eats
Cottage Row
Snug Harbor's official outdoor café. Light fare such as hot dogs, tacos, popcorn, and ice cream are served. The best part is that, beside the picnic tables, there are also picnic blankets, jump ropes, Frisbees and bouncy balls to use at your leisure.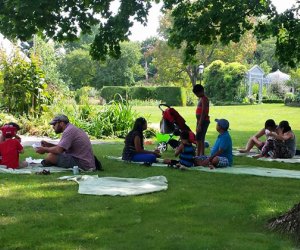 Harbor Eats provides complimentary picnic blankets. Photo courtesy of the café
On Your Mark Café
Monday–Friday, 8am–2pm
639 Forest Avenue
You'll find this little café just a 5-minute drive from Snug Harbor. It offers an array of tasty lunch selections plus, while you eat, you're supporting a good cause: The café and the On Your Mark organization provide job-skill training and support to individuals with developmental disabilities.
Picnic in the Gardens
Feel free to bring along your own blanket and basket of treats as the grounds of Snug Harbor are happy to have you enjoy your own family picnic. There are also tables. Just no grilling.
Where to Play
Just a few blocks away you'll find Walker Park; complete with playground, soccer field, and basketball courts. Or if you're looking for something a bit more tranquil, try Allison Pond Park, with, you guessed it, a large and picturesque pond.
Good to Know Before You Go
Driving/parking: If you're not taking the ferry or public transportation, driving is an easy option as there is free parking areas throughout Snug Harbor. For specific directions and maps, check here.
Strollers: Strollers are welcome on the grounds but I found that with the grassy terrain and hills, you might want to option out if possible. Check with specific museums on stroller policies.
Bathrooms: On the main campus, public restrooms are located in Building G and Building P. The museums have their own restrooms as well.
Furry friends: Pets are welcome on the main outdoor campus grounds!
Tip: Bring water and sunblock. Places to hydrate are few and the sun can get strong in some areas during the summer.
Find more must-see museums and hot spots in our Staten Island Neighborhood Guide.
Top photo: The New York Chinese Scholar's Garden is a tranquil and peaceful getaway for both kids and adults. Unless otherwise noted, photos by the author.
A version of this article was first published in 2009, but we have since updated the piece.