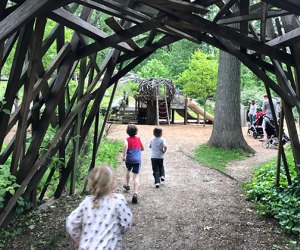 35 Summer Day Trips from NYC to Take as a Family
Note that the coronavirus pandemic has affected the opening of many businesses, parks, and attractions. Please click through to the links to verify operating hours before visiting.
It's summer road trip season! Once school is finally out, we're itching to get outdoors to explore beyond NYC's limits. Lucky for you, our Mommy Poppins reviewers know all the best spots in the tristate area, from beaches and water parks to cool nature spots and pick-your-own fruit farms.
We've rounded up over three dozen of our favorites day trips from NYC for summertime, including a few indoor options for (shudder) rainy days, or if you really just need to freeze in the a/c for a bit. All of these spots are less than two hours away, because, well, who wants to day trip for longer than that with kids in the backseat?
Find more ideas in our full Day Trips and Getaways Guide, or try checking off something from our 100 Things to Do with Kids in New York State list.
3. Float down the lazy river at SplashDown Beach, a popular water park right in the Hudson Valley.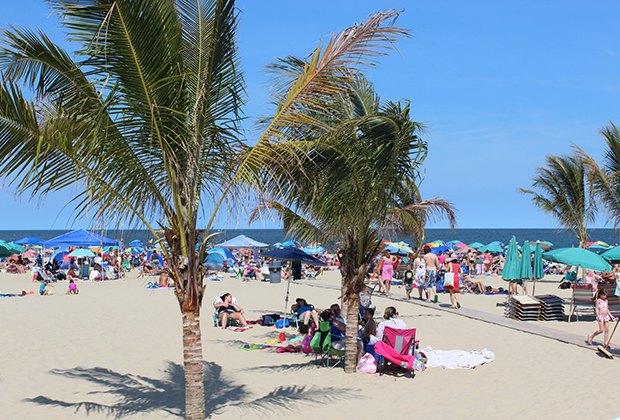 Enjoy the palm trees at Point Pleasant, New Jersey. Photo courtesy the boardwalk
4. Hit the beach and the boardwalk amusements at Jenkinson's Boardwalk in Point Pleasant, New Jersey. It's one of the closest shore towns to the city where you can get the full, family-friendly Jersey Shore experience.
5. Spread your blanket at Long Beach, Long Island, one of the easiest NYC-area beaches to get to via public transportation (just hop on the LIRR from Penn Station or Flatbush Terminal), that feels like a real beach and is often less crowded than, say, Rockaway. It's a quick walk to the sand from the train.
6. Climb a lighthouse: Long Island's East End and North Fork offer some stunning options, but the closest is probably the Sandy Hook Lighthouse, which gives you an excuse to visit the beach and national recreation area.
RELATED: 25 Best Things to Do in Montauk with Kids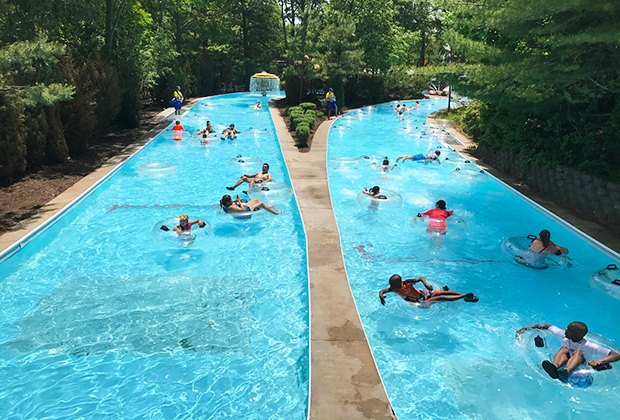 Float along the lazy river at Splish Splash. Photo courtesy of the park
7. Keep everyone cool at the 95-acre Splish Splash water park on Long Island's East End. A word of caution: Traffic out to the Hamptons in the summer can, of course, be excruciating. The only way to avoid it is to go very early in the morning, which makes this full-size water park the perfect day trip. Turn it into an overnight with these hotel recommendations.
8. Cozy up to the animals at Brookhollow's Barnyard in North Jersey, or at White Post Farms on Long Island.
9. Or see the animals at the outdoor Greenburgh Nature Center in Westchester, where the kids can romp on the natural playground, made of wood and surrounded by boulders for climbing. There are plenty of gentle walking trails surrounding the grounds, too. Pack a picnic to make a day of it!
RELATED: 7 Easy Family Day Trips on the Metro-North Train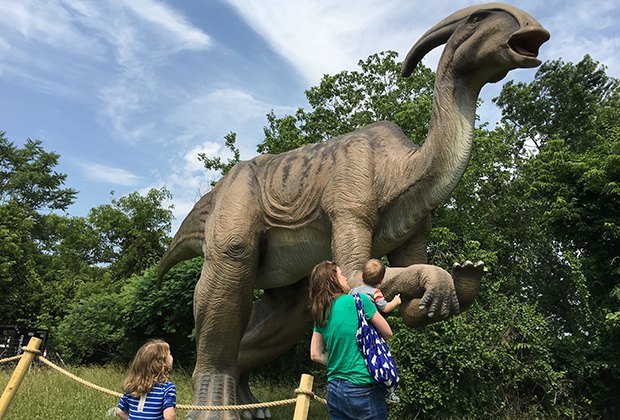 Explore Field Station: Dinosaurs just over the GW bridge.
10. Play paleontologist as you walk the grounds of Field Station: Dinosaurs in Overpeck County Park, just over the George Washington Bridge. Watch out for T-rex at the end! He's known to scare tots caught unaware!
11. Pack a picnic and spend the day among the outdoor art at the 500-acre Storm King Art Center, an outdoor sculpture park and one of our top day trip picks for Hudson Valley.
12. Explore Bridgeport, Norwalk, New Haven, or all three Connecticut towns, which offer an aquarium, museums, baseball, waterfront fun, zoos, and planetariums.
13. Visit Tarrytown, one of our favorite "river towns." Catch a family show at the Tarrytown Music Hall, tour the Lyndhurst Castle, or just hang on Main Street where you can find great eats, coffee, and sweets, including at Main Street Sweets!
14. Or hop on Metro-North to visit one of these other nearby cute towns, including Beacon, New York.
15. Mountain Creek is a sure bet for winter fun, but also summer days when its water park is open for splashing fun, along with a bike park, trails, and a zip line.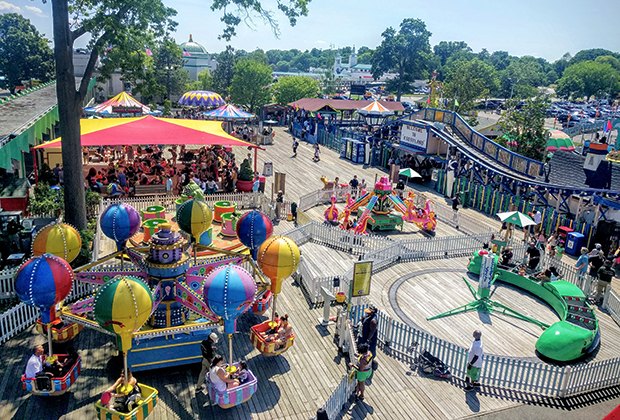 There's tons of fun to be had at Playland in Rye. Photo by Anna Fader
16. Take Metro-North to Westchester's old-fashioned but super fun Playland Park.
17. See the undersea creatures at the Long Island Aquarium and stay the day to explore the town of Riverhead with its vineyards, beaches, and train rides.
18. Take a ride in or just gawk at more than 100 hot air balloons during the 37th Annual QuickChek New Jersey Festival of Ballooning, Friday, July 26 to Sunday, July 28.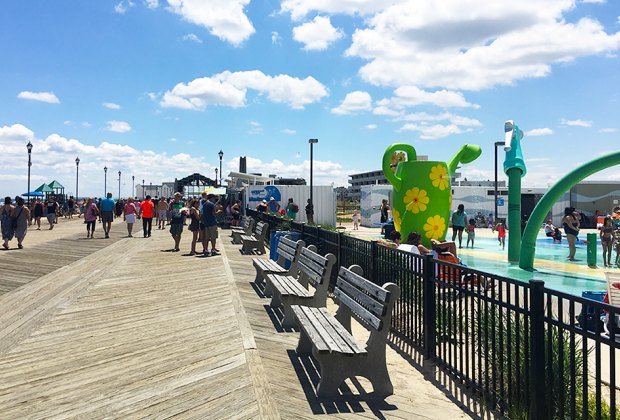 The beach, the boardwalk, and an outdoor splash pad make Asbury Park a must-do day trip.
19. Enjoy the beach at Asbury Park, sure, but there are plenty of onshore entertainment options here, too, from boardwalk murals to a cool outdoor splash pad. You'll also find great eats, music, and even a skate park.
20. If you haven't yet checked out the Liberty Science Center, go now! It has fun for all ages in an enormous multi-floor building in Liberty State Park. There are climbing structures to conquer, plus hands-on exhibits, and so much more for ages 2 and up.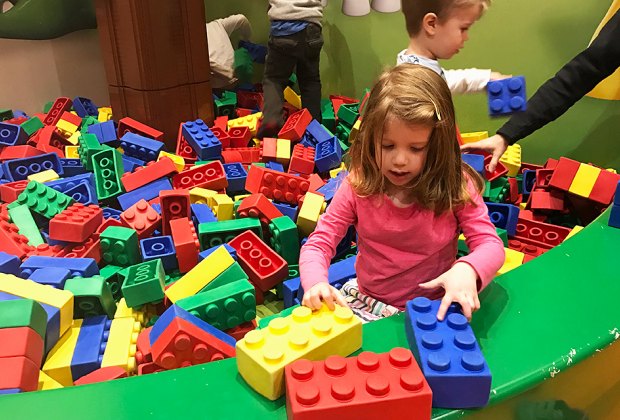 Legoland Westchester isn't just a store, it's a giant Lego play arena.
21. Build, romp, and hit some mini rides at the Westchester Legoland Discovery Center.
22. Got a car? Catch the stars and a movie at these nearby, summer-only drive-in movie theaters.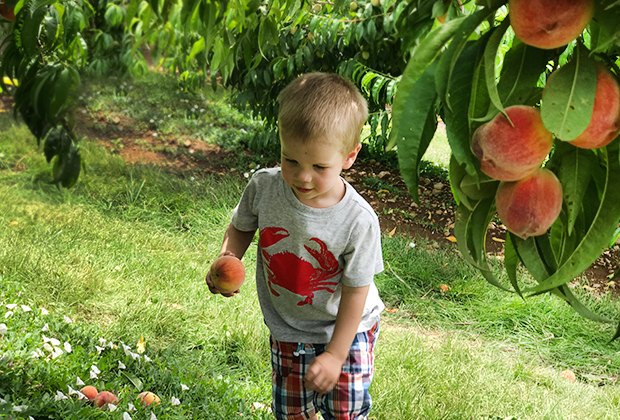 Pick summer peaches at Alstede.
23. Pick your own blueberries and blackberries, or even peaches! Pick a farm with a little agri-entertainment like Alstede in Chester, New Jersey, and the kids can enjoy pony rides, bounce houses, and more.
24. It's a bit of a hike to the Crayola Experience in Easton, Pennsylvania, but you can easily spend half a day here and then explore the super cute town with its shops and eateries.
25. Zoom down the water slides at these cavernous indoor water parks, offering all-season, all-ages play.
26. Test out dozens of climbing challenges at the Palisades Climb Adventure inside Westchester's Palisades Center mall. A separate Sky Tykes course is geared toward kids under 48 inches. Or take the big kids for Hudson River views while climbing the new outdoor aerial course Spins Hudson in Peekskill.
27. Don your best fairy or knight gear to take in the New York Renaissance Faire (Saturday, August 6 through Sunday, October 6) with jousting, crafts, and more performances in New York's Sterling Forest.
28. Speaking of fairs, try the Dutchess County Fair in Rhinebeck (Tuesday, August 20 through Sunday, August 25) with rides, games, food, and animals. It's reportedly the second largest county fair in the state.
29. Canoe, kayak, row, or paddle along Westchester's waterways or in the Hamptons.
30. Gawk at whales and dolphins as they surface alongside your eco-cruise.
31. Walk the fairy trail in New Jersey's South Mountain Reservation, or explore this green space's more commercial spots like the Turtle Back Zoo with lions, a train ride, a ropes course, mini golf, and even a destination-worthy playground.
32. Explore the sleepy college town of New Paltz, New York, which is just 90 miles from the city, but feels a world away and is packed with family-friendly fun.
33. Take tots and preschoolers to the adorable Storybook Land amusement park in Egg Harbor Township, New Jersey, which has mild rides and low-key attractions based on popular classic story characters.
34. Catch a ferry to Fire Island to enjoy access to the car-free fun, clean beaches, and old-time feeling. The ferry ride is part of the allure.
35. Cram some (sneaky) knowledge into kids' heads with a trip to one of these ultra-cool science museums worthy of a day trip (or even a weekend!)
Photos by the author except where noted. A version of this post was published in 2018; it is updated annually.