Fire Island with Kids: Top Things to Do for Families
About 31 miles long and 1,300 feet across at its widest point, Fire Island is a skinny sandbar between Babylon and Center Moriches. At its western end is Robert Moses State Park; Smith Point County Park is at its easternmost point, and in between lies Fire Island National Seashore. Cars are not allowed on Fire Island—only bicycles and little red wagons—which adds to its laid-back vibe.
With 17 distinct communities, there is always something going on. Here are some of our picks for the top things to do while you're there.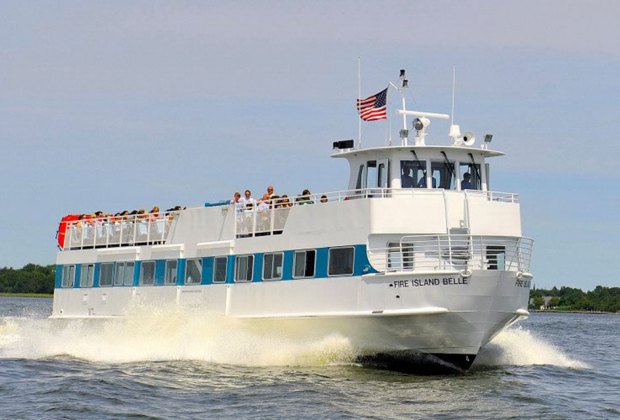 The ferry from the mainland is a fun part of a Fire Island staycation. Photo courtesy of Fire Island Ferries
Getting there
Since it's not accessible by car, getting to Fire Island is part of its allure. Head to the South Shore and board one of the many ferries that leave from Bay Shore, Sayville, and Patchogue. An approximately 30-minute ride will take you to the more popular, family-friendly communities of Ocean Beach, Ocean Bay Park, Davis Park, Saltaire, Fair Harbor, and Seaview. Most of Fire Island's active gay life is centered around Cherry Grove and Fire Island Pines. Whatever your destination, if you are going for an extended period, look into shipping some of your items on the freight ferries since passengers are limited to what and how much they can take on board. The Long Island Rail Road's Montauk branch services Bay Shore, Sayville, and Patchogue, and it's a short taxi ride from the stations to the ferry ports.
RELATED: Summer fun for Long Island kids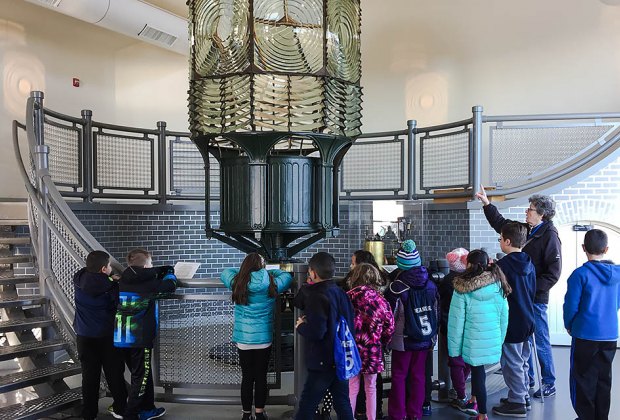 Explore the new Lens Building at Fire Island Lighthouse. Photo by L. Gurinsky

Fire Island Lighthouse­­
If you're just looking to spend the day and prefer not to take a ferry, park your car at Robert Moses State Park, at the end of Field 5, and take a mile-long stroll along the boardwalk. Spend time exploring the Fire Island Lighthouse. Long Island's tallest lighthouse tower is 168 feet tall; that's 182 steps to the top, but visitors can only climb to the lower balcony. Children must be at least 42 inches tall to climb the tower. Take a guided tour, and be sure to check out the keeper's quarters, exhibit center, and the new Lens Building with its collection of lighthouse lenses. On Wednesdays in July and August enjoy special events just for families, including a Family Seaside Adventure and Seaside Story Time. Open daily year round; weekends only January and February.
RELATED: FREE and fun things to do with Long Island kids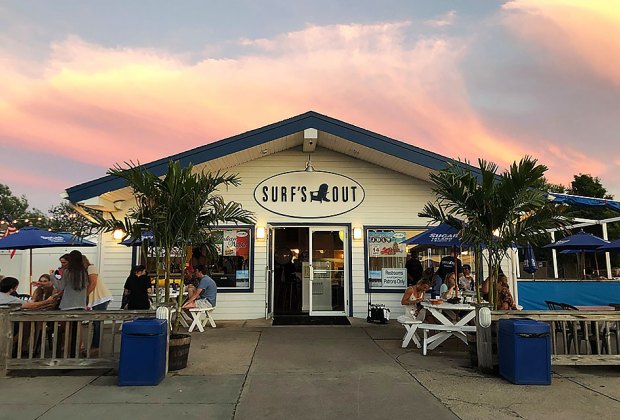 Kid-friendly Surf's Out is a popular destination in Kismet. Photo courtesy of the restaurant
Kismet
Venture farther east of the lighthouse and you'll happen upon the cozy community of Kismet. Spend the day at the beach and grab lunch or dinner at one of the two full-service restaurants in town, Kismet Inn and Surf's Out, or grab a slice at Dock Pizza Pizzeria. Or head to the Kismet Market and pick up what you need for a beach picnic. Kismet is accessible by ferry from Bay Shore.
Ocean Beach
Amid the party atmosphere of Fire Island lies Ocean Beach. Access is by ferry from Bay Shore. Warm ocean currents make the water inviting as early as mid-May and well into October. The beach is radio and alcohol-free. Food options abound, especially for seafood lovers, and there are a number of conspicuously placed bathrooms near the ocean beach. Beach access is FREE.
Annual Sand Creation Contest
While your family is at the beach this summer, be sure to practice your sand sculpting so you can compete in the National Park Service's annual Labor Day Sand Creation Contest at Watch Hill. This year's theme is, appropriately, "By the Sea." All ages are welcome.
RELATED: The best Long Island beaches, pools, and water playgrounds for kids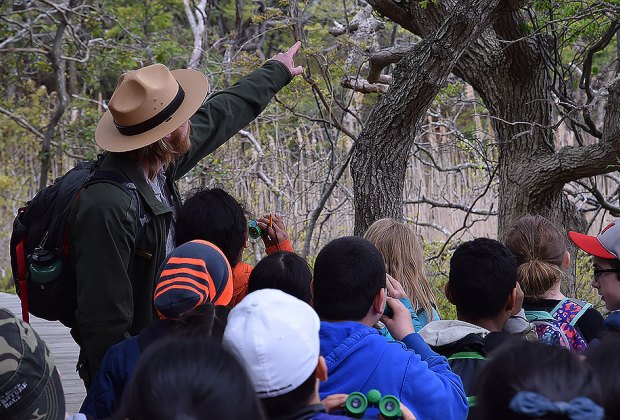 Tour the Sunken Forest with a National Park Service ranger. Photo by Jill Peters for the National Park Service
Day tripping
Sailors Haven is where you'll find the Sunken Forest, a 40-acre forest that appears to be "sunken" because of surrounding tall dunes. You can take a ranger-guided tour or do 1½-mile walk along the boardwalk through the forest on your own. Stop at the National Park Service Visitor Center to check out the interactive exhibits, and there's also a gift shop to pick up souvenirs. With a snack bar, picnic tables, and grills here, why not spend the rest of the day fishing and/or swimming at the life-guarded beach? The Sayville ferry connects to Sailors Haven. Watch Hill is also a great day-trip destination and is accessible via the ferry from Patchogue. In addition to the life-guarded beach, there's also a visitor center, which houses artifacts, exhibitions, and more; and rangers are on hand to answer questions about the wildlife. There are a number of scheduled ranger-led events at both of these destinations during the summer, including guided tours and hikes, art programs, star-gazing programs, Junior Ranger programs, and more. Check out the events calendar for more information.
Camping
If your family enjoys camping, Watch Hill might just be the spot. Its Family Tent Campground is open seasonally and has 26 sites on the sand dunes. Each site accommodates either two, 2-person tents or one, five-person tent. The campground has showers and bathrooms, picnic tables, and grills; and a restaurant, snack bar, and general store are nearby. Reservations, which are required for camping, can be made at lovefins.com. There are also overnight boat slips with water and electricity. For extreme camping (more suitable for older kids), try the Otis Pike Fire Island High Dune Wilderness, which is available year round by special permit.
Longer stays
If your family is planning to spend more than a day on Fire Island, the communities of Ocean Beach, Ocean Bay Park, Davis Park, Saltaire, Fair Harbor, and Seaview are popular picks, and you have plenty of options when it comes to accommodations. Many visitors rent houses and there are a number of hotels in Ocean Beach and Ocean Bay Park that are suitable for families, including Fire Island Hotel & Resort, Clegg's Hotel, The Palms Hotel, and others.
Dining
Fire Island has a number of laid-back, family-friendly restaurants. If you're going for dinner, plan on getting there early in the evening so you can leave before the partying crowd gets too out-of-hand. Some to try include Flynn's and The Schooner Inn in Ocean Bay Park; Maguire's Bayfront Restaurant and Town Pizza in Ocean Beach; Casino Café in Davis Park; and Le Dock in Fair Harbor.
RELATED: Day trips and weekend getaways for LI families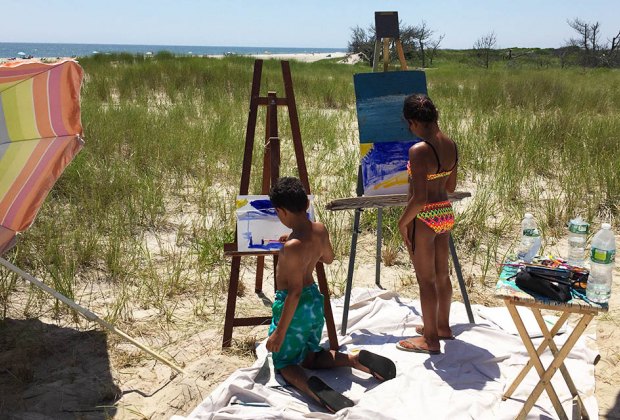 The National Park Service offers art and nature workshops throughout the summer. Photo courtesy of the National Park Service
Bike riding
Bringing your bicycle to Fire Island is not simple: Most ferries require you to ship it separately on a freight ferry. Bike rentals are available at Ocean Bay Park at the Schooner Inn near the ferry dock; and from the hardware store in Ocean Beach. Each community has its own set of rules, so be sure to check the National Park Service's website for more information.
Pets
It's worth noting that some Fire island attractions do not allow pets during peak vacation times. For Fido's sake, research before you go.
A version of this article was published in 2012. It was updated in July 2018.