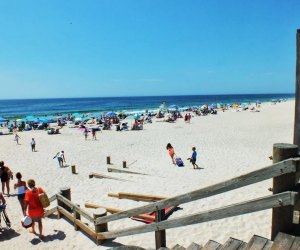 12 Great County Parks in Suffolk for Kids
With so many family-friendly county parks dotting the landscape of Suffolk County, there's no excuse not to visit at least one (or two or three) of these beautiful outdoor destinations. The problem is, which ones to choose?
To help you decide, we've rounded up some of the best parks for families. From hiking, biking, and horseback riding to swimming, picnicking, and camping, these have it all, and some have even more, including bird watching, boating, and other family-friendly activities. We could go on and on.
These parks are all worth the trip. But be advised, some require a Suffolk County Green Key for access during peak periods.
For more outdoor activities with the family, check out our spring fun and day trips guides, and don't forget our events calendar.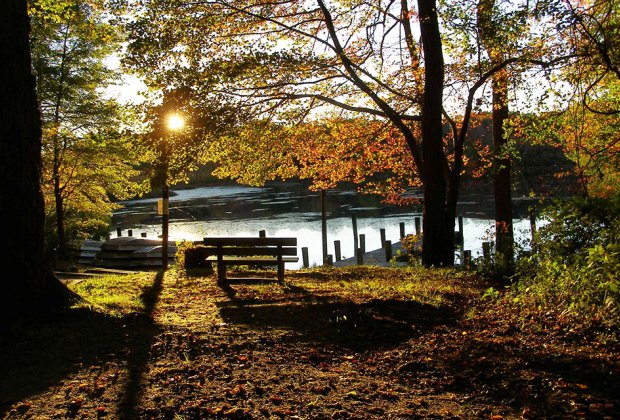 Enjoy fishing, boating, and beautiful views at Blydenburgh County Park.
Blydenburgh County Park — Smithtown
Located along the headwaters of the Nissequogue River, this 627-acre park offers hiking, fishing, horseback riding, and a playground. There are 50 campsites for tents and trailers with shower and dump facilities. You can fish and rowboat on Stump Pond, or take a walk through the Blydenburgh Farm and New Mill Historic District, which includes a grist mill. Walking and hiking trails link up with trails in nearby Caleb Smith State Park Preserve.
Cathedral Pines County Park — Middle Island
Cathedral Pines is a 320-acre site situated on the waters of Carmans River. There are plenty of camping options here, including club camping (10 or more) and family camping, with 10 sites that include water and electric hookups. There are picnic sites and the George Broome Memorial Activity Building is also available. Adjacent to the park is the Pines Nature Preserve, a popular site for hikers and photographers. Activities include a playground, hiking, mountain biking, bridle paths, and picnicking.
RELATED: The best beach playgrounds on Long Island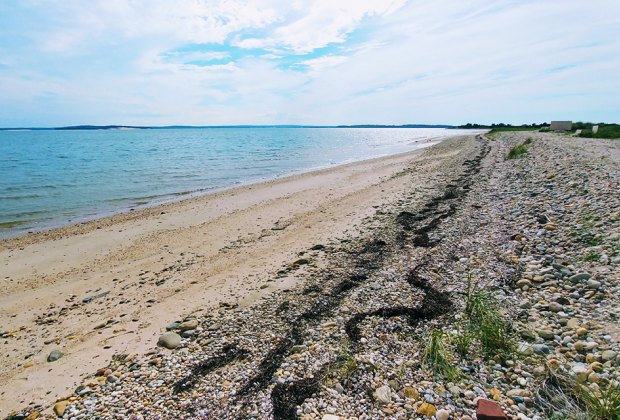 Cedar Point boasts a mile-long stretch of beautiful sandy beach.
Cedar Point County Park — East Hampton
This 600-plus-acre park is located on a peninsula near Sag Harbor and boasts nearly a mile of sandy beach. Walking trails take you through a shady forest and treat hikers to magnificent views of Gardiners Bay. Other amenities include a freshwater lake for boating (rentals are available), a playground, general store, and a snack bar. During the summer, enjoy FREE family movie nights every Saturday.
Cupsogue Beach County Park — Westhampton
Cupsogue Beach is a 296-acre barrier beach park that offers lifeguard-supervised swimming in season, sun bathing on white sand beaches, and some of the finest saltwater bass fishing on Long Island. There are food concessions, restrooms, a first aid center, showers, and changing rooms at Cupsogue's pavilion. Other activities include scuba diving, outer-beach camping, and special family-friendly events in season.
Gardiner County Park —West Bay Shore
First owned by the Gardiner family of Long Island, Gardiner County Park also once was part of the historic Sagtikos Manor Estate. Today, all Long Island families can enjoy nature trails, fitness trails, hiking, and bird watching at this beautiful 231-acre facility on Great South Bay. Restrooms are available and the park is pet friendly.
Indian Island County Park — Riverhead
Located at the estuarine mouth of the Peconic River, this 275-acre park is popular for its camping. There are 100 trailer and tent campsites open to organized groups, individuals and families, and camping clubs. Restrooms, shower facilities, picnic tables, and grills, provide (almost) all the comforts of home. The "island" is connected to the mainland by a causeway. Take a rest on nearby benches, where you'll enjoy views of beautiful Flanders Bay.
Lake Ronkonkoma County Park — Ronkonkoma
This scenic park offers a variety of recreational opportunities, including a fishing area with a handicapped-accessible pier, baseball fields, handball courts, basketball courts, and a picnic area.
RELATED: Nature centers sure to delight Long Island kids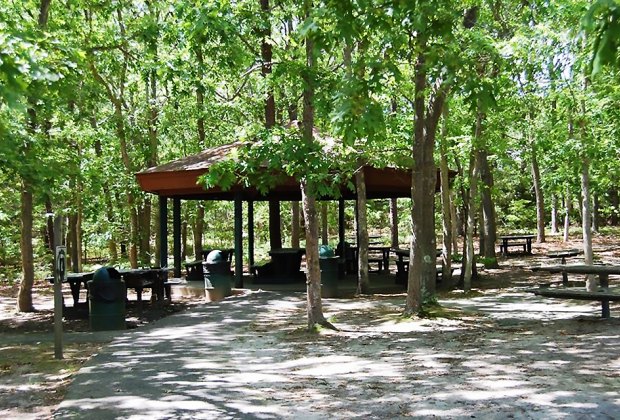 Lakeland County Park's barrier-free design makes it fully inclusive for the disabled community.
Lakeland County Park — Islandia
What makes this park unique is that it is fully accessible to the disabled and their families and was designed with that in mind. There's a beautiful boardwalk that takes you through a stunning nature trail over Connetquot River. Great views of wetland vegetation, waterfowl, and fish abound. The park also has a picnic area and basketball court.
Sears Bellows — Hampton Bays
Another great camping spot for both tents and trailers, this 979-acre park has showers, a playground, picnic area, and barbecue grills. Activities include fishing, hiking, horseback riding (with permit), and rowboat rentals on freshwater Bellows Pond.
RELATED: The best camping sites on Long Island for kids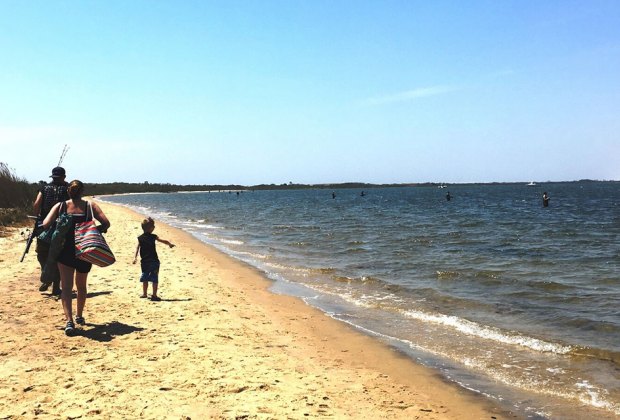 Grab your pole and head to Smith Point County Park for some fishing.
Smith Point County Park — Shirley
This is Suffolk County's largest oceanfront park and a popular spot for families. Situated on the Fire Island barrier beach, there are more than 270 trailer spots for camping; outer-beach camping is also available on a first-come, first-served basis. The beach has lifeguards and a concession stand. Plenty of family-friendly events take place here during the summer months. Other amenities include a playground, fire pits, grills, and a camp store. There is also a poignant memorial to the victims of TWA Flight 800, which crashed off Long Island in 1996.
Southaven County Park — Brookhaven
With the Carmens River flowing through this scenic park, Southaven is another wonderful spot for families. It offers fishing, row boating, kayaking, bridle paths, tent and trailer camping, and picnicking. A special treat for families: On the second and last Sundays from May through October, the Long Island Live Steamers steam train club hosts its public run days, where families can take a ride on a miniaturized train.
West Hills County Park — Huntington
This is a popular park with well-groomed trails for walking and hiking, including the historic Walt Whitman Trail that leads to Jayne's Hill, Long Island's highest peak. There's plenty to look at along the way, including an array of flora and fauna and forest inhabitants such as salamanders, turtles, and red foxes. Camping for youth groups and horseback riding is by permit only. The facility also has a dedicated, off-leash dog park.
Photos courtesy of Suffolk County Parks
A version of this post was published 2013. It was updated in April 2018.