Pony Rides and Horseback Riding Lessons in the Hamptons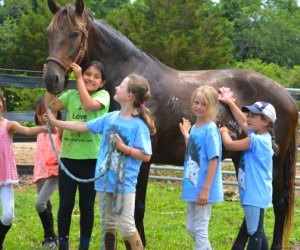 Whether your child aspires to one day compete in The Hampton Classic or has never been in a saddle before, there are plenty of places on the East End where children can explore their equestrian side.
From first-time horseback riding lessons and trail rides to pony rides and camps, we've rounded up some of the best kid-friendly ranches, farms, and riding stables in the Hamptons.
You'll find even more suggestions for seasonal fun on the East End in our guide to the Hamptons and North Fork. Our guide to kayaking, canoeing, and paddle boarding offers some of the best deals on aquatic adventures. And don't forget to check out the Event Calendar for the latest happenings all over the Island.
Pony Camps, Riding, and Lessons
Amaryllis Farm — Bridgehampton
A sanctuary for former service horses, Amaryllis Farm offers a variety of camps and activities. Its Summer Pony Tales Compassion Camp introduces kids to horses and other activities, including mindfulness exercises, yoga, nature, and gardening. Enrollment ranges from one to 10 weeks. For kids ages 4 and older.
Deep Hollow Ranch — Montauk
This family-run ranch claims to be the oldest operating cattle ranch in the United States. It offers Western-style riding, guided by "real cowboys and cowgirls" along trails and the shore of Block Island Sound. Summer pony camp is available for kids ages 7 to 12.
Dream Come True Farm — Manorville
While technically not in the Hamptons, this family-operated horse farm and full-service boarding facility is close enough. It offers lessons for beginners through advanced riders. Half- and full-day summer camp features horseback riding, grooming, and tacking.
East End Stables — East Hampton
Husband-and-wife owners Christine and Andre DeLeyer live on the property with their twin boys. Horseback riding lessons are available, and pony camp runs four days a week in July and August.

First-time campers will find all sorts of fun and mellow ponies at the Gray Horse Farm.
Gray Horse Farm Hamptons — Bridgehampton
Also known as GHF Hamptons, this farm offers lessons for first-time and experienced riders. There is also an extensive pony camp for kids as young as 5. In addition to riding, kids learn about saddles and bridles, and how to bathe and groom horses. Themed weeks include pony-related arts and crafts during the day and a visit from the ice cream truck every Friday.
Stony Hill Stables — Amagansett
Horseback riding lessons are available for children as young as age 4. A variety of camps are also available, including one for serious riders who own or lease their own horses.
Topping Riding Club — Sagaponack
Just a quarter-mile from the ocean, this farm sits on 25 acres. Private and group lessons are available for all levels for children as young as 3. Its summer pony camp has morning and afternoon sessions.
A version of this article was published in 2013 and since has been updated.
Top photo: Amaryllis Farm offers camp and lessons from retired service animals! All photos courtesy the respective venues.