Tarrytown With Kids: 20 Things To Do in the Scenic Rivertown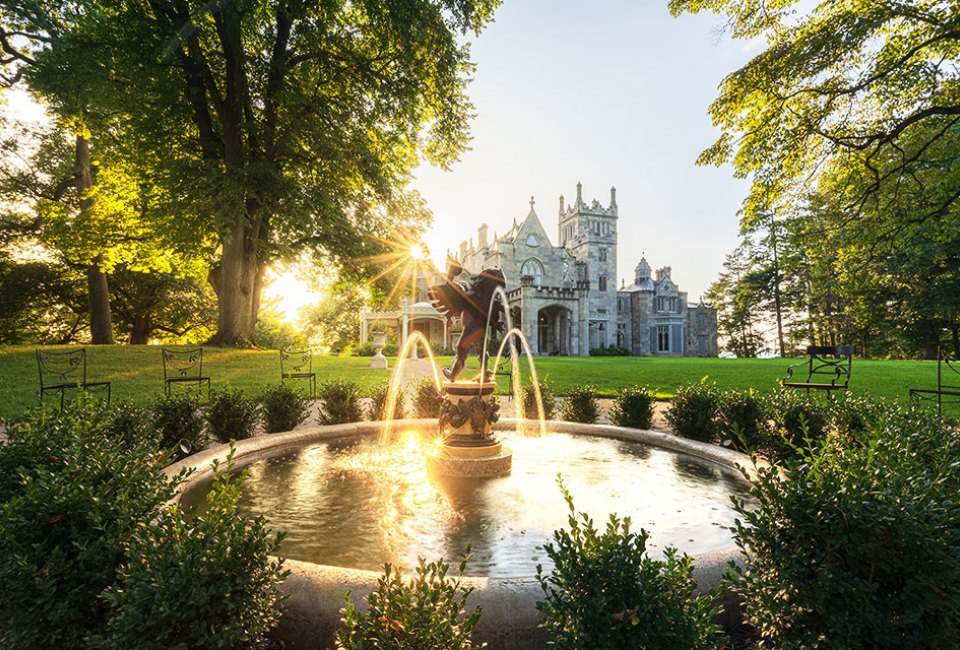 6/2/21
- By
Marisa Iallonardo
Westchester is home to so many amazing family-friendly towns, and Tarrytown is definitely one of our favorites. One of Westchester's scenic Rivertowns right on the Hudson River, Tarrytown has a population of about 11,000 and checks all the boxes for a great day trip: parks and green space for kids to run around, a cute downtown that's easily walkable, and a slew of adorable shops and restaurants to visit. Plus, there are some great family-friendly events and cultural spots to round out your experience.
Here, we've rounded up 20 of our favorite things to do in Tarrytown with kids from toddlers to teens.
Fun Outdoor Activities for Kids in Tarrytown
1. Experience the Hudson River up-close with a round of stand-up paddleboarding. It's a great activity for tweens and teens and is run through the Tarrytown-based Rivertowns SUP & Yoga.

Enjoy the easy path and stunning views along the Scenic Hudson RiverWalk. Photo by the author
2. Head to Pierson Park for a walk or bike ride along the Scenic Hudson RiverWalk, where the stroller-friendly paved trail is smooth and easy to navigate.
RELATED: Top Playgrounds in Westchester and the Hudson Valley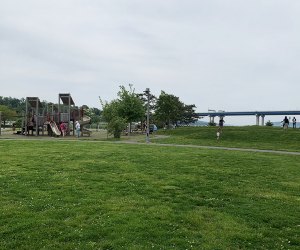 Pierson Park offers plenty of room to picnic and play. Photo by the author
3. While at Pierson Park, consider setting up a picnic on the large grassy areas. The gentle, sloping hills are great for running and games of tag, and the nearby playground adds to the fun.
4. The splash park at Pierson opens in the warmer months, and it's FREE.
5. If you're looking for something even more vigorous, walk, bike, or scoot across the Mario Cuomo Bridge. Be aware that this might too long a ride for little kids, but you can stop and turn around at any point. Also, there is very little shade, so consider an early morning or evening visit to avoid the heat of the day.

Explore the Tarrytown Lakes Extension, a 1-mile riverside path. Photo by the author
6. The short, multi-use Tarrytown Lakes extension path is perfect for families who aren't looking for anything too challenging—it's only about a mile long and there are parking lots at either end.
RELATED: Short Hikes for Toddlers and Preschoolers in Westchester and the Hudson Valley

Attend the Halloween parade with the Headless Horseman. Photo courtesy of Tarrytown
Top Cultural Experiences for Kids in Tarrytown
7. Halloween is a big deal in the Rivertowns, and the annual Tarrytown Halloween Parade down Broadway is a definite highlight.
8. Visit the gorgeous Lyndhurst estate, where you can take a tour (returning in July) or check out the grounds.
9. In the summer, you can also catch an outdoor jazz concert at Lyndhurst.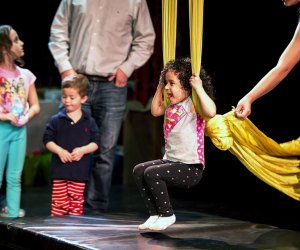 Attend a family-friendly performance at the Tarrytown Music Hall. Photo courtesy of the music hall
10. The Tarrytown Music Hall is a Westchester institution that's right on Main Street and regularly offers kid-friendly shows.
11. Head to the TaSH Farmer's Market at Patriot's Park; it's open on Saturdays from Memorial Day through Thanksgiving and there's even a playground.
RELATED: 13 Kid-Friendly Outdoor Restaurants in Westchester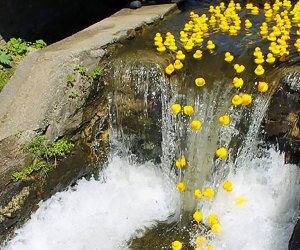 Rubber Ducky Derby Day. Photo courtesy of the event
12. Check out the fun and unique Rubber Ducky Derby Day at Patriot's Park in June. This year you can see it in person or virtually.
13. See what's on at Warner Library, including in-person, alfresco story times during the summer months.
RELATED: 5 Things To Do on a Day Trip to Croton Gorge Park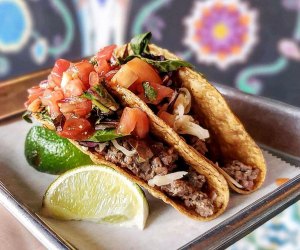 Dine on some yummy eats from The Taco Project. Photo courtesy of the restaurant
Best Family-Friendly Restaurants and Cafés in Tarrytown
14. Grab tacos at The Taco Project. Just note that this spot is small, so a grab-and-go—possibly to the park—is a great option.
15. Enjoy a Greek salad, moussaka, or (our favorite) a hummus platter at Lefteris Gyro on Main Street. If your little ones aren't big fans of Greek food, they also have chicken nuggets, fries, and other kid-friendly picks on the menu.
16. Opt for a hot dog or "Lubin," which they describe as "our own creation made of seasoned, slow-roasted, tender and delicious shredded beef" on a roll—at Lubin & Links.
17. Or, go for brisket, ribs, and more at Pik Nik BBQ.
18. Ice cream fans should plan a visit to Main Street Sweets.

Posh Pretzels sells sweet-and-salty treats in a rainbow of colors and combos. Photo courtesy of Posh Pretzels
19. Posh Pretzels has lots of chocolate-covered pretzels with toppings that range from Fruity Pebbles and sprinkles to M&Ms and nuts.
20. Round out the experience with coffee or tea at either Muddy Water or Coffee Labs Roasters, both on Main Street.