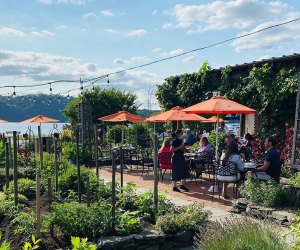 13 Kid-Friendly Outdoor Restaurants in Westchester
Venturing to Westchester's outdoor restaurants is an annual rite of passage, marking the turning of the seasons. In 2021, outdoor dining never really waned, but the time has come to lose the outdoor heaters and let the sunshine hit your face as you indulge in a meal out.
Read on for our list of 13 family-friendly outdoor restaurants in Westchester—there's a mix of price points, atmospheres, and cuisines—where families can get their alfresco fix. Looking for more family-friendly dining options? Check out our Kid-Friendly Restaurant Guide.
Before venturing out, be sure to check each businesses' website. Reservation policies may have changed, seating times and party sizes may be limited to accommodate social distancing guidelines. All guests must wear a mask anytime they're not seated at their table. You may be asked to view the menu on a mobile device or use a single-use paper version.
Reservations are not required, and seating is on a first-come basis.
Harvest on Hudson overlooks the Hudson River. The menu has several Italian dishes, with enough variety to suit many tastes. Although it doesn't have a dedicated kids' menu, there are options to satisfy little eaters, like pizza and pasta. Diners can walk around a small outdoor garden to view veggies and other flora. Best of all, it's right next to a playground, making it easy for kids to run and play before or after a meal.
This Somers establishment has an abundance of outdoor seating, including front and back patios and backyard picnic tables.
Traditions 118 combines Italian and American cuisine, with selections ranging from pasta and meatballs to burgers, steak, pizza, and lobster mac and cheese. Enjoy dining on the outdoor patio surrounded by lovely foliage.
Outdoor dining is in full swing—just call ahead to make a reservation
A longtime favorite of White Plains residents, Sam's of Gedney Way bills itself as a "classic American bistro." Sam's offers lunch, dinner, and brunch—as well as a gluten-free menu.
RELATED: Family-Friendly Beer Gardens in Westchester and the Hudson Valley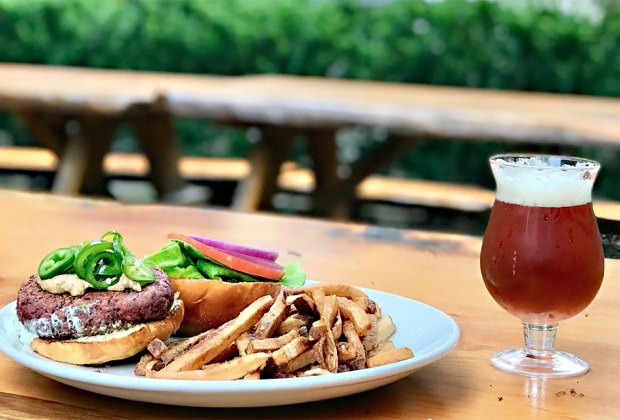 Grab some delicious comfort food in a gorgeous setting at Birdsall House.
Outdoor tables are spaced six feet apart, and the restaurant now has a hands-free payment process.
At this "craft beer gastropub" in Peekskill, families can hang out in the large beer garden, including patio seating and picnic tables. Lots of the draft beers hail from the East Coast, and the weekday happy hour goes until 7pm if you're looking for a mid-week break from cooking. The pub serves lunch and dinner, plus brunch on Sundays, with a kids' menu that features favorites like mac and cheese and mini burgers. For the youngest visitors, there are high chairs available, too. Kids getting restless? Let them try out the bocce ball court. Check the website for the live music performance schedule, which returns in late May.
Service is available on the back patio, with tables spaced six feet apart. Reservations are recommended.
This casual American eatery and craft beer bar on Mamaroneck Avenue offers patio seating in the nice weather. There isn't a dedicated kids' menu, but there are plenty of kid-friendly favorites, including quesadillas, chicken tenders, flatbread pizza, and nachos.
The beer garden is now open, and reservations are required. Patrons are asked to limit their visit to two hours to allow for table turnover. Currently, outdoor games are not available to encourage social distancing. See the website for up-to-date safety protocols and ordering procedures.
While a brewery might not seem like an obvious choice for outdoor dining with kids, Captain Lawrence Brewery in Elmsford has an outdoor eating area (with games like cornhole) as well as a kids' menu, with options like hot dogs, pasta, and fruit. The brewery has an excellent selection of craft beers on tap (for the parents, of course). Kids can opt for a milkshake with a churro. The best time to dine with kids is weekends from noon-4pm.
Reservations can be made online, by phone, or via the Hudson Social app, and there's a 90-minute limit when eating outdoors.
Hudson Social is located on the Dobbs Ferry waterfront, near the train station and a large park (with a jungle gym and lots of space to run and play). The kids' menu has classic favorites like sliders and chicken fingers. Grown-ups can choose from a selection of sandwiches, salads, and cocktails.
RELATED: The Best Local Ice Cream Shops in Westchester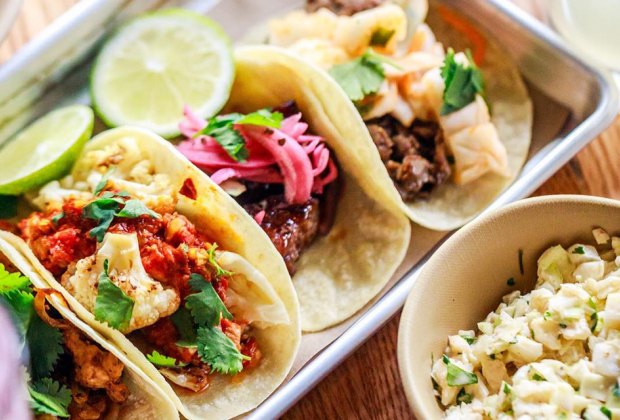 A full kids' menu and outdoor seating by the water make Bartaco a perfect restaurant for families.
8. Bartaco – Port Chester
A nearly no-touch set-up, the picnic-style dining at Bartaco allows for ordering via your phone—and it's completely cashless. Use the restaurant's app to reserve a table or call the restaurant to be added to the list.
Bartaco has an outdoor seating area overlooking the water, plus a full kids' menu (with items like quesadillas and fun fruit skewers). The food is yummy, the prices are reasonable, and the service is fast and friendly. It can get a little loud and crowded—the place is popular for good reason—so we suggest heading over on the early side to avoid crowds and lines. Take a walk by the water and look at the boats before or after your meal.
Outdoor dining is available on a first-come, first-served basis.
A local favorite for younger families, the Larchmont Tavern features a courtyard cafe. Its menu is packed with everything from salads to grilled items and pasta, as well as a massive burger and sandwich menu.
Louie & Johnnie's has a large patio for outdoor dining and offers its full menu. Reservations are not required.
Louie and Johnnie's is the kind of casual family restaurant that makes kids feel like they've gone out for a fancy meal. The children's menu at this traditional Italian restaurant features kid-sized portions of cultural favorites.
RELATED: Family-Friendly Vineyards and Hard Cider Houses in Westchester and the Hudson Valley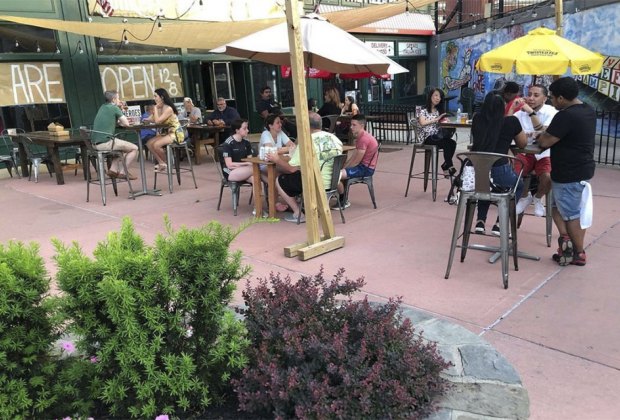 Relax on the patio with a cool draft while the kids eat and play at Yonkers Brewing Co.
The patio is open, with dining offered from noon-8pm daily.
This outdoor beer garden is great for kids, especially during its weekend brunch. Kids can dig into Nutella French toast, churro waffles, and omelets, while the regular lunch and dinner menu also features tacos, wings, and other kid favorites.
Seating for outdoor dining is on a first-come, first-served basis.
Parents can treat the kids to a social media-worthy milkshake-on-steroids at the Lazy Boy Saloon in White Plains. The restaurant has outdoor seating right on busy Mamaroneck Avenue, which means there should be plenty of good people-watching. In addition to milkshakes, there's a menu full of kid-friendly meals like wings, burgers, pizza, and french fries.
Snag a table on the patio between noon and 9pm daily and until 8pm on Sundays, with seating on a first-come basis.
Rivermarket Bar and Kitchen is another of our favorites near the Hudson River, offering a large outdoor patio, though the vibe (and price point) leans toward the higher end. Try the wood-fired pizzas for a gourmet take on the humble pie. Rivermarket is conveniently near Lighthouse Ice Cream Co., as well as Pierson Park and its splash pad, making it a lovely stop on a warm day.
Originally published in 2017, this post is updated annually.
Photos courtesy of the restaurants