Great Tarrytown Restaurants and Other Family-Friendly Restaurants in the Rivertowns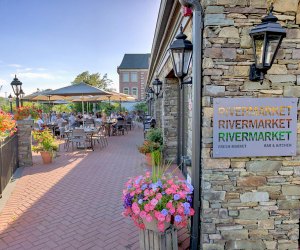 4/8/22
- By
Amy Growney
We're always on the hunt for a family-friendly restaurant or café that doesn't mind a bit of mess on the floor after the meal is finished. Not only are the family-friendly restaurants, cafes, and sweet shops below delicious and welcoming to kids, they're all located in Westchester's beautiful Rivertowns. From Tarrytown restaurants to restaurants in Peekskill, Dobbs Ferry, Hastings-on-Hudson, and beyond, here are our top picks for a family-friendly meal out.
Several of these picks have kids' menus, and a few even offer waterfront views. Find more family-friendly restaurants in Westchester on this list of kid-friendly restaurants with outdoor dining areas and bookmark our Guide to Kid-Friendly Restaurants in Westchester and the Hudson Valley for all our top local picks.
Subscribe to our newsletters to get stories like this delivered directly to your inbox.
Family-Friendly Restaurants in Tarrytown
RiverMarket boasts a right up the street from the river location and a locally inspired menu with an impressive kids' menu selection. Your may wait for a table outside for brunch, but that's no problem—just stroll down the path alongside the Hudson until it's time to enjoy a sophisticated meal.
With an extensive menu offered daily and, of course, the classic kids' menu, Horsefeathers offers a casual dining experience with friendly service. Be sure to visit around Halloween—it takes the holiday very seriously. Also, check out its weekend brunch and outdoor seating options.
Brunch never had so many options as the whimsical, jam-packed menu at Eatarry. S'more's pancakes, eggs Benedict, inventive salads, delicious Panini, and a pot of tea are just the beginning of the tasty eats to try at this laid-back family-friendly restaurant on Tarrytown's Main Street.
Speaking of Main Street...with children, it is always relevant to know of a good ice cream parlor. Main Street Sweets makes its own ice cream on-site and serves it right to its happy customers in classic and one-of-a-kind flavors. Also available: coffee and candy.
RELATED: Family-Friendly Beer Gardens in Westchester and the Hudson Valley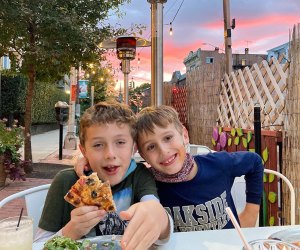 Gleason's make-your-own pizza is an all-ages crowd-pleaser.
Family-Friendly Restaurants in Peekskill
Gleason's offers traditional shareable dishes as well as the obligatory kids' menu, and for the creative, the option to make-your-own pizza. Be sure to view the dessert menu—there are some goodies to choose from, including a kid-friendly s'mores dessert pizza.
Offering a couple of kid favorites (Bavarian pretzels, pizza, and fries) there are just enough food options to entertain all-ages here while grown-ups treat themselves to a local brew.
Amici boasts some of the best pizza in the area plus all the classic Italian dishes.
RELATED: 13 of the Best Places for Families to Get Pizza in Westchester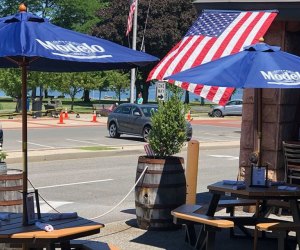 Hudson Social overlooks its namesake river and offers seating indoors and out.
Dobbs Ferry Restaurants for a Family-Friendly Meal
Located alongside the Hudson River, Hudson Social serves lunch, dinner, and brunch with indoor and outdoor seating galore. Its menu has everything from chicken tenders and fries to an authentic po'boy and Cuban sandwich.
All-day breakfast? Yes, please! With a long and eclectic menu to choose from, there's sure to be something for everyone. It also serves smoothies and has a juice bar.
For sushi lovers of all ages, Sushi Mike's is fresh and delicious every time. We love its attentive service, too. It satisfies all the cravings for a sushi lunch or dinner.
The Parlor's lunch and dinner menus are full of mouth-watering, wood-fired pizzas and some smaller bites, too. The food is sure to impress the grown-ups, though the younger crew might be more interested in the colorful graffiti that playfully decorates the walls.
Family-Friendly Hastings-on-Hudson Restaurants
A neighborhood staple for 25 years, Maud's kitchen feels a little like mom's, serving comfort food with a warm heart and smiling face. Maud has established a reliable place for customers to go and feel quite like they're at home whether they're enjoying a shepherd's pie or grilled cheese and fries.
OK, Stuffed. Waffles. Every so often it's necessary to have a lunch that is, in fact, more like a dessert, and Wild Culture fits the bill. With a menu full of waffles stuffed with yummies like chocolate custards and seasonal jams, as well as frozen versions, this will be a memorable lunch for all.
Kids adore this cafe with its rotating list of muffins and breads, which is great news for the parents who love a barista who knows how to make a mean cortado.
RELATED: Where to Enjoy Epic Desserts in Westchester and the Hudson Valley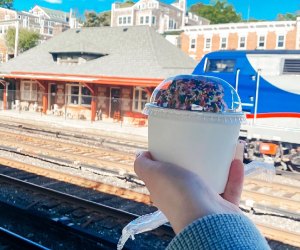 On the go? Grab a treat at BRRZAAR and hop on the Metro-North or just watch the trains go by.
Family-Friendly Restaurants in Irvington
This sweet spot is a perfect destination in the warmer months. Grab a seat at its extensive outdoor seating section. This adorable eatery serves delicious fro-yo, milkshakes, and affogato.
For Texas barbecue lovers, Farm Eats offers a taste of homemade slow-smoked cooking. It uses local farm-raised meats for its "farm-to-smoker" meals and slow cooks everything to perfection.
Friendly staff and outstanding pizza make Irvington Pizza Company a perfect stop for a quick and delicious meal. Its always-tasty quality makes it a reliable stop with the little ones in tow.
Family-Friendly Restaurants in Ossining
The seating inside 3 Westerly is bright and cheery thanks to its floor-to-ceiling windows, but grab a seat outdoors during warmer months and enjoy a breathtaking view with a huge lawn where kids can work out pre-dinner wiggles. With a sophisticated (and lengthy) kids' menu and a wide-ranging main menu, this place checks all the boxes for a fun meal out.
Classic dining with indoor and outdoor seating, this seasonal restaurant is an Ossining staple. Situated alongside the Hudson, with a menu full of seafood, The Boathouse is an experience worth having.
As diners go, DD's is one of the greats. Its menu seemingly has hundreds of options for kids—not to mention really good milkshakes—and the smiling staff is happy to serve the whole family.
With a local following, the customers at First Village have nothing but great things to say about the baristas, drinks, and house-made pastries. Check out its vegan doughnuts on Tuesdays (sure to sell out by mid-afternoon) and chocolate cookies the size of a 3-year old's face. Dirty chais, lattes, and cups of tea are all sourced from the best at this cafe.
Photos courtesy of the restaurants