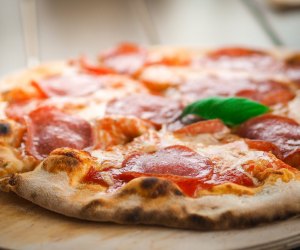 13 of the Best Places for Families to Get Pizza in Westchester
Whether your family likes to kick it old-school when it comes to pizza—or you prefer a gourmet take on the tried-and-true formula of crust, sauce and cheese—Westchester has plenty of pizza options. Slices, pies and more can be found in this baker's dozen of pizzerias—there's even a mobile pizza truck!
For more great ideas on places to dine out with the family, check out our Westchester Kid-Friendly Restaurant Guide and sign up for our newsletters.
Sal's Pizzeria – Mamaroneck
316 Mamaroneck Avenue
Generations of families have professed their love for Sal's Pizzeria. Sal's is especially famous for its Sicilian slices and "salad pizza." It's a casual pizza joint that's a Westchester classic.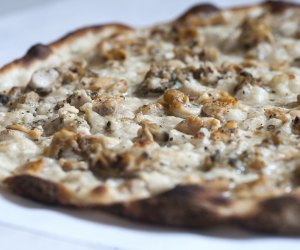 Frank Pepe is famous for their clam pies and other thin-crust pizzas. Photo by Diana Delucia.
OUR LATEST VIDEOS
Frank Pepe Pizzeria Napoletana – Yonkers
1955 Central Park Avenue
The original Frank Pepe Pizzeria is in New Haven, Conn., and is known for having some of the best pies in the entire tri-state area. But there's also a location in Yonkers, complete with a coal oven. P.S. The clam pie is rumored to kick-start labor if you're pregnant and past your due date!
The Parlor – Dobbs Ferry
14 Cedar Street
A relative newcomer to the Westchester pizza scene, the Parlor in Dobbs serves up tried-and-true pies as well as more experimental ones like a bone marrow pie or an "everything bagel" pie. It's run by the same folks who run the Cookery (also in Dobbs), and the Parlor also operates a DoughNation mobile pizza truck. The Parlor has a wood-fired oven, a casual atmosphere and a rock n' roll vibe.
Polpettina – Eastchester, Larchmont
102 Fisher Avenue, Eastchester
147 Larchmont Avenue, Larchmont
Polpettina offers thin-crust, gourmet pies—including a black mission fig pie, a kale pie and a black truffle pie. Polpettina also offers plain pies as well as items like meatballs and French fries.
Frankie & Fanucci's Wood Oven Pizzeria – Mamaroneck, Hartsdale
301 Mamaroneck Avenue, Mamaroneck
202 E Hartsdale Avenue, Hartsdale
Frankie & Fanucci's has a full menu of antipasti, salads, sandwiches and, of course, pizzas. There's also a gluten-free pizza option available.
Fortina – Armonk, Rye Brook, Yonkers
17 Maple Ave., Armonk
136 South Ridge Street, Rye Brook
1086 N. Broadway, Yonkers
Fortina has locations in Armonk and Rye Brook, and now, a brand-new, spacious location in Yonkers as well. Fortina offers pizzas cooked in wood-fired ovens, plus a full menu of Italian dishes—including kid favorites like spaghetti and meatballs.
Wood & Fire – Pleasantville
59 Marble Avenue
Wood & Fire opened in 2015. This popular spot offers Neapolitan Style pizza, cooked in a wood-fired brick oven. In addition to pizza, Wood & Fire has a full menu, serving pizzas, pasta, salads and main dishes. Before you go, check the website for weekly specials.
Patsy's Pizzeria – New Rochelle
2 Pelham Road
Patsy's in New Rochelle is another location of New York City's legendary Patsy's Pizzeria, which serves thin-crust pizzas and has a coal-fired oven cooking up pies with just the right amount of char on the crust. The Margherita and the White Pie are among customer favorites.
Coals Pizza – Port Chester
35 N Main Street
Coals serves up hand-stretched pizzas that are grilled over an open flame, topped with imported Italian cheese and tomatoes. There's a vegan pizza option on the menu—and for the carnivores, they serve burgers too.
Slices – Hastings-on-Hudson
14 Main Street
Slices is a classic pizza joint with a family atmosphere. Grab a slice or an entire pie, and be sure to try some of the specialties like the Buffalo Chicken. Slices also offers other menu items including salads, calzones, sandwiches and wraps, heroes, and Italian dishes. Gluten-free pizza options are available, too.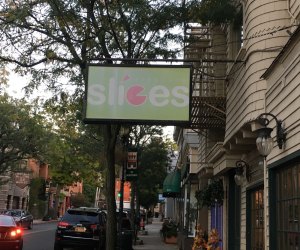 Slices in Hastings-on-Hudson offers a classic pizzeria experience. Photo taken by the author.
Pizza 2000 – Harrison
337 Halstead Avenue
Another long-time favorite of Westchester families, Pizza 2000 offers pizza by the slice or by the pie, and has a full menu including calzones, subs, wraps, burgers, pasta and salad. There's also a kids' menu as well as gluten-free options.
Johnny's – Mount Vernon
30 West Lincoln Avenue
Johnny's Pizzeria has been in business since 1942 and serves pies only—no slices. The pizzeria is known for their thin-crust, Neapolitan style pizza that's garnered comparisons to famous NYC institutions like Patsy's, Grimaldi's and Lombardi's. The pizzeria also offers a menu featuring calzones, heroes, pastas, Italian specialties and a small children's menu. Johnny's is closed on Sundays and Mondays.
Abeetz Pizza Truck – White Plains, various locations
Abeetz is a new mobile pizza trick that uses a wood and gas-fired brick oven imported from Italy. Abeetz serves up thin crust pies with lots of unique pizzas—including the "Sangich" (pastrami, pickles, mozzarella, and mustard), the "Mangiacake (goat cheese, ricotta, mozzarella, and spicy honey), and the "Bae" (bacon, egg, and cheese with an "everything spice" crust). The truck can usually be found in White Plains and the surrounding areas. See Abeetz's website for a full schedule.