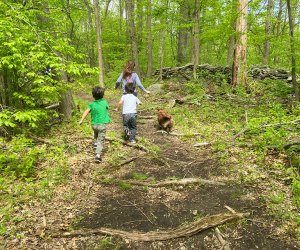 Short Hikes for Toddlers and Preschoolers in Westchester and the Hudson Valley
Now that the layered-clothes stage of winter is over, heading outside for short bursts of activity with your little ones feels much more manageable (and enjoyable). While you can spend time at one of the many toddler-friendly playgrounds in the area, going outside for a family-friendly hike is another great idea.
We've rounded up some of our favorite local Westchester hikes to take with toddlers and preschoolers—some take you through wooded areas, others by the beach, and others that may be a bit of a drive but are worth it for the much-needed change of scenery. Plus, all of the hikes are a manageable 1-1 1/2 miles, and many are stroller, bike, or scooter friendly.
Looking for more outdoor fun this spring? Check out our Spring Fun Guide.
Editor's note: While we are trying to promote safer activities that occur outdoors or with social distancing guidelines in place, please keep your family and others safe by always wearing a mask and practicing social distancing. If you arrive at an event that appears too crowded, try using the "nearby" search feature on our Event Calendar to find something else to do.
While this trail, tucked away in a residential section of White Plains, isn't stroller-friendly, it is flat and straight enough to be great for toddlers. I've visited many times with my own young kids. Your best bet is to go with the entrance on Gedney Way since it has street and metered parking. If you walk this whole section, which extends to Ridgeway (once you hit the street, you'll know you're there), it's about .8 mile. After your hike, make a pit stop at Roosters Market for its great sandwiches.
OUR LATEST VIDEOS
Not only is this nature center a winner for its animals and annual events, but the trails are tailor-made for little kids, with the longest coming in at about half a mile. Following its trail map, the Red Trail (.51 miles) takes you around the property and gives you the chance to stop at the playground or head further in to the Great Lawn.
RELATED: Easy New York State Park Hikes for Families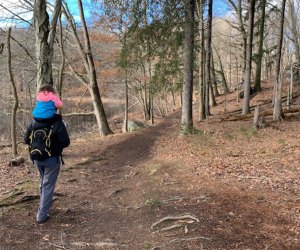 Hikers with little legs might need a lift now and then.
We love everything about this Ossining preserve—from the covered picnic spot to the gorgeous owl mural (perfect for a photo-op). The preschooler-friendly "Lakeside Loop" hike clocks in at about 1.5 miles and spans the entirety of Teatown Lake. There are plenty of spots to stop for a snack, including the aforementioned covered picnic pavilion, and there are great water views throughout. For even more ideas, check out our guide to exploring Teatown Lake Reservation with kids.
For another lakeside hike option, visit this wonderful 190-acre park in North White Plains and hike the 1-mile-long Blue Loop. You'll be able to check out both Cranberry Lake and South Pond. There's plenty of exploring to be had at this designated Biodiversity Reserve Area, and there are picnic tables as well.
This circular path is about 1.5 miles long and offers breathtaking scenery and a flat, paved road that's easy enough for little ones to walk on their own. We did this walk in the fall with my then 3- and 5-year-olds, and they had a great time jumping in leaves and walking through the covered bridge. They were also able to make it all the way around on their own, but you may want to bring the stroller just in case.
RELATED: Day Trip Guide: Top 10 Things to Do at Bear Mountain State Park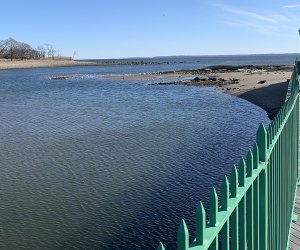 The waterfront views add to the fun of a hike along the Playland Boardwalk.
This one is more of a walk than a hike, but with the beach as a backdrop, your family will definitely get their nature fix. For now, while Playland is closed, you can park in its lot and walk to the boardwalk. There is a path that snakes around the side of the park, and scooters, bikes, and strollers all work here. Another option is to park at Rye Town Beach and walk along that path, which eventually meets the Playland boardwalk.
This park and arboretum in Katonah is gorgeous. There's a chestnut grove and, in May, a blooming lilac collection, as well as plenty of space to walk and play. Kids love the Dinosaur Garden, a recently updated trail with larger walkways, freshly painted dinosaurs, and a new Zappar app, which allows you to follow Lexi the T-Rexi on your smartphone along the trail. Visit soon, and you can spot fairies, too, during The Magic of Spring event through Sunday, April 18.
RELATED: 5 Things To Love About Untermyer Gardens in Yonkers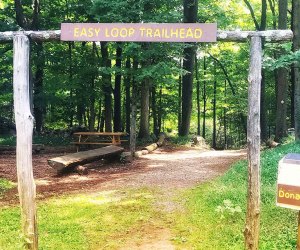 The Westmoreland Sanctuary offers plenty of hiking, plus a nature center and plenty of interactive programming.
This 640-acre sanctuary in Mount Kisco is home to a nature center and museum, which is housed in a 200-year-old church. There is a lot to do here in the way of hiking. For example, the 1/2-mile Easy Loop Trail is child-friendly and partially runs along Bechtel Lake. Masks are a must on trails and, if you stop by the nature center, be aware that they are currently limiting capacity to 25 percent.
When you really want a change of scenery, this suspended bridge over the Hudson River is sure to do the trick. Now part of the Empire State Trail, the bridge spans 1.5 miles and is great for strollers, scooters, and bikes. You can enter from the Poughkeepsie entrance, where there is paid parking and bathrooms. If you make it all the way to the other side, you'll be rewarded with picnic tables for a nice break.
The Wickopee Trail Loop at this Putnam County park is just under 3/4 of a mile long. It's described as an easy hike, and there is a log bridge stream crossing. The hike takes around 45 minutes, so you may have time to take advantage of all of the Design Center's other activities, including guided tours.
Unless noted, photos by the author