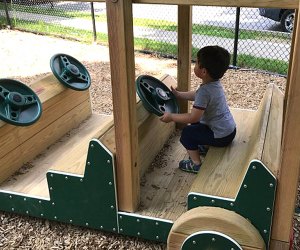 Top Playgrounds for Toddlers and Preschoolers in Westchester
There are lots of great parks and playgrounds in Westchester, no matter which city or town you live in. But finding a playground that's suitable for the under-5 set can sometimes be a challenge—you want them to be safe; they want to try that giant, twisty slide with a group of wild 7-year-olds on it.
Happily, there are a number of toddler-friendly playgrounds throughout the area, with plenty of safe options for keeping them occupied and having fun. We've rounded up a few of our favorites.
Looking for more outdoor fun? Sign up for our newsletters and follow us on Facebook.
Toddler Playgrounds in Westchester
Gillie Park – White Plains
This neighborhood playground right off Mamaroneck Avenue in White Plains is a great spot to take your little ones. The playground, which features two different play structures and two bucket swings, is completely fenced in, with only one way in and out. One play structure is ideal for younger toddlers—from about 15 months on, my son had no problem navigating the area and loved the small slides. The second structure has more climbing features and three larger slides, and now, at almost 3, my son is all over it. Along with the playground, there are baseball fields and tennis courts, with seasonal bathrooms. Parking is on the street (be sure to feed the meters), and there are a few delis—we're partial to Roosters—and restaurants close by. One note: The park doesn't get a ton of shade, so in the warmer months it's ideal for early-risers or evening visits.
Kensico Dam Plaza – Valhalla
If the only reason you head to the Kensico Dam is to see the fireworks over Fourth of July weekend, now's the time to go back with your toddler in tow. The park has a huge field for picnicking and a circular path that's great for pushing a stroller or riding a balance bike or tricycle. The playground has one set of equipment that's ideal for little ones and includes slides, bucket swings, and fun things to climb. There are lots of picnic tables throughout the area, as well as vending machines nearby and restrooms right by the playground. In the summer, you'll find lots of free events happening at the park, too.
RELATED: 10 Destination Parks for Westchester Families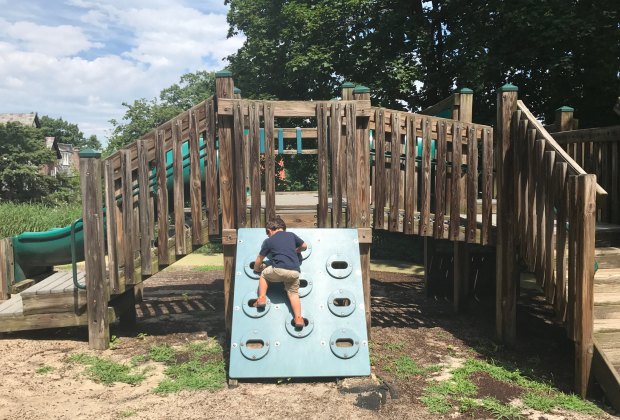 Little ones can test their climbing skills at Sagamore Park in Bronxville.
Sagamore Park – Bronxville
Tucked away off Sagamore Road, this nature-inspired park has lots of trees and vegetation, making it feel off-the-beaten-path even though it's a quick drive into the heart of Bronxville. The majority of the playground equipment is made of wood, and there are two structures for toddlers. In the middle, you'll find a large sandbox that's well-stocked with pails and shovels, as well as a ride-on train ideal for creative play. There are also two modern-looking bucket swings, as well as a picnic table and open area with rubber flooring. Parking is on the street, and we didn't notice any restrooms—though you'll find lots of restaurants and shops nearby when it's time for a diaper change.
Scenic Hudson Park – Irvington
Scenic Hudson Park is a 12-acre park along the Hudson River with lots of activities for the whole family, including baseball fields, basketball courts and a stretch of paved road that's great for walking, biking, or pushing a stroller (hello, naptime!). But one of the best features—at least for parents of young kids—is a small, fenced-in playground right near the basketball court. There's one manageable structure with three slides, a "bridge" to walk over, and a ladder and stairs to climb. There's also a large sandbox, though be sure to bring your own sand toys, since there were none when we visited. Another plus: There are restrooms right nearby and, in case you run out of water for the sippy cup, a few vending machines.
RELATED: Westchester Parks Great for Birthday Parties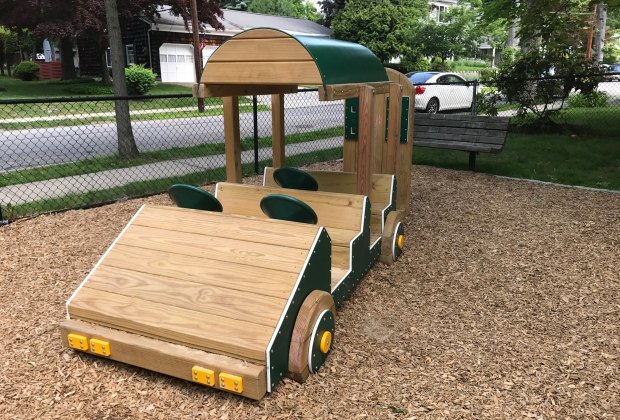 The car at Sunset Park in Croton is great for creative play.
Sunset Park – Croton-on-Hudson
Lexington Drive and Sunset Drive
This one's especially for Croton residents: At this recently renovated park, parts of the playground are especially great for preschoolers—and for encouraging creative play. That includes a smaller, wooden play structure with a slide and areas to climb, a car kids can drive—complete with a gas station for them to "fill up"—and a sand box with plenty of toys. A couple of other resident-only parks we love: Riis Park in Harrison, which has great equipment for kids to ride on and is right near the library, and Bedford Hills Memorial Park in Bedford Hills, which is fenced in and has fun, but manageable play structures for keeping the toddler crowd entertained.
Tibbets Brook Park – Yonkers
There's more than one playground to enjoy at this large park in Yonkers, and plenty of areas to sit and enjoy a picnic or snack. If you're visiting in the summer months, be sure to bring along your bathing suits for a dip in the pool and a run around the splash pad, a trip down the "lazy river." Toddler closer to preschool age? They can try their hand at mini-golf here, too. And, if all else fails, there's lots of green grass to kick around a ball or two.
RELATED: Top Playgrounds for Kids in Westchester and the Hudson Valley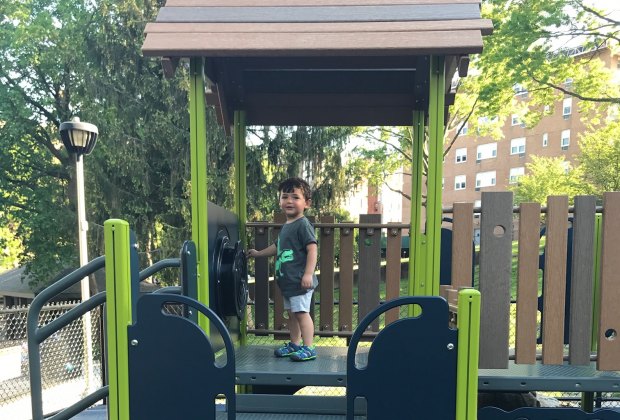 The toddler area at the recently renovated Turnure Park in White Plains is totally fenced in.
Turnure Park – White Plains
​Turnure Park in White Plains recently underwent a major renovation, and the result is great for toddlers and their parents. With totally new and colorful playground equipment, there's a separate play area for little ones that's fenced in and set off from the older kids' area. The play structure includes a slide, places to climb and a toddler-sized space underneath that my son and his BFF deemed the perfect spot to play with their cars and trains. Along with the playground, the park itself has lots of green, grassy areas to walk or run around. Parking is on the street—and, in our experience, not too hard to find—and restrooms are available.
Toddler Playgrounds Worth a Drive
Cold Spring Tots Park – Cold Spring
You know how kids love playing with other kids' toys so much more than their own? They're in luck at this Cold Spring park, which is home to a whole slew of them—from trucks to ride-on toys. Plus, there's a sandbox, swings, and lots more. And when they've had their fill of park time, check out the rest of the kid-friendly to-do's the town has to offer.
Wee Play Tot Park – Beacon
For another outside-of-Westchester option, try this Beacon playground at Memorial Park. Designed specifically for the toddler and preschool set, there are large, colorful slides and structures to climb on in the fenced-in space, plus lots more. The park falls under the Wee Play Community Project, a group that helps build and fundraise for parks and playgrounds it the city. Find more fun things do while you're in Beacon here.
All photos by the author.
This post originally published in 2017 and has since been updated.