Online Robotics Camp
Young Gates - Kids Online Personalized Classes

Artificial Intelligence with Scratch Online Camp
Young Gates - Kids Online Personalized Classes

Spark Math: Free Trial Class
Virtual
Sign up for our free newsletters.
New Playground Review: Croton's Sunset Park Now Open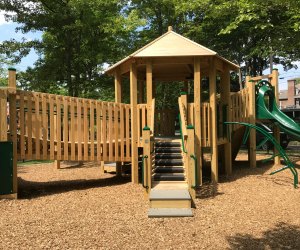 6/22/17
- By
Marisa Iallonardo
From saucer swings to cool climbing ropes to great picnicking spots, there are so many fun and innovative things to do at area parks and playgrounds this summer. But if you're looking for something new—and happen to be a Croton-on-Hudson resident—head to the recently renovated Sunset Park, located between Lexington Drive and Sunset Drive.
Not a Croton resident and want to check out what other Westchester and Hudson Valley playgrounds have to offer? We've got you covered. For even more family fun, see what's happening in our Event Calendar.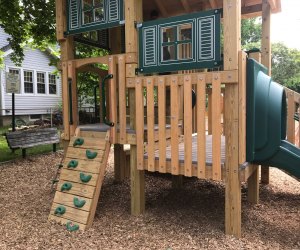 The new playground equipment design gives a nod to what used to be here.
Sunset Park is open again after, according to LoHud, a $170,000 renovation. The park sits in a residential neighborhood, making it a great choice for locals looking for a quick and easy outing with the kids.
Right away, you'll notice something different about this park: In a sea of playgrounds with bright colors and flashy gadgets, Sunset Park is made up of wooden structures, with touches of green and yellow and wood chips to ease any falls. (The new structures are modeled after what the park previously housed.) The overall feel is subdued and earthy, making it ideal for parents who want to swap screen time for swing time.
One play area is set up for kids ages 2-5 and offers lots of opportunities for imaginative play. There's a house-like structure with slides and preschooler-sized climbing ropes, as well as windows and a steering wheel. Next to it is a large wooden car where kids can sit in one of two rows and "practice" their driving. My 2.5-year-old really got a kick out of the small gas station set up in the back and had a blast using the pump to "fill up" the car's tank.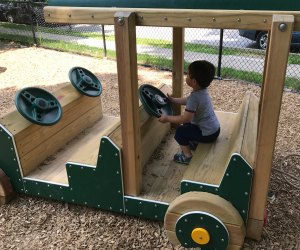 My son couldn't get enough of driving the little car.
Right next to that play structure is a sand area. It's not enclosed, so be mindful if you're looking to keep sand out of the car (and your kid's shoes). It was already stocked with some buckets and shovels, and it features a little house for creative play, as well as a wooden table and "chairs." The best part—at least according to my all-things-construction-loving toddler—were the small, ride-on excavators that pick up sand. While they were a little heavy for his age, it would be ideal for a preschooler.
For older kids, between the ages of 5-12, there's a separate play area. With three slides, a number of different climbing structures (including a rope climb), monkey bars, and a bridge that connected everything, it definitely encourages lots of movement. Along with the play structures, there's a swing set area that also includes bucket seats.
The playground is fenced in, with free street parking. There are benches throughout and a small grassy area for setting up a picnic or even a small sports game. For families looking to stay for lunch—or even just a snack—there are three different picnic tables where you can set up. Don't feel like bringing your own food? The Blue Pig ice cream shop is just a quick 3-minute drive (or 15-minute walk) from the park.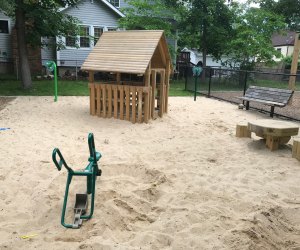 Forget your sand toys? Kids can try using the heavy-duty diggers instead.
Looking for more ways to play in Westchester? Sign up for our newsletters and follow us on Facebook.
All photos taken by the author.