The Best Local Ice Cream Shops in Westchester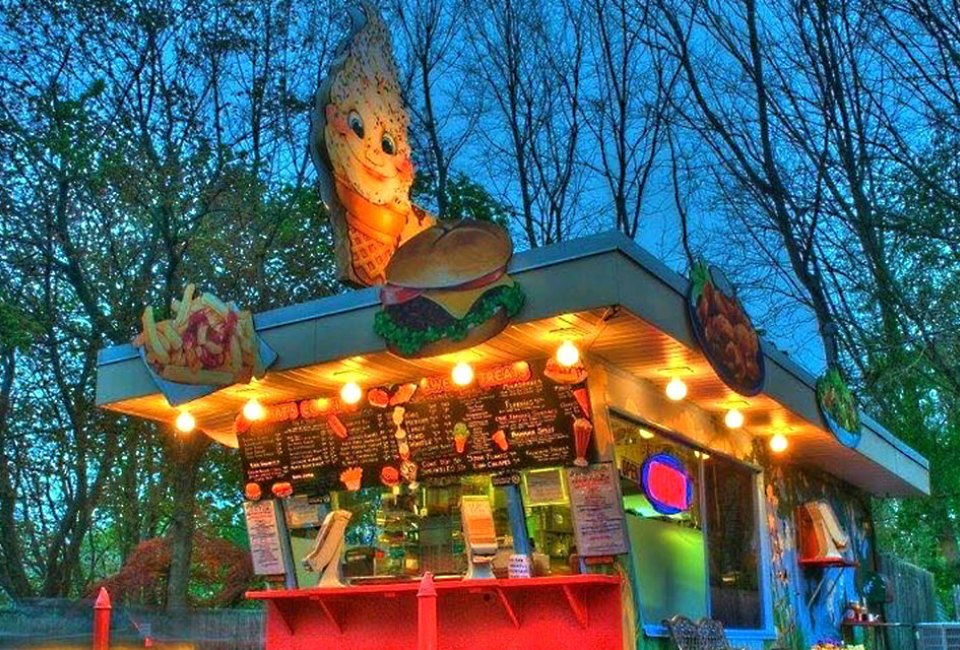 8/28/20
- By
Susan Miele
One of the sweetest parts of summer is an outing to a local ice cream shop. Whether you're cooling down with a shake or lounging on a bench and licking a cone, these frozen treats hard to pass up.
Westchester has its fair share of independent ice cream parlors. We've rounded up 18 of our favorites below so that families can get in their "last licks" of the summer. Whether you prefer to keep things simple with traditional treats or get excited about inventive confections like donut ice-cream sandwiches, we've got the goods.
Ice Cream Shops in Northern Westchester County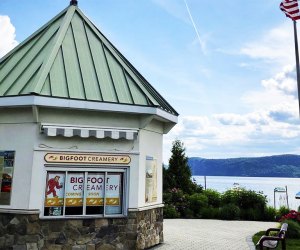 Try new flavors daily at Bigfoot Creamery.
The newest addition to the Westchester ice cream scene, Bigfoot serves a combination of its homemade ice cream crafted from locally sourced ingredients and ice cream made by Perry's of New York. Flavors change daily, with many of the options appealing to a sophisticated palate. Kids appreciate the Bigfoot S'more, Sirens Caramel Cookie, or good old chocolate and vanilla. Find Bigfoot Creamery in Henry Gourdine Park along the waterfront.
RELATED: Fun Outdoor Classes for Kids in Westchester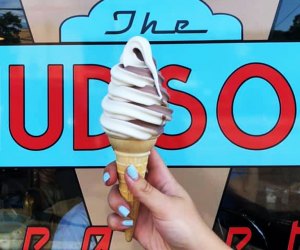 Grab a soft-serve at The Hudson Creamery.
Situated in downtown Peekskill, The Hudson Creamery serves Jane's Ice Cream, a much-loved brand from the Hudson Valley whose Killer Chocolate lives up to its moniker. In addition to scoops and custom-ordered ice cream cakes, the shop's sundaes dazzle. Try the Cereal Killer, soft-serve topped with handfuls of sugary cereal, or the Yellow Brick Road (named for the town's brick road that may have inspired L. Frank Baum), which features vanilla ice cream, a waffle cone, Nilla Wafers, and dulce de leche.
A roadside staple since 1953, King Kone serves tasty ice cream in a variety of flavors from the window of its kitschy stand, which patrons enjoy at nearby picnic tables (bees included). Confections include soft-serve ice cream with optional cone dips, hard ice cream, flurries, sundaes, floats, and shakes. In addition to standard toppings, you'll also find edible cookie dough here. The menu includes an equal number of savory offerings, like burgers and mozzarella sticks. King Kone is open from mid-April through mid-October.
RELATED: How to Make Ice Cream at Home in 5 Easy Steps

Choose from a variety of delectable treats at Seven Scoops.
True to its name, Seven Scoops offers seven flavors of frozen custard and seven flavors of ices daily, as well as sundaes, shakes, floats, and pies. Ice cream sandwiches are ratcheted up a notch and rolled in sprinkles, candy, or crushed cookies. Try the Dirt Sundae, featuring chocolate frozen custard, crushed Oreos, and gummy worms, or share the SSSS—a whopping seven scoops of frozen custard, brownie, cookie, banana, chocolate sauce, two toppings, and a cherry.
Serving 30 flavors of hard ice cream, as well as soft-serve, Italian ice, and frozen yogurt, Murray's appeals to all tastes and dietary restrictions. Those seeking dairy-, gluten-, sugar-, or nut-free options find plenty of offerings. Ice cream is sourced from local farms. Flavors are generally geared toward traditionalists, but some of the creations are inventive. A sweet twist on nachos features soft-serve and a sauce with waffle cone rounds for dipping. Another novelty is the six-pack of ice cream cupcakes, composed of an edible chocolate cup shell, a scoop of ice cream, frosting, and a topping. Sure make your kids giggle: Let them hear you order a Poop Emoji Shake.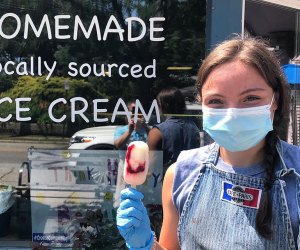 Cool down with a delicious homemade treat at Blue Pig Ice Cream.
Fresh, high-quality ingredients are a priority at this purveyor of homemade ice cream, including fresh fruit and local dairy from nonprofit cooperative Hudson Valley Fresh in Dutchess County. The result is delicious, creamy ice cream with distinctive flavors like peppermint stick and vanilla malted caramel. Enjoy your dessert in the outdoor courtyard.
Ice Cream Shops in Lower Westchester County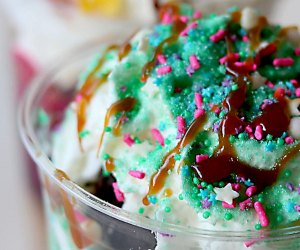 Penny Lick's ice cream sundaes are what dreams are made of!
Penny Lick's homemade ice cream is made from all-natural ingredients and dairy from ethically treated cows, and all its flavors are nut-free. Ice cream is sold by the scoop, in shakes, custom-ordered cakes, or by the pint. In addition to traditional tastes, more innovative offerings include Cookie Butter Bomb, Strawberry-Lemonade Sorbet, Chocolate Malt, and Honeycomb. The shop also recently added gelato to its menu. Looking for a gift? Penny Lick's ice-cream-of-the-month club is one sweet treat.
With shops in Rye and Larchmont, as well as a growing wholesale business, Longford's has been specializing in small-batch ice cream since 1992. The large selection of ice creams includes Cookie Monster, Oreo Bomb, and assorted seasonal offerings. Confections include churro ice cream sandwiches and donut sundaes. Longford's is also served at Croton Creamery in Croton-on-Hudson and JJ's Scoop House in Yorktown.
RELATED: 13 Kid-Friendly Restaurants With Outdoor Dining in Westchester

Ice creams and Italian ices are made on-site at the Village Creamery & Sweet Shop.
All of the ice cream here is homemade and all-natural, with fun flavors like Holy Cannoli, Cookie Monster, Peanut Butter Cup, I Want S'more, and Captain Crunchberry. Ice cream cakes, sandwiches, and even pizza are among the novelty items. Additional menu items include edible cookie dough, crepes, waffles, and acai bowls. Espresso and cappuccino are served.
This newly opened shop carries Longford's brand of ice cream and combines it with homemade cookies plus assorted toppings to create customized confections. Toppings include traditional ones like sauces and candy, as well as 14 varieties of cereal. Enjoy your school in an artisanal cone, like birthday cake or red velvet flavored. Shakes and cookie-based sundaes are enticing.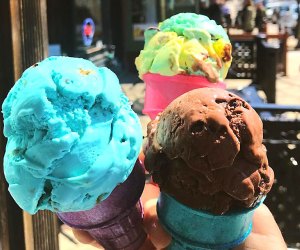 Kids love the blue Cookie Monster ice cream at Main Street Sweets.

This Tarrytown staple is the kind of ice cream parlor your parents went to as kids. Everything here is homemade by the owners. Try its classic Cookie Monster flavor—sure to win young hearts with its name, and sure turn their tongues blue. Candy and other confections are also sold.
Choose a scoop, a shake, an ice-cream sandwich, or a sundae with your choice of assorted flavors and toppings. The signature embellishment is torched Italian meringue. Feeling extra indulgent? Try the Bona Fam Sampler, which combines a mini lava cake, brownie, cookie-dough waffle, graham-cracker ice cream, vanilla ice cream, chocolate and caramel sauces, and whipped cream.
Located near the Tarrytown train station and Riverwalk at Hudson Harbor, Lighthouse makes its ice cream on-site in small batches using organic dairy from Battenkill Creamery. Rotating novelty flavors have included Mascarpone, Blood Orange, and Apple Cider, but standard flavors are a sure bet. Shakes, cookie sandwiches, and an affogato for the adults add to the options. Sandwiches, baked goods, and more round out the menu.
RELATED: Best Bike Rides in and Near Westchester For Families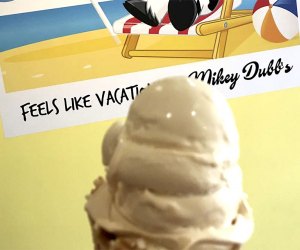 Eating Mikey Dubb's Frozen Custard is like taking a mini-vacation.
Located next door to Deanna's Pizzeria in Quaker Ridge, Mikey Dubb's offers a menu of frozen custard confections, featuring sundaes, shakes, slushies, ice cream cakes, ice cream sandwiches, and more. Looking to ramp up your decadence? Try the donut sandwich filled with two (or three!) scoops of frozen custard or opt for a "layered up" trifle of frozen custard alternating with Italian ices. Consult the shop's menu for the 12 flavors on tap each week.
In addition to assorted ice cream, sundaes, shakes, and other offerings, the main attraction at Paleteria Fernandez is its paletas, homemade Mexican frozen pops in a variety of flavors. Try the mango or coconut, made with fresh fruit and fruit juice, or choose the milk-based pops in countless colors and flavors (with or without a chocolate dip and topping). Exotic selections include Soursop, Nance, and Hibiscus, as well as Rice Pudding, Avocado, and Lucuma. Of course, the classic Cookies-n-Cream is a safe bet for kids.
Located in the Golden Horseshoe shopping center, the Scoop Shop offers ice cream, candy, and self-serve frozen yogurt. The shop carries non-food items as well, including merchandise that can be monogrammed.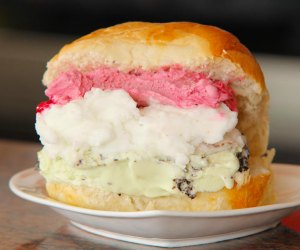 Try the delicious combination of gelato in Italian pastry at Pane & Gelato.
In addition to savory selections, the menu at this family-owned shop reflects its Sicilian origins with homemade gelato and Italian pastries. The spacious interior allows for ample seating, and Italian TV is usually playing.
18. Ice Cream Factory – Mount Vernon and White Plains
Though you'll find some kid-friendly flavors, like Vanilla and Cookies-n-Cream, most of the selections here are exotic flavors of the Caribbean. These include Grapenutt, Coconut, and Eggnog Rum Raisin.
This post, originally published in 2013, has been updated.
Photos courtesy of the ice creameries
Sign up for the Mommy Poppins Newsletter today!
i