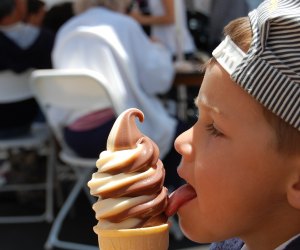 The Best Local Ice Cream Shops in Westchester
Summer's in full swing! We hope you're surviving this heat wave and are having fun making your way around town, checking out all the great things to do in Westchester. While you're out and about, one must-have piece of knowledge is where to find some frozen goodness.
Sure you can hit up some of the big chains or ice cream trucks, but there's just something about a good old-fashioned neighborhood ice cream shop. We're lucky to have lots of great spots, so ride out the summer days and stay cool at one of Westchester's local shops.
Longford's Own Made Ice Cream - Rye
4 Elm Place
(914) 967-3797
In addition to classic flavors, indulge in creative concoctions like seasonal cranberry apple cobbler and pumpkin pie. Longford's Own offers 60 rotating flavors of ice cream plus sorbet and gelato, all crafted in nearby Port Chester.
Village Creamery & Sweet Shop - Valhalla
32 Broadway
(914) 421-1300
All of the ice cream here is homemade, eschewing any type of artificial preservatives. You can enjoy flavors like Cookie Monster Peanut Butter Cup, I Want S'more, or Blueberry Cheesecake—just as nature intended.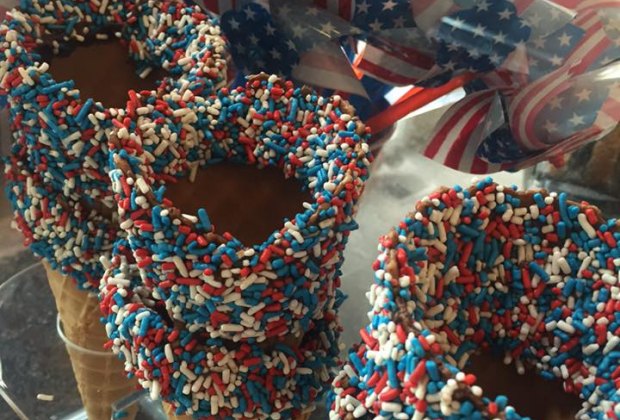 All of the flavors and treats at Village Creamery are homemade. Image credit: Village Creamery
Blue Pig Ice Cream - Croton-on-Hudson
121 Maple Street
(914) 271-3850
Every one of the 16 rotating flavors at Blue Pig is made on-premise using fresh fruit, mint and other ingredients grown on the premises and locally produced milk and cream from nonprofit dairy cooperative Hudson Valley Fresh in Dutchess County. The result is delicious, creamy ice cream with distinctive flavors like peppermint stick and honey vanilla with lavender. Enjoy your dessert on the outdoor courtyard. Closed on Mondays.
Ice Cream Factory - Mount Vernon
400 East Sanford Boulevard
(914) 699-1349
This neighborhood staple has been around for over 20 years and prides itself on unique Caribbean-inspired flavors like Jamaican rum raisin and pistachio Grape-Nut.
Lighthouse Ice Cream Kompany - Tarrytown
127 West Main Street
(914) 502-0339
Located near the Tarrytown train station and close to the Riverwalk at Hudson Harbor, Lighthouse has become a neighborhood favorite with lots of exotic flavors like Nutella cappuccino and salted caramel, along with dozens of toppings. Its ice cream is made onsite using organic dairy from Battenkill Creamery.
Daily Moos Creamery - Cortlandt Manor
3535 Crompond Road
(914) 930-8160
This soft-serve-only spot just opened in June, and we loved the flavors we tried (chocolate, and vanilla with mocha syrup on top). They also do a tiny cone for toddlers that is just about an inch tall!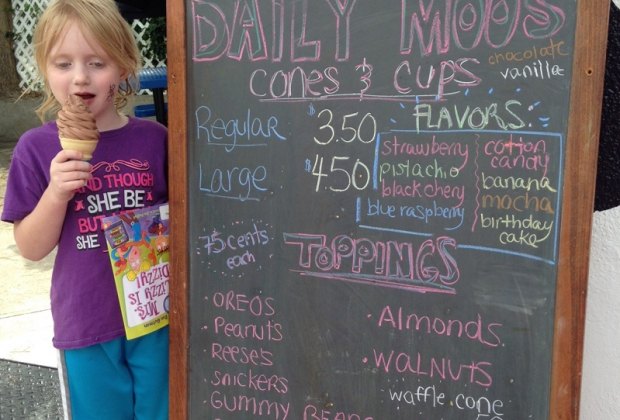 Daily Moos is brand-new and delicious! Image credit: Christi O'Donnell of MommyPoppins.com
And if you're looking for frozen goodness on a stick...
Paleteria Fernandez - Port Chester and Mamaroneck
33 North Main Street, Port Chester
(914) 939-3694
350 Mamaroneck Avenue, Mamaroneck
(914) 315-1598
This popular shop has two locations. Although both serve ice cream, what draws most customers in at Paleteria Fernandez are the paletas, homemade Mexican frozen pops in a variety of flavors. Try the mango or coconut, made with fresh fruit and/or fruit juice, or chose the milk/cream-based pops in countless colors and flavors.
This was originally posted in 2013 and has been updated in 2017.
Image credit: Pixabay