New Playground Alert: Turnure Park in White Plains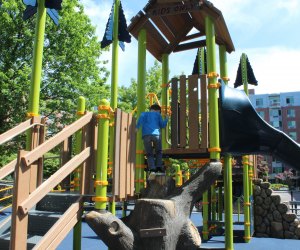 There is no shortage of playgrounds and parks in Westchester, and each year our kids love visiting their old favorites for what feels like a new trip down the slide.
Nothing rocks a young kid's world, however, than venturing to see a brand-new playground, in which the paint is still bright and everything remains in perfect working order. J. Harvey Turnure Memorial Park in White Plains recently received a $500,000 facelift, so we enlisted the help of one 6-year-old playground expert to check it out and see if it's a worthy destination for Westchester families.
Looking for more things to do during the nice weather—and otherwise? Check out our Event Calendar, sign up for our newsletters and follow us on Facebook!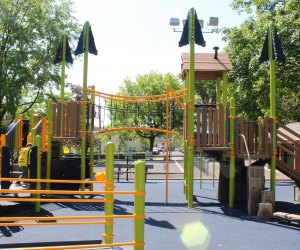 The playground equipment here is suitable for a range of ages.
Upon first glance, this unassuming park seems pleasant enough but perhaps not worth a special trip unless you live nearby. Turnure Park is just over 4 acres large, and it's the site of White Plains' annual Cherry Blossom Festival. Despite its size, my son had such a great time that he didn't want to leave, and he's already asked to return.
The playground equipment has a forest theme, with lots of little woodland creatures hidden throughout and equipment resembling logs and branches. There are two play structures—one that's geared toward ages 5 and under, and another for kids ages 5-12. Both feature brand-new equipment and poured-rubber surfaces covering the ground, making them both fun and safe.
My son was in love with ropes equipment, and had a blast climbing, balancing, swinging and jumping on them. They were challenging enough to make him feel like he was quite the daredevil, yet safe enough that I felt totally comfortable with him playing on them.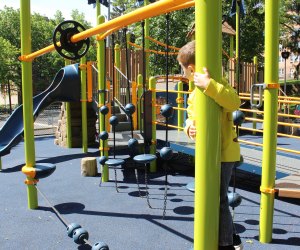 My son especially loved the ropes features.
There are all kinds of thoughtful touches and fun things to discover; besides the forest critters, Turnure has opportunities to make music or play with other sensory activities. My son spun a wheel that he described as "mesmerizing" (we took turns pretending to hypnotize each other) and touched and banged on the other activities throughout the playground.
In addition to the playgrounds, the park has bocce courts (they were well maintained and not crowded during our visit) and an area with old-school games painted on the ground (hopscotch, foursquare and a "mirror me" game). We didn't have our bocce set, so we improvised with some some rocks and pinecones.
We had fun spotting squirrels and birds, helped by a sign that IDs several types of native birds. There's also an open, grassy area (good for a picnic) and a paved footpath that winds through the park.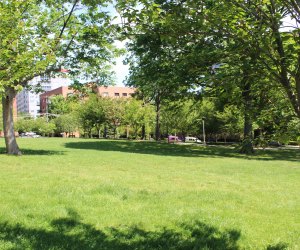 There's lots of room to run and play at Turnure Park.
What to Know Before You Go
Don't forget the sunscreen! There isn't a huge amount of shade in the playground area.

Restrooms are easy to access and well maintained.

Pack water and snacks. Turnure makes a good picnic spot, but there aren't options for food and drink within immediate walking distance.

On-street parking is available, with two-hour limits during certain times. Parking was plentiful during our recent weekend morning visit.

Bring bocce balls if you have them!

There are plenty of benches throughout the park, and the park is easily accessible for strollers or wheelchairs.
All photos taken by the author.