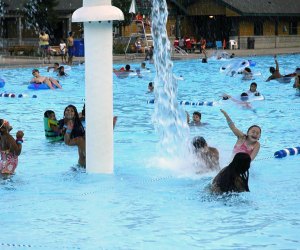 8 Westchester Parks Perfect for Kids' Outdoor Birthday Parties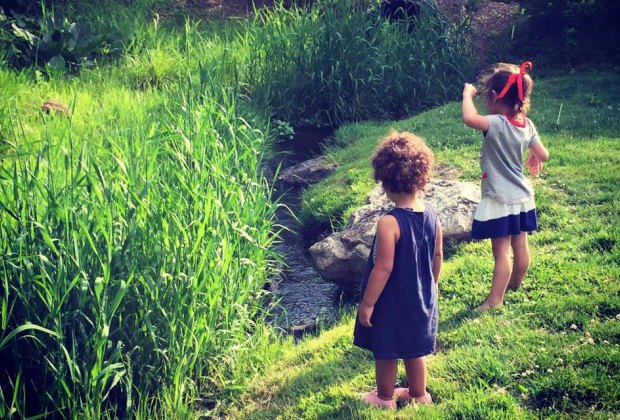 Gedney Park has lots of grassy areas as well as a covered picnic area for birthday party fun. Photo by Meagan Newhart
Gedney Park – Millwood
The covered picnic area toward the back of Gedney Park in Millwood is a fun pick for a kid's birthday party. There's a small playground near the space and grassy areas where you can play games and set up kid-friendly activities. There are about eight picnic tables, and you can either bring in your own food, grill on the charcoal BBQ, or have it catered. (Just note: catering and other entertainment needs to have insurance and get the OK from the recreation and parks department ahead of time.) For four hours, rental fees are $250 for residents and $400 for non-residents, along with a refundable security deposit—plus there are bathrooms on site and parking is free.
George's Island Park – Montrose
There are three party areas to choose from at this 208-acre Westchester County park in Montrose: two covered pavilions and one picnic area. The pavilion areas—one is close to a playground—are great for larger parties of us to 200 people, while the picnic area—which also has a playground close by—is ideal for up to 75. Grills are available, and you can set up your own music from say, an iPhone or computer. (DJs are OK in the pavilion area.) Bounce houses can be set up, but you'll need liability insurance from the vendor. Both Westchester and non-Westchester residents can reserve the space. On the weekends, it's $175 for the picnic area and $450 for the pavilions for Westchester Park Pass holders. For smaller groups, there are unmarked tables available on a first-come, first-serve basis for 20 people or less. Parking is $5 for park pass holders, and $10 without the pass, from Memorial Day through Labor Day. The fee is charged on weekends year-round.
Glen Island Park – New Rochelle
If you're worried about the chance of rain—or just want to stay out of the sun on a hot day, you'll have plenty of options at this New Rochelle landmark, where you'll find three covered pavilions to choose from. They can hold anywhere from 125 to 200 people, depending on which you choose. There are also 14 picnic areas, which are great for smaller get-togethers of up to 75 people. There's lots to do at this park, from the beach to the grassy area where you can set up a slew of party games or organize a round of soccer or kickball. As with other County parks, you'll need to be a resident for access to this one—and with a parks pass, the fee for the picnic areas is $175, while the pavilions range from $300 to $450.
Harbor Island Park – Mamaroneck
Beach party, anyone? Stock up on sand toys (they make great goodie bags!) and reserve one of the areas at Harbor Island Park in Mamaroneck that are open for parties. There's an indoor space that can accommodate up to 80 people, as well an outdoor beach deck with a view of the beach, which can hold about 50 people. There are grassy areas for games and, for the beach deck, you have access to the beach and a splash pad, plus parking is free for guests. Food can be catered or you can grill on one of the provided BBQs. Parties usually last about four hours (there are two set blocks of time for the outdoor space), and for the outdoor space, rates are $400 for residents and $500 for non-residents during the season.
Pierson Park – Tarrytown
Here's what's great about renting the covered pavilion area at Pierson Park in Tarrytown: Right next to the space—which can accommodate up to 85-90 people—you have access to a super kid-friendly splash pad and playground. That's not to mention places to play volleyball and bocce ball as well as grassy areas close by where you can organize games and other activities. The party can be catered and there are also four grills (including a portable one) provided. Rental fees are $225 for residents and $500 for non-residents, with a $50 non-refundable deposit required in either case, and parking is free for residents. (For non-residents there's metered parking.) Another plus: If the area is not already being used, small parties of under 15 people can use the space for free.
RELATED: 10 Destination Parks for Westchester Families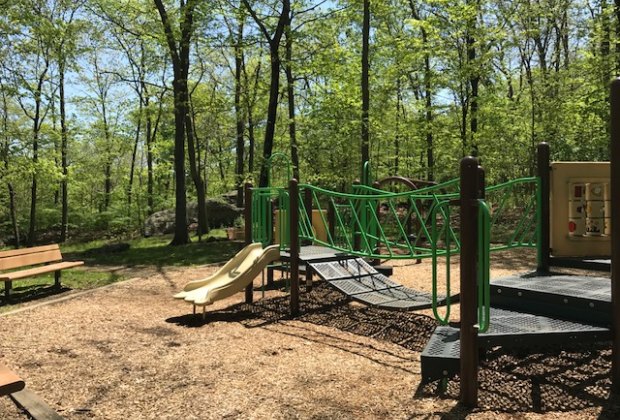 Birthday party guests can romp at the Saxon Woods Park playground. Photo by the author
Saxon Woods Park – White Plains
This tranquil, woodsy park—which is just a quick turn off bustling Mamaroneck Avenue—offers both picnic areas and a covered pavilion that Westchester residents can reserve for parties. The two picnic areas are great for up to 75 people, while the covered pavilion is ideal for larger parties of up to 200. There's a recently revamped playground and a volleyball net, and you're free to have everything from a bounce house to a DJ, as long as they have insurance. Parking is $5 per car for Westchester Park Pass holders, and $10 for those without. Pass holders can rent the picnic area on weekends for $175 and the pavilion for $450. Hosting a smaller party? Groups of less than 20 are free to use the unmarked tables (those with a "by reservation only" sign are a no-go.), if they're not already in use. Another option: Check out the picnic tables on the pool side of the park, which are open on a first-come, first-serve basis. One note: While you need to be a Westchester resident to reserve and book the space, if you have non-County guests, they can enter with a copy of your permit documentation.
Tibbetts Brook Park – Yonkers
Tibbetts offers nine different picnic areas and a pavilion, which re-opened last year. The pavilion can hold up to 200 people, and activities include a playground, tennis court, and a basketball court—all of which are free to use. There's also mini-golf, soccer fields, and a great pool, which have separate reservation and/or admission fees. Have other ideas in mind? Inflatables are allowed, as long as the vendor has insurance. For Westchester Park Pass holders, it's $175 to rent a picnic area, with parking at $5 for pass holders or $10 per car for those without. Plus, groups of 20 or less can use the non-marked picnic spaces for free, as long as they're available. As with Saxon, guests who are not residents can present your permit documents.
Willson's Woods Park – Mount Vernon
You can host a pool party for your child at the great pool and water park at this County park, or stick with one of the five picnic areas, which can be reserved for as many as 75 people. Another option? The "DeMatteo Terrace" pavilion, which holds upwards of 100 people and has a unique, rustic look, complete with wooden beams. It's $450 to rent the pavilion on weekends with a Park Pass, while the picnic area will run you $175 on the weekends with the pass. This is also a Westchester residents-only park, but similar to the others, non-resident guests are welcome as long as they have a copy of your permit reservation.