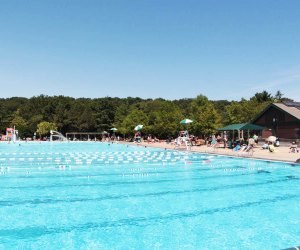 Best Swimming Pools for Families in Westchester and the Hudson Valley
Nothing says summer like a day at the pool, and there's no shortage of spots in Westchester and the Lower Hudson Valley to take a dip. Many have concession stands and places to picnic, as well as playgrounds, hiking trails, mini-golf, and other activities to make it a great day.
Here, we've rounded up a few of our favorite family-friendly pools in the region. Some of these—particularly the Westchester pools—require county residency, so take note before you head out.
For more summer fun, be sure to check out our Summer Fun Guide for Westchester Kids.
Please note, while we've tried to highlight these pools at their best, there are many changes and limitations due to the coronavirus. While pools and spray grounds have been given the green light to reopen in NY state, decisions to do so vary widely among local municipalities. Be sure to click through to each venue before heading out to check availability and current restrictions.
Swimming Pools in Westchester County
Westchester County pools are only open to county residents, except for Playland Pool. For summer 2020, the Saxon Woods and Sprain Ridge pools open on Friday, June 26; The Tibbetts Brook Pool and Willson's Pool open on Friday, July 3. The Playland Pool is closed for the season.
Pools are open seven days a week and operate in two sessions daily: 11am-2pm and 3pm-6pm. Capacity is limited to 50 percent, and showers will not be open. Tickets are sold for same-day admission only and cost $4 per person for ages 5 and older. Once tickets for the first session sellout, session two tickets are offered.
Both the aqua playground and regular playground are closed until further notice.
Looking to make a splash in the biggest of the county pools? Then jump right into the Saxon Woods Pool, part of Saxon Woods Park in White Plains. There's also a water playground with lots of cool features, and outside of the pool complex, you'll find a mini-golf course and a spectacular playground. You'll need to be a Westchester resident for this pool—and Park Pass information applies.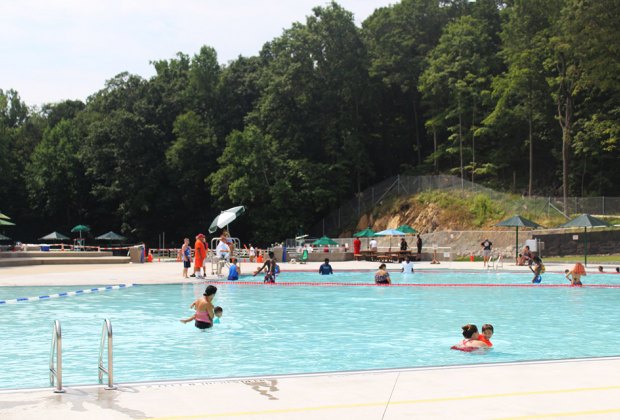 Enjoy a day at the newly renovated Sprain Ridge Pool. Photo courtesy of Westchester County Parks
Reopened in 2017 after a multimillion-dollar renovation, the pool at Sprain Ridge Park closed again in 2018 due to leaks and other structural issues, but it's ready for its closeup this season and set to reopen on Friday, June 26.
RELATED: Top Swimming Lakes and Rivers for Westchester Families
The playground, aqua playground, pool basketball court, and slides are closed. There are no tubes allowed in the pool.
Sports-loving kids will dig the offerings—volleyball and basketball inside the pool—at Tibbetts Brook Park in Yonkers. There's also a lazy river and benches in the pool itself for when you need some downtime. Along with the pool, there's a splash pad for kids, and in the park, you'll find everything from playgrounds to mini-golf. Westchester residency is required to visit.

The zero-depth entry at Willson's Waves makes it a perfect pool for tots. Photo courtesy of Willson's Waves
The waves, aqua playground, slides, and splash pad are all closed until further notice. The picnic pavilion, grills, and playgrounds are also off-limits.
Where else can you find three-foot-high waves—in a pool? You'll get just that and lots more at Willson's Waves, located Willson's Woods Park in Mount Vernon. Along with the waves, the pool has a zero-depth entry, 18-foot water slides, and a spray deck with 57 jets. Outside of the pool, you'll find picnic spots, a covered pavilion to rent for parties, and more.
Playland Pool is closed for the season. The beach is open Wednesdays through Sundays only. For the first time, Playland Beach remains open into September, with regular hours—11am-6:30pm—weekends September 12-13 and September 19-20.
There's so much to do at Playland, whether you're looking to play mini-golf or ride the famed Dragon Coaster. When you're ready for a swim, head to the pool for hours of fun. Prefer the beach? There's one of those here, too. Also, good news if you're hoping to visit from outside of Westchester: You don't need to be a resident to enjoy the Playland Pool. (Park Pass holders do receive a discount.)
Swimming Pools in Rockland County
Bowline Point Park Pool reopens on Saturday, June 27.
This park, open to both residents and non-residents, features an Olympic-sized swimming pool, water slides, a wading area, and a toddler pool. Plus, you'll find an accessible playground, tennis courts, a volleyball court, and spots to picnic and grill. Entrance fees for swimming start at $20 for non-residents ($15 and up if you live in town), so look into getting a season pass if you plan to go often.
All state park pools, including the one at High Tor, are currently closed. Visit the New York State Park's COVID-19 update page for further details.
Enjoy a hike and then cool off with a swim at this pool located inside High Tor State Park in New City. There's no fee to park—and it costs only $5 to get in, no matter when you visit. There are also spots to picnic.
RELATED: 17 Day Trips Near NYC for Summer 2020 Adventures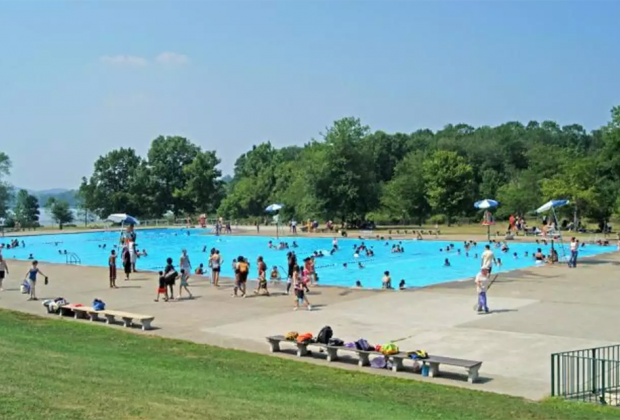 Rockland Lake State Park is an ideal day-cation spot for families. Photo courtesy of New York State Parks
All state park pools, including the one at Rockland Lake State Park, are currently closed. Visit the New York State Park's COVID-19 update page for further details.
There are tons of cool new features to check out at the pool inside Rockland Lake State Park in Valley Cottage, which recently underwent a multimillion-dollar renovation. That includes a 25,000-square-foot pool that has a zero-depth entry, massive water slides, and a refreshing splash pad. Plus, there's a playground, picnic area, and a trail along the lake for biking.
Monday, June 29, is the anticipated opening date for this pool.
Enjoy some late-evening swimming at Spook Rock Pool in Suffern, which stays open until 8pm every night of the week until about mid-August. Along with the pool, there's also a fun splash pad for toddlers. While there are entrance discounts for town residents, you don't have to live there to enjoy the facilities.
While the restaurant has reopened, the pool has yet to set an opening date, though an early July debut is anticipated.
This pool club in Tallman Mountain State Park offers a large swimming pool, as well as a sand area. There are lots of chairs where you can set up your stuff, and the menu at the Tallman Grill offers everything from burgers and salads to chicken fingers and quesadillas for the kids. You can snag a day or season pass.
Swimming Pools in Orange and Dutchess Counties
Fancher-Davidge Park Pool will not open during summer 2020.
This a newly renovated pool and splash pad with interactive fountains and fun is one of the most affordable places to cool off on our list. Kids 16 and under are just $1 each while adults are $3.
There are currently no plans to reopen the Poughkeepsie pools for summer 2020.
Poughkeepsie lays claims to two town pools: Spratt Park and Pulaski Park. Both are affordable, with kids just $1 each while adults are $4 (residents are $3). Speaking of affordable, not only do the parks offer inexpensive family season passes—$85 for non-residents—but Pulaski also holds FREE swimming lessons for town residents (non-residents can still participate, but it's $30 per week).