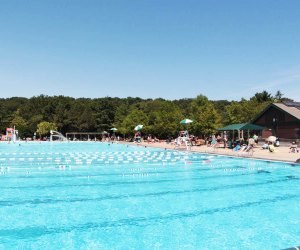 Best Swimming Pools for Families in Westchester and the Hudson Valley
Nothing says summer like a day at the pool, and there's no shortage of spots in Westchester and the lower Hudson Valley to take a dip. Many have concession stands and places to picnic, as well as playgrounds, hiking trails, mini golf, and other activities worth making a summer day trip. We've rounded up 12 of our favorite family-friendly pools in the region. Some of these—particularly the Westchester pools—require county residency, so take note before heading out.
For more summer fun, be sure to check out our Summer Fun Guide for Westchester Kids.
Subscribe to our newsletters to get stories like this delivered directly to your inbox.
Swimming Pools in Westchester County
Westchester County pools are only open to county residents and are set to reopen for the season on Friday, June 25. They're open daily through Monday, September 6, with hours from 10am-6:30pm, and the last admission is at 6pm. Unfortunately, one of our favorites, Playland Pool, is closed for the 2021 season.
OUR LATEST VIDEOS
Looking to make a splash in the biggest of the county pools? Then jump right into the Saxon Woods Pool, part of Saxon Woods Park in White Plains. There's also a sprayground with lots of cool features, and outside of the pool complex, you'll find a mini-golf course and a spectacular playground. You need to be a Westchester resident for this pool—and Park Pass information applies.
RELATED: Top Swimming Lakes and Rivers for Westchester Families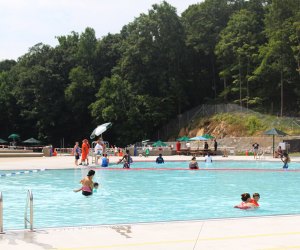 Enjoy a day at the newly renovated Sprain Ridge Pool. Photo courtesy of Westchester County Parks
Reopened in 2017 after a multimillion-dollar renovation, the pool at Sprain Ridge Park closed again in 2018 due to leaks and other structural issues but is entertaining families once again. Along with the pool, there are two picnic areas to set up for lunch or a snack. Westchester residency is required to visit.
Sports-loving kids dig the offerings—volleyball and basketball inside the pool—at Tibbetts Brook Park in Yonkers. There's also a lazy river and benches in the pool itself for when you need some downtime. Along with the pool, there's a splash pad for kids, and in the park, you'll find everything from playgrounds to mini golf. A pickleball court debuts this season next to the tennis courts. Westchester residency is required to visit.
RELATED: Summer Fairs and Festivals in Westchester and the Hudson Valley in 2021

The zero-depth entry at Willson's Waves makes it a perfect pool for tots. Photo courtesy of Willson's Waves
Where else can you find 3-foot-high waves—in a pool? You get just that and lots more at Willson's Waves, located in Willson's Woods Park in Mount Vernon. Along with the waves, the pool has a zero-depth entry, 18-foot water slides, and a spray deck with 57 jets. Outside of the pool, you'll find picnic spots, a covered pavilion to rent for parties, and more.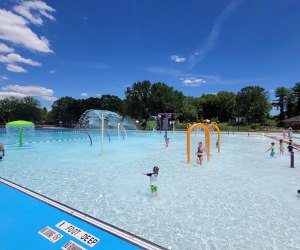 Come visit the newly renovated and largest pool in the state system at Franklin D. Roosevelt State Park. Photo courtesy of NY State Parks & Historic Sites
Fresh off a $30 million upgrade, the pool at FDR State Park covers nearly 1-acre of land. Completely rebuilt within the footprint of the old pool—the largest in the state park system—improvements include the addition of a zero-depth entry section for toddlers and 26 kid-friendly spray features placed at various depths in the wading pool. The concession building has been renovated, a new poolside restroom has been constructed, and the landscape has been refreshed. The pool is open on weekends and holidays from 11am-6:30pm; weekdays from 11am-5:30pm. Entry fees are $3 per person and there is a $10 fee for parking.
Swimming Pools in Rockland County
This park, open to both residents and non-residents starting on Saturday, June 19, features an Olympic-sized swimming pool, water slides, a wading area, and a toddler pool. Plus, you'll find an accessible playground, tennis courts, a volleyball court, and spots to picnic and grill. Entrance fees for swimming start at $20 for non-residents ($15 and up if you live in town) on weekdays, so look into getting a season pass if you plan to go often.
Enjoy a hike and then cool off with a swim at this pool located inside High Tor State Park in New City, which is open from Saturday, June 19-Sunday, August 15. There's no fee to park, and it costs only $5 to get in, no matter when you visit—just note the pool is closed on Mondays and Tuesdays. There are also spots to picnic.
RELATED: 36 Summer Day Trips from NYC to Take as a Family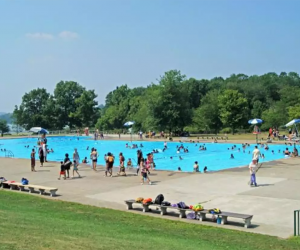 Rockland Lake State Park is an ideal day-cation spot for families. Photo courtesy of New York State Parks
There are tons of cool new features to check out at the pool inside Rockland Lake State Park, which recently underwent a multimillion-dollar renovation. That includes a 25,000-square-foot pool with a zero-depth entry, massive water slides, and a refreshing splash pad. Plus, there's a playground, picnic area, and a trail along the lake for biking. The pool is open weekends currently, and daily beginning Monday, June 28. There's a $10 parking fee, but entrance to the pool itself is cheap: $5 on weekends and $3 on weekdays. Daily hours run through Sunday, August 22, and it's open weekends through Labor Day.
The pool season runs from Saturday, June 19-Monday, September 6 at Saddle River Pool, where you can enjoy some late-evening swimming; it stays open until 8pm nightly. While there are entrance discounts for town residents, you don't have to live there to enjoy the facilities. Weekday rates are $18 for adults; $13 for kids.
This pool club in Tallman Mountain State Park is open daily from 11am-7pm (10am opening time for members) and offers a large swimming pool and a sand area. There are lots of chairs where you can set up your stuff, and the menu at the on-site Tallman Grill offers everything from burgers and salads to chicken fingers and quesadillas for the kids. You can snag a day or season pass, and Friday and Saturday nights bring a live concert series to the venue.
Swimming Pools in Orange and Dutchess Counties
This newly renovated pool and splash pad with interactive fountains is one of the most affordable places to cool off on our list. Kids 16 and under are just $1 each, while adults are $3. The pool opens daily, starting Monday, June 28.
Poughkeepsie lays claims to two town pools: Spratt Park and Pulaski Park, with opening dates for the 2021 season set to be announced soon.