Revamped Saxon Woods Park Playground in White Plains Is Worth a Visit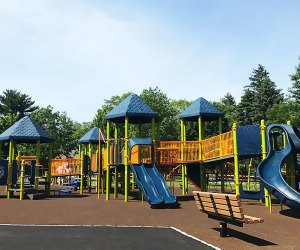 Westchester and the Hudson Valley have no shortage of great playgrounds—whether you're looking to entertain your toddler, host a party, or even make an entire day trip out of your visit. And now there's one more to add to the list: the playground at Saxon Woods Park in White Plains, which was recently renovated.
Looking for even more outdoor fun? Check out our summer guide for ideas!
Located right off Mamaroneck Avenue and visible from the street, the playground shares a parking lot with both the Saxon Woods pool and the mini-golf course, and there is no parking or entrance fee to use the playground.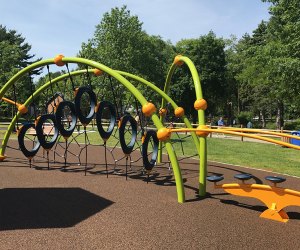 Kids can climb high on colorful structures without fear of a fall, thanks to the soft, sponge-like flooring.
Once there, you'll find two equipment structures—both brightly colored in oranges, blues, and greens, with lots of opportunities for climbing and crawling (and soft, spongey flooring to provide a soft landing). In the smaller structure, which has a spider-like look to it and is set toward the back of the playground, there's a short tunnel little ones can crawl through, as well as a bridge to walk over, drums to beat, and lots of other fun features.
The larger structure, for older kids, has a maze-like feel—similar, in some ways, to what was there before, with ramps and bridges. There are also all sorts of cool climbing opportunities—from block-steps to ladders to a semi-enclosed circular piece of climbing equipment that my 3.5-year-old must have gone up at least four or five times during our visit.
RELATED: Splash Pads and Water Playgrounds in Westchester and the Hudson Valley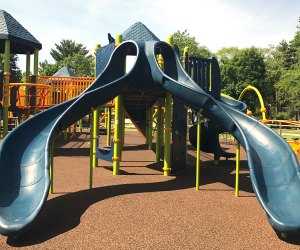 Slide connoisseurs will find plenty of options at this park.
Along with climbing, there are multiple slides kids can go down, including a twisty option and two large ones right up front, and equipment to spin on as well. Plus, there are now swings at the park, which is one upgrade in particular that we love. And, just as it was before the changes, the playground is accessible—with both the ramps and now some of the swings as well.
The road that rings the playground is newly paved, and we saw lots of fun chalk drawings when we visited. One thing to keep in mind, though: The playground doesn't get a ton of shade. When it's time for a break, there are benches as well as new picnic tables where you can set up for snacks or lunch.
If you decide to venture off the playground, you can visit the mini-golf course, which is open every day from the end of June through the beginning of September. Or, head to Saxon Woods pool (you have to be a Westchester resident), which is the biggest of all the county pools. For even more to do, there are also hiking trails and, at the park entrance further down Mamaroneck Avenue, you'll find a covered pavilion and a smaller playground for parties.
Photos by the author