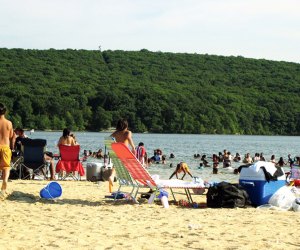 Top Swimming Lakes and Rivers for Westchester Families
Pools and splash pads are great for summer fun—but when it comes to cooling off in the great outdoors, the Hudson Valley's lakes and rivers can't be beat. While you won't find many in Westchester, the Hudson Valley in general offers plenty of places to jump in and go for a swim, including some that merit a day trip—or even an overnighter at a family campground. Here, we've rounded up several lakes and rivers that are perfect for swimming with kids, from the Hudson River to Lake Taghkanic.
Looking for even more fun in the sun? Check out our full summer guide for great ideas for the whole family.
Westchester
Croton Point Park – Croton
At Croton Point Beach, which is inside the 508-acre Croton Point Park, Westchester families can enjoy a day of playing in the sand and swimming in the Hudson. The beach is open May 25 through September 2, though until June 23 it's weekends only. After that, the beach (there's a pool, too!), is open Wednesdays through Sundays. There are lots of other activities to check out at the park, including a Nature Museum.
Rockland
Lake Welch – Stony Point
Part of Harriman State Park, this swimming spot is open every day from June 15 through September 2. Once the kids tire of the water (if that's even possible) there are fun hiking trails to check out. Hours are 10am to 5:45pm on weekdays, and 9am to 6:45pm on weekends.
Orange
RELATED: Best Swimming Pools for Westchester and Hudson Valley Families

Bring your four-legged family members along to enjoy a beach day at Lake Tiorati.
Lake Tiorati – Southfields
Also located in Harriman State Park, this swimming spot is open every day in the summer (June 15 through August 18) and offers lots for families to do along with swimming—like hanging out on the beach or enjoying a picnic. There are showers where you can wash up and change, and dogs are welcome, as long as they're on a leash.
Greenwood Lake – Warwick
This town beach at Thomas P. Morahan Waterfront Park offers both residents and non-residents access to Greenwood Lake. The beach is open from every day in the summer. There are day passes available, though if you plan to go regularly you can also snag a season pass, with fees varying depending on residency. Along with the lake, kids can have fun on the playground.
Putnam
RELATED: Splash Pads and Water Playgrounds in Westchester and the Hudson Valley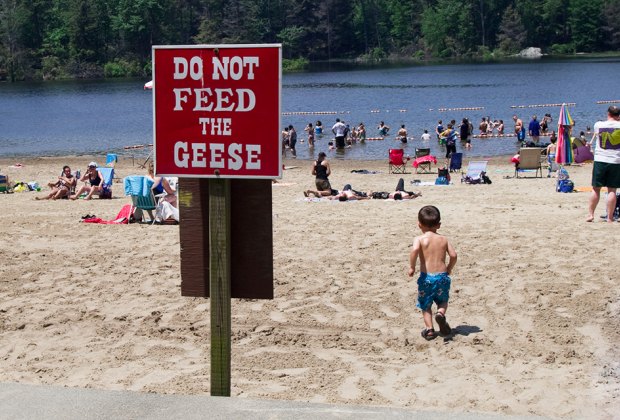 Canopus Lake boasts beautiful water and clean sand for kids to dig in all day. Photo by Mizmareck via Flickr
Canopus Lake – Carmel
Part of Fahnestock State Park, this lake offers a beach area—open every day from June 22 through September 2, from 10am to 6pm—where families can set up for a day of swimming. Along with swimming, there are places to picnic (and a concession), plus you can also get out on the water by renting a boat.
Dutchess
RELATED: Canoe, Kayak, and Paddleboat Rentals for Westchester Families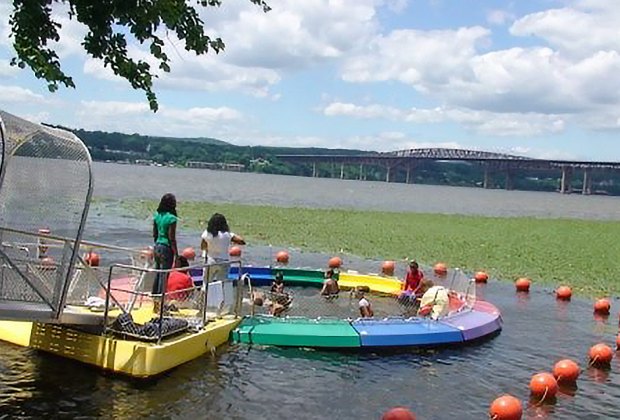 This little gem is perfect for the littlest of swimmers. Photo courtesy of the River Pool at Beacon
River Pool at Beacon – Beacon
Here's another cool day trip idea: Head to Beacon and make it a point to visit the River Pool at Pete & Toshi Seeger Riverfront Park for a chance to hop into the Hudson River. Open Tuesday to Sunday from noon to 6 pm starting in July, this sectioned-off part of the River is free (!) and has lifeguards on duty as well. Plus, once you're in Beacon, there's tons to do with kids, from cool playgrounds to doughnut shops.
Columbia
RELATED: 10 Easy NY State Park Hikes for Families

Lake Taghkanic has swimming, a playground, picnic area, and a concession stand.
Lake Taghkanic — Ancram
Looking for a great day trip? About an hour-and-a-half from central Westchester, Lake Taghkanic State Park offers lots for to do—from swimming in the lake and building castles on the beach, to playing on the grass or the playground. For lunch, you can snag a picnic table and grill, or skip the packing and visit the concession stand instead. For even more details on this family-friendly spot, check out our full review.
Greene
North-South Lake – Haines Falls
If you're hoping to take the family camping, consider North-South Lake Campground, which at about two hours from White Plains, is a great spot for an overnighter. (If camping isn't your style, just visit for the day.) Swimming is available at two beaches, as long as a lifeguard is present (call the campground for exact hours), and kids can stay busy with lots of additional activities, from hiking to horseshoes to playing on the playground.
Unless otherwise noted, photos courtesy of NY Parks