Hudson Valley Day Trip Swimming: Lake Taghkanic State Park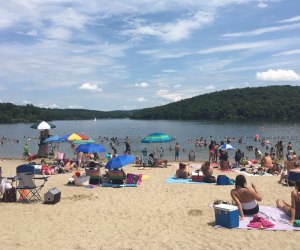 Lake Taghkanic State Park in Columbia County has just about everything required for a successful summer day trip with kids. Clean water and attentive lifeguards? Check. Picnicking area? Check. Decent playground? Double check.
My family has visited this park as day-trippers and overnight campers many times over the last decade and we always enjoy ourselves, whether we're staying for the day or an entire weekend. To help make the most of your trip, we have what you need to know about visiting this Lower Hudson Valley summer destination.
Looking for more day trip ideas? Check out our Summer Activity Guide and sign up for our newsletters.

The lake at Taghkanic State Park is clear, warm and has a sandy bottom.
Lake Taghkanic State Park is located less than 90 minutes from White Plains as a straight shot up the Taconic Parkway—a fairly forgiving road when it comes to weekend summer gridlock. The park takes up more than 1,500 acres and has hiking, swimming, fishing and boating. A vehicle entrance fee, collected daily from June 25 through September 5, will run you $8 per car.
An acknowledged wimp when it comes to lake swimming, it can take a lot to win me over. Sand trumps muck every time, and it's a flat-out "no thanks" if you need to swim with sneakers. Lake Taghkanic, however, does lake swimming proud, with clear water, a sandy bottom, and hardly a trace of "green stuff" scattered about. Although the sandy beach is long, it's admittedly a bit narrow if you're used to ocean beaches. Still, the sand is neatly groomed, extremely clean, and does a fine job making sand castles.
In addition to swimming, the lake hosts multiple boat launch sites if you own a watercraft. You can also rent kayaks, canoes, rowboats and paddleboats for $10/hour or $40/day.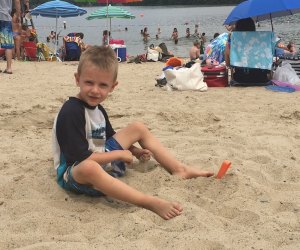 Forget your sand toys at home? The snack stand has extras for sale.
Picnic tables and charcoal grills are located on grassy fields on both sides of the lake, as well as throughout the rest of the park. A pavilion with electricity can also be rented out for the day. Although we saw many families arrive early to claim the tables near the grills, there were still multiple spots available as the afternoon went on. The green grassy areas are expansive with tons of room to run and play; although the park does get crowded in the summer, you don't feel overly squished. Harder to obtain: the shady spots under the line of trees edging the sidewalk around the beach sand. Many of these were snatched up well before the lifeguards climbed in their chairs at 10am.
There is a playground located on the right end of the parking lot, and it appealed to both my 5-year-old and my almost 10-year-old on our most recent trip. In addition to two climbing structures with bridges, poles and slides, there are swings, a giant rope-climbing web, a see-saw, and two spinning things you can twirl yourself sick on.

There are two playgrounds at the park: one next to the lake and one near the campground.
Restrooms, changing rooms, changing tables and showers are located on both sides of the lake. The facilities adjoining the Park Office and snack stand are significantly larger, but both areas are extremely clean and very well-maintained. We visited on a scorching, crowded Saturday in July, and they remained impressively clean throughout the day.
Camping is also available. We have tent-camped several times over the years, and it's a decent campground for families who are new to camping or not interested with too much "roughing it." There are cabins and cottages available, and most of the tent sites have platforms. Many of the tent sites are admittedly a bit close together, so check the site map before you book. The campground also has restrooms, showers, water fountains, a camp store, and a second playground that's just as fun as the one at the lake.
Some things to know about visiting Lake Taghkanic State Park:
The park is open from sunrise to sundown; lifeguards, however, are on duty from 10am to 6pm on weekdays and until 7pm on weekends and holidays.
The snack stand serves basic beach fare—cheeseburgers, fries, nachos, soda, beer and wine—as well as any summer supplies or picnic condiments you may have forgotten at home.
Only U.S. Coast Guard-approved life jackets are allowed. This means puddle jumpers are OK, but you need to leave the water wings at home. Also prohibited: any goggles that cover the nose.
This is a carry-in, carry-out park, so be prepared to take your garbage home. There are multiple stations with plastic bags throughout the park.
Playing with soft balls and water guns are permitted in the lake.
Want something besides concession stand snacks? Try the nearby West Taghkanic diner on Route 82, a no-frills spot with friendly service and a more-than-decent breakfast.
All photos by the author.