Glamp Out: Alternative Camping and Glamping for Westchester Families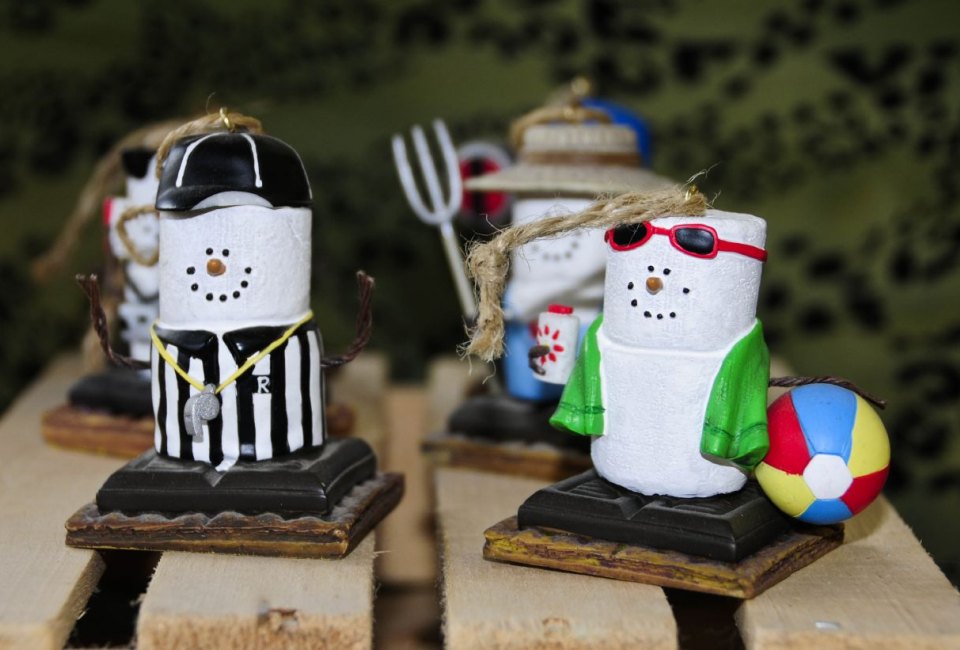 6/13/16
- By
Christi O'Donnell
Though hard-core campers may find it hard to believe, hauling a hundred pounds of gear out into the middle of nowhere to spend a night communing with mosquitos and tree frogs is not everyone's idea of a vacation. Perhaps you've never been camping and would like a low-risk way to get your feet wet, or you've been camping many times and are ready to try a trip where digging your own latrine isn't part of the charm. You're in luck! In addition to many conventional campsites, the Lower Hudson Valley also boasts several places that offer an alternative camping experience—one where you just show up and some (or even most) of the work is already done.
So you want a family camping adventure, but you don't want to worry about reserving a campsite, cooking your own food or getting lost in the dark on the way back from the bathroom? Join the Greenburgh Nature Center and participate in one of its summertime Family Camp-Outs. Members of the Nature Center are invited to bring their tents and sleeping bags and let Greenburgh take care of the rest! A BBQ dinner will be provided (complete with s'mores, of course), and one of the center's naturalists will lead a moonlight tour around the grounds. There is a reasonable per-person fee and children 2 and under are FREE.
Not ready for membership-level commitment to a nature center? The Hudson Highlands Nature Museum also has a yearly Family Camp-Out that is open to member and non members alike! Pack up the tent and warm jammies and stake out a spot around the campfire for s'mores and night-time fun. The nature center will provide coffee and a light breakfast in the morning. Pre-registration and a reasonable fee are required for this program—children under 5 are free.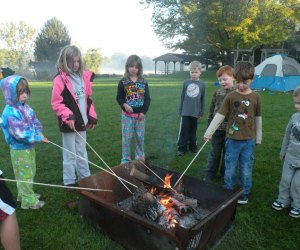 Don't even think of trying to camp out without s'mores. Even first-timers know it's part of the deal. Photo credit: Hudson Highlands Nature Museum
Wolf Conservation Center - South Salem
No tent? No problem! Sign up for Sleeping With Wolves at the Wolf Conservation Center in South Salem and the tent will be provided for you along with a dinnertime pizza party, fireside snacks, a light breakfast, night-time entertainment and an opportunity to sleep alongside Mexican and grey wolves (don't worry—they can't get out). Each reservation is good for one four-person tent (and "four-person" can often include an extra small child; just ask) and the program fees go to continue protecting the endangered species. Pre-registration is required for this program.
Malouf's Mountain - Beacon
So you want to go camping but you don't have a car, a tent, a camp stove or any desire to cook your own food or build a fire? Malouf's Mountain has you covered. Hop a train to Beacon (about 25 minutes north of the Westchester County line on the Hudson River) and climb aboard Malouf's shuttle. Depending upon the option you have chosen, the shuttle will drop you at a trailhead a short (or long!) hike from your campsite. The shuttle will take your backpacks and cooler (if you want to bring a cooler) back to the campground and set up your site so that it is ready upon your arrival. From there, it's up to you. Campers can arrange for all of their food to be delivered to them fully cooked at meal-times (the campground has delivery arrangements with a number of local restaurants); to have their food delivered to their site uncooked (there is a menu to choose from—camp staples like baked beans, shell steak and hot dogs are popular, though veggie burgers are also available); or bring in a cooler and eat what they have brought. Mix and match options are also availabe. Utensils, plates, cook stove, coffee pot, foil—it's all provided for you. Be sure to check the website for Metro North discounts, weekly discounts and special Second Saturday Dinners. "Primitive" sites are also available for campers who wish to bring their own gear—but don't worry, food delivery is still an option!
Jellystone Park - Gardiner
OK, sleeping in a tent is out of the question and you'd like to have a DVD player, TV, mini fridge, microwave, full bath, and an on-site tiki bar? Check out Jellystone Park. Located just a bit more than an hour from most parts of Westchester, Jellystone Park has premium cabins (and regular old tent sites for "roughing it"), an expansive splash pad, two swimming pools, laser tag, mini golf, three playgrounds, outdoor movies and much more. Don't worry about cooking over an open fire; your Jellystone wristband will get your whole family 5 percent off at the restaurant across the street.
The Bronx Zoo - Bronx
Heading into the city might not be the first thing that comes to mind what you want to go camping, but the Bronx Zoo has a wonderful camping program for families. Called the Family Overnight Safari, this program for ages 5 and up gives visitors the unique opportunity to find out what happens during bed time at the zoo. Families do need their own equipment for this experience; if you don't already own camping gear, take a look at Eastern Mountain Sports in Scarsdale for rental options.
Flickr image credit for top photo: Valerie Everett
Sign up for the Mommy Poppins Newsletter today!