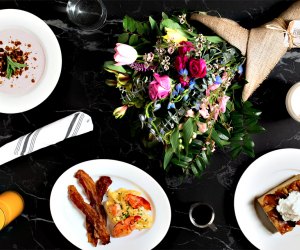 Mother's Day Brunch and Dinner in Chicago for Pick Up, Delivery, or (Gasp) Eating At a Restaurant
What many moms want most right now is a break from thinking about food, shopping for food, preparing food, and cleaning up after meals. So take her out! Mother's Day offers the perfect opportunity for outdoor dining, and with lots of Chicago restaurants upping their patio games during the pandemic, there are plenty of gorgeous places to treat mom.
Families who aren't ready to eat out yet can still enjoy specials and family packages for carryout. Many eateries are also offering wine or cocktail kits to go, too. However your family chooses to celebrate this year—dining inside, outside, taking treats home, or even making treats at home—we found the perfect eatery!
And, don't forget to add a little personal touch to the spread with a special handcrafted Mother's Day card or tackle one of these other 100 awesome crafts for kids to create a homemade gift sure to melt mom's heart.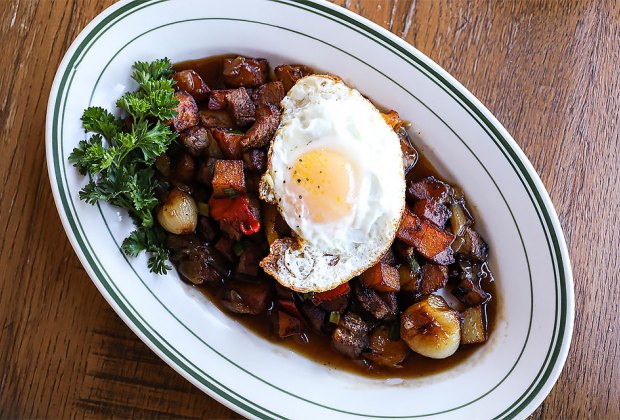 L. Woods Mother's Day brunch prime rib is a treat for dining inside, outside, or bringing home!
Restaurants With Options for Dining Inside, Patio Dining, or Carry Out
The multicourse dine-in menu at this favorite steakhouse includes soup, salad, surf or turf entree, and a dessert for $39 a person. The Oak Brook location has a large patio overlooking a pond. For families who are dining at home, a four-person meal package features seasonal vegetables, roasted potatoes, an entree choice of salmon, steak, shrimp or chicken, salad, and a choice of dessert for $125.
In addition to its regular menu for brunch or dinner, moms can enjoy a strawberry goat cheese salad, whitefish or prime rib of beef au jus, and a cheesecake with Door County cherry sauce. Meals are served a la carte and are available for lunch or dinner Saturday and Sunday of Mother's Day weekend.
Moms looking for a fancy dinner for Mother's Day can find it at this River North hot spot. At RPM Italian, moms can dine in or order an Italian Feast for Two to go, including ricotta toast, spring salad, filet mignon, and strawberry panna cotta. Add spring flowers to gussy up the spread for an extra $20.
Aba—West Loop
Lots of different experiences are available for Mother's Day at this restaurant featured on our list of best outdoor dining spots. Reserve a seat on the outdoor rooftop deck, inside with an AirPHX filtration system, or at the chef's table or an outdoor private dining experience (starting at $500). Moms can get a classic Greek dinner with hummus, two kinds of kebabs, village salad, and a creme brulee pie for $25.95 per person to go, or indulge in the to-go brunch with two appetizer spreads, a salad, shrimp cocktail, beef tenderloin, roast chicken, and chocolate cake for $54.95.
Top Chef contestant and fan-favorite Fabio Viviani serves up a four-course tasting menu in his River North restaurant (or get it to go). Additional specials include a jumbo lump crab omelet, fried burrata Caprese, and an olive oil lemon cake. Kids can also order flowers for mom to be delivered with the meal.
RELATED: DIY Mother's Day Cards That Kids Can Make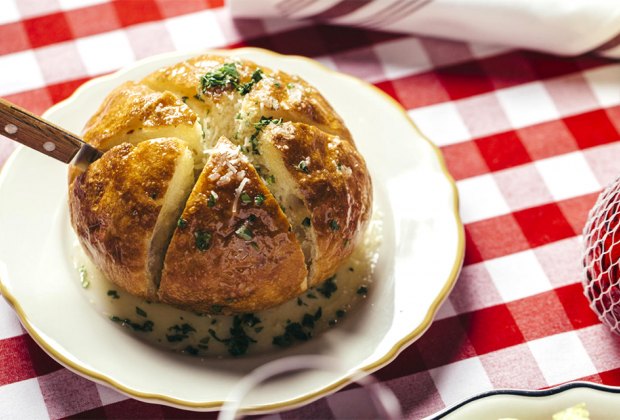 Get a mouth-watering Mother's Day meal from Il Porcellino.
Dine-in, carry out, or get delivery from this River North restaurant. The Mother's Day special menu for two includes roasted beet salad, stuffed artichoke, linguini al limone, Barolo braised short rib, and a Nutella brownie for $89.95. Or, for a special experience with a little homemade touch, order a burrata lasagna kit for the kids to make and feed the whole family for $99.95.
This perennial Mother's Day brunch favorite is offering brunch for dine-in or to go for $39.95 per adult or $14.95 per kid. Meals include Italian favorites like ciabatta French toast, spring vegetable Panzanella, and tiramisu. Less fancy options include the family pizza, pasta, and gelato dinner packages for $15.95 per person. Kids might also get into various pasta cooking kits to take over cooking duty for the day, while parents can order a Lemoncello kit to enjoy together.
Enjoy Mother's Day brunch or dinner from this North Suburban Italian restaurant for $100 for four people, either at the restaurant or at home. Brunch to go includes smoked salmon, bagels and cream cheese, eggs Benedict, Canadian bacon, turkey, and prime rib, while dinner includes stuffed mushrooms, shrimp cocktail, whitefish, baked mac and cheese, and a whole apple pie. Mimosas or bottles of wine are available for an additional fee.
RELATED: Stay-at-Home Guide: 100s of Activities and Resources for Families on Pause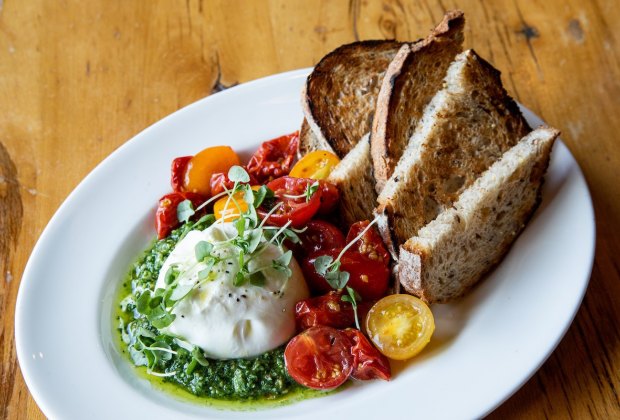 Get a classic brunch delivered from Beatrix for an unforgettable Mother's Day treat.
Beatrix—Streeterville and Oak Brook
This upscale, modern brunch joint has teamed up with Flowers for Dreams to include a bouquet with Mother's Day brunch bundles to go. The four-person meal includes a mini-pastry box, melon and berries, brown sugar bacon, chicken sausage, lobster and crab enchiladas, and fresh-squeezed orange juice for $39.95 per person. Add flowers to make any mom's day for $20 more. Or enjoy dining in with meal and drink specials available just for Mother's Day.
North Suburban families who are looking for a fancy meal to go can select filet of beef, salmon, halibut, chicken, or vegetarian phyllo strudel as a Mother's Day dinner entree, with appetizers, salad, soup, and strawberry cream pie. Dinner prices range from $92-$128 per two-person package; there is a kid-friendly menu for $20-24 per meal. Families can also choose to dine in with the regular menu, or several specials that are still TBA.
Sophia Steak will be offering the ultimate Mother's Day brunch and Gemini restaurant will have Mother's Day brunch specials. Both will offer bouquets for moms at the family's request when making the reservation.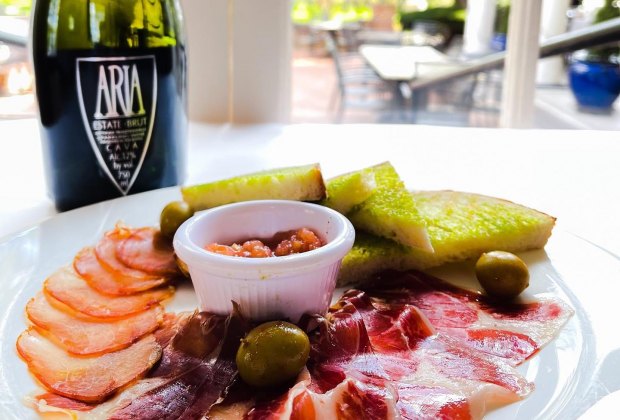 A little sparkling Cava with your tapas at Meson Sabika.
Dine-In on Mother's Day at These Restaurants
Meson Sabika (located in a historic mansion and garden near downtown Naperville) and its sister restaurant Tapas Valencia, (in an artistic location in the South Loop) are offering a four-course family-style meal for $49 per person, including one cold tapas choice, on hot tapas choice, one entree, and one dessert of each person's choosing. Kids' meals range from $6.95- $15.95 and include an ice cream sundae.
Take a tour of Argentina indoors or outdoors on the patio overlooking Lincoln Square at this South American steakhouse. The pre-fixe Tour of Argentina dinner features some of the restaurant's best dishes for $30 per person.
All weekend long, moms can treat themselves to a Mimosa Bar and Momchie lunch at this retro hotspot. "Momchie" specials include lobster flatbread, lobster Cobb salad, grilled chicken, and a strawberry shortcake sundae.
Farther afield, but worth the drive, this Southwest Suburban restaurant has a spectacular garden patio overlooking the I&M Canal. It will host two seatings for Mother's Day dinner at 3pm and 7:30pm, each offering a special menu for up to eight people. Menus include appetizers like salad, coconut shrimp, and bruschetta, and entrees such as crispy duck, surf and turf, and prime rib.
Filet at home is a snap when you order from Mia Francesca.
Best Choices for Family Take-Home Meals for Mother's Day
After the success of its Easter and Mother's Day take-out menus last year, Entree Kitchen is offering a variety of packages and extras for Mother's Day including quiche Lorraine, eggs Benedict casserole, peach croissant casserole, and breakfast enchiladas. For an extra fee, kids can also get a cupcake-decorating kit to enjoy with their mom. The kit includes cupcakes, three colors of frosting, and a variety of sprinkles. Each brunch serves six for $59.95. (Kids can also get a cannoli pasta kit to make for mom.)
Visit the website for all locations.
Filet mignon served with three sides, and Eli's Cheesecake provides an elegant Mother's Day meal at this Chicago-area chain. Add on a mimosa kit or jumbo shrimp cocktail to complete the meal. The feast is $109.95 for two people or $214.95 for four. Families can also dine in with Mia Francesca's regular menu.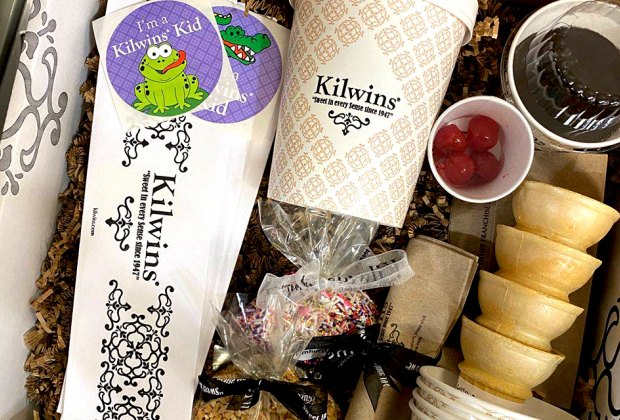 The whole family will be thrilled with a dessert-making kit from Kilwins Elmhurst.
DIY Treats to Celebrate Mother's Day
A chocolate strawberry dipping and decorating kit will be available for kids who are looking to make their own special treats for moms on Mother's Day. Details and pricing will be on social media the week before Mother's Day.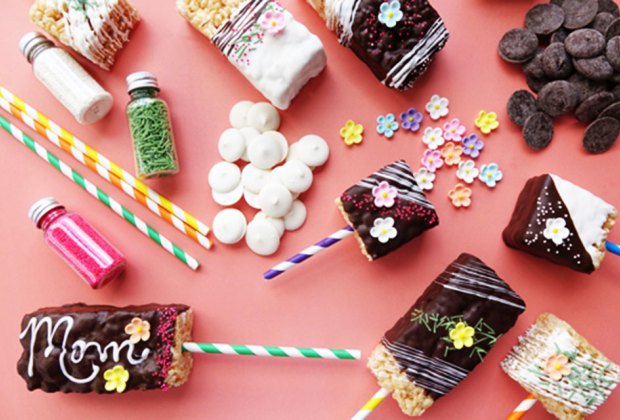 ​
Enjoy a DIY marshmallow crispy bar decorating kit from Eli's Cheesecake.
Dip and decorate double marshmallow crispy bars at home together! Kits are $39.95 and can be shipped or picked up at Eli's Northwest Side location. Not feeling crafty? Eli's makes a Mother's Day cheesecake covered in bittersweet chocolate and adorned with daisies, no decorating required.
​Photos courtesy of the restaurants