25+ Amazing Places for Mother's Day Brunch and Dinner in Chicago
4/24/22
- By
Maureen Wilkey
What many moms want most right now is a break from thinking about food, shopping for food, preparing food, and cleaning up after meals. So take her out! Mother's Day offers the perfect opportunity for outdoor dining, and with lots of Chicago restaurants upping their patio games during the pandemic, there are plenty of gorgeous places to treat mom. Looking for something to do other than eat? Check out our event guide for fun family activities around Chicago.
And, don't forget to add a little personal touch to the spread with a special handcrafted Mother's Day card or tackle one of these other 100 awesome crafts for kids to create a homemade gift sure to melt mom's heart.
Upscale Restaurants to Indulge Mom
The multicourse dine-in menu at this favorite steakhouse includes soup, salad, surf or turf entree, and a dessert for $39 a person. The Oak Brook location has a large patio overlooking a pond. For families who are dining at home, a four-person meal package features seasonal vegetables, roasted potatoes, an entree choice of salmon, steak, shrimp or chicken, salad, and a choice of dessert for $135.
Moms looking for a fancy dinner for Mother's Day can find it at this River North hot spot. For something extra special, check out the sommelier experience, which pairs the best truffles and pastas with premium wines.
Top Chef contestant and fan-favorite Fabio Viviani serves up a four-course tasting menu in his River North restaurant (or get it to go). Additional specials include a jumbo lump crab omelet, fried burrata Caprese, and an olive oil lemon cake. Kids can also order flowers for mom to be delivered with the meal.
Dine-in, carry out, or get delivery from this River North restaurant. The Mother's Day special menu for dine-in includes il Porcellino panzanella salad, lemon roasted chicken, and a black truffle porcini tortellini, or families can order a dinner to eat at home, which includes garlic herb focaccia, prime beef meatballs, the il Porcellino panzanella salad, lemon roasted chicken, black truffle tortellini, and lemon cheesecake. The family to-go meal is $169.95 for four people.
This perennial Mother's Day brunch favorite is offering brunch for dine-in or to go for $59.95 per adult or $19.95 per kid. Meals include Italian favorites like ciabatta French toast, spring vegetable Panzanella, and tiramisu. Kids five and under eat free.
North Suburban families who are looking for a fancy meal in-person or to-go can visit Prairie Grass Cafe. Specials have yet to be announced, but have included filet of beef, salmon, halibut, chicken, or vegetarian phyllo strudel in the past. Farm-to-table ingredients are featured in packages that can be priced per person.
Meson Sabika (located in a historic mansion and garden near downtown Naperville) and its sister restaurant Tapas Valencia, (in an artistic location in the South Loop) are offering their traditional menu of Spanish tapas, along with Mother's Day specials that include $5 sparkling wine and mimosas all day.

Seasonal berry French Toast at Mia Francesca
Visit the website for all locations.
Reservations for Mother's Day are now available and include the regular menu of Italian classics, with specials to be announced. In previous years, Mia Francesca has offered family to-go packages featuring filet mignons, sides and fresh Italian desserts.

The dessert bar at The Signature Room
The view is as good as the food at this restaurant near the top of the building formerly known as the John Hancock. Plated brunches feature lobster bisque, smoked salmon benedict and lemon poppyseed buttermilk pancakes, with special desserts that include signature white & dark chocolate mousse cake, brownie sundae, or strawberry rhubarb crisp.
This suburban theater also offers a massive buffet for Mother's Day brunch. Visit carving and omelet stations, a dessert table, and a children's corner filled with sweet treats. Reservations are limited with adults paying $75 per person while kids 2-12 pay $40.
James Beard Award winning chef Jonathan Sawyer presents the Mad Hatter's Mother's Day Brunch Buffet, a spectacular that includes live entertainment and children's activities. The brunch includes a topsy turvy tea table, dessert forest, smoothie and juice bar, charcuterie and cheese, a chilled seafood station, and more for $195 per adult and $85 per child.
Midrange Options for a Special Mother's Day

Photo courtesy of L. Woods in Lincolnwood
In addition to its regular menu for brunch or dinner, moms can enjoy a Maryland style crab cake with shaved vegetables, wild Alaskan halibut with roasted asparagus, or prime rib of beef au jus, and a strawberry rhubarb cobbler. Meals are served a la carte and are available for lunch or dinner Saturday and Sunday of Mother's Day weekend.
Aba—West Loop
Lots of different experiences are available for Mother's Day at this restaurant featured on our list of best outdoor dining spots. Moms can order off the regular menu, which features classic Greek dinners like hummus, kebabs, and salad, or select specials including spring frittata with crab, English peas and shaved asparagus for brunch, and the pan-roasted halibut with turmeric and coconut sauce and baby turnips for dinner.
RELATED: DIY Mother's Day Cards That Kids Can Make
Enjoy Mother's Day brunch or dinner from this North Suburban Italian restaurant for $39.95 per person at the restaurant. Brunch options include smoked salmon, bagels and cream cheese, eggs Benedict, Canadian bacon, turkey, and prime rib, while dinner includes stuffed mushrooms, shrimp cocktail, whitefish, baked mac and cheese, and apple pie. Or, families can select a dinner package starting at $17.95 per person for two, four, or six people.
RELATED: Stay-at-Home Guide: 100s of Activities and Resources for Families on Pause

Enjoy a classic brunch at Beatrix for an unforgettable Mother's Day treat.
Beatrix—Streeterville and Oak Brook
This upscale, modern brunch joint is offering brunch in-person or to-go. The four-person to-go meal includes a mini-pastry box, melon and berries, brown sugar bacon, chicken sausage, lobster and crab enchiladas, and fresh-squeezed orange juice. In person, moms can order off the regular menu or pick from specials that include lobster & crab enchiladas with soft scrambled eggs, salsa verde, tomato, and avocado. Add on a mimosa kit or cinnamon roll kit to enjoy at home with your in-person or to-go order.
Take a tour of Argentina indoors or outdoors on the patio overlooking Lincoln Square at this South American steakhouse. Family meals for up to four people are available for $125, and you can treat mom to a Mother's Day Eve flamenco show with Guitarra Azul on Saturday, May 7.
Farther afield, but worth the drive, this Southwest Suburban restaurant has a spectacular garden patio overlooking the I&M Canal. It will host two seatings for Mother's Day dinner at 3pm and 7:30pm, each offering a special menu for up to eight people. Menus include appetizers like salad, bacon wrapped shrimp, and bruschetta, and entrees such as maple bourbon pork tenderloin, surf and turf, and prime rib.

The elegant dining room at Mon Ami Gabi
Weather permitting, the patio will be open for Mother's Day at this French steakhouse in Lincoln Park. A $55 pre fixe menu includes steamed artichoke with shaved vegetables and Dijon vinaigrette, as well as a new Alaskan halibut with clams in brodo, Calabrian chili, and mint entrée and the strawberry and Chantilly cream puffs with edible flowers for dessert. Mon Ami Gabi will also have its regular dine-in and to-go menus.
Specialty tapas, live music, and flowers for mom make this colorful restaurant a special place for Mother's Day. Spanish specialties join traditional brunch items to offer something for everyone, from ropa vieja to ceviche to dulce de leche pancakes.

Long-stemmed roses for Mother's Day. Photo courtesy of I|O Godfrey
Chicago's largest and only year-round rooftop will offer a variety of specialty menu items including classic breakfast and brunch selections, an omelet station, eggs benedict, pancake and French toast stations, a carving station, salad bar, pastas, sushi station, a dessert station, and more. Adults pay $59 per person while kids under 12 are $15. Special grown-up drinks will also be available for purchase.
Pick any time between 10 a.m. and 9 p.m. to enjoy a meal with mom at this South Loop bar and restaurant. Specials will include chilaquiles verdes with corn tortillas, salsa verde, chicken tinga, fried shallots, sunnyside up egg, queso fresco and lime crema; Sociale Breakfast BLT with roasted turkey, bacon, lettuce, tomato, two eggs, swiss and chimichurri mayo; and blueberry pistachio pancakes with blueberry-lemon compote, toasted pistachios, and mascarpone whipped cream.
Fun and Casual Mother's Day Restaurants
Pinstripes—Oak Brook, Northbrook, River North and South Barrington
Bowling, bocce, and brunch bring the fun at this bowling center and restaurant with locations in the city and suburbs. The brunch buffet features a waffle station, carving station, sweet station, and more. Moms can get bottomless mimosas and aperol spritzes, plus each mom gets complimentary flowers!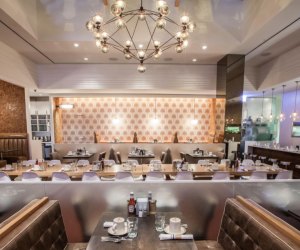 Try the the Bullseye French Toast at the Little Goat Diner this Mother's Day
Mama chef Stephanie Izard serves up mostly pig-themed brunch items that put a fun twist on traditional diner dishes. We love the Bullseye French Toast, and a selection of drinks and baked goods complete the experience.
Give back to the community by enjoying your Mother's Day brunch on Saturday at this East Garfield Park restaurant that helps give people a new start. Inspirations Corporation, the owner of the Kitchens, gives back to people who are experiencing homelessness to train them for new roles in the restaurant industry. The restaurant is gradually reopening with dishes that include pancakes, skillets, benedicts, and sandwiches.
The name kind of says it all, right? This family-owned diner has an array of brunch favorites, as well as special treats like a Belgian Eskimo waffle (that's ice cream on a waffle for breakfast, which I won't say no to), bananas foster crepes, and taffy apple pancakes. Just make sure you get there early—it's packed on Mother's Day!
Photos courtesy of the restaurants